The 4 inch Sphere Rule is a common building code standard. It simply states that a ball with a diameter of 4 inches should not fit between lines of cable. For this reason, we recommend a cable spacing of no more than 3 ⅛ inches.
Post spacing plays a crucial role in how much the cables will deflect as well as handrail strength. For this reason, we recommend using posts every four feet.
Tools Needed To Install Cable Railing
Installation requires some basic hand tools like a power drill and driver. You will also need some specialized tools for cutting and crimping your fitting onto the cable. In addition, use special fittings to tension the cable and to give intermediate posts a finished look.
The process will be similar whether you're installing cable railing on decks, stairs, or balconies.
About Modern Cable Railing
In recent years, cable railing has become synonymous with modern designs and elegant solutions for a wide variety of railing needs. At Viewrail, we continue to innovate products that will satisfy the creativity of our clients, while maintaining system strength and ease of installation.
At Viewrail, we sell a complete Cable Rail Installation Kit that has all the specialized tools you need to easily complete any cable railing project. The kit includes a cable cutter and cable crimper specifically designed to work with our cable railing systems. It also has other tools for tensioning, inserts, etc.
We also sell component kits that contain all the fittings you need to install cable railing with both wood and metal posts.
Viewrail aluminum or steel posts are custom made for each project to make the installation process easier. We pre-drill holes at the exact spacing, alignment, and angle needed to create a flawless appearance in your finished railing.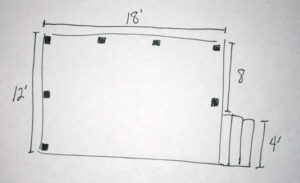 Make a Plan
Every successful cable railing installation starts with a sketch. You'll want to make a rough sketch of your deck, balcony or stairway, complete with measurements. You will also want to know the handrail height. The info on this sketch will help you figure out exactly what you need to purchase and reduce any confusion about how the system comes together.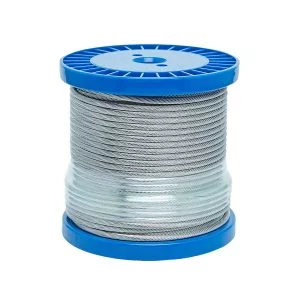 How Much Cable?
No cable railing project is complete without the cable! Here's how we like to figure out how much you'll need.For each cable run you'll need take of the run, add one foot and multiply times the number of cables. Then you'll add each of the runs together to get the total amount of cable needed.If your project has the following measurements, you can figure out the amount of cable you'll need like this:
Cable Run #1 — 12ft. + 1ft. = 13ft. x 10 cables = 130ft. Cable Run #2 — 18ft. + 1ft. = 19ft. x 10 cables = 190ft. Cable Run #3 — 8ft. + 1 ft. = 9ft. x 10 cables = 90ft.
Total Cable Needed = 410ft.
Our 5/32 inch stainless steel cable is sold on 400 foot spools, and 100 foot spools. We normally suggest that you round up to be on the safe side (unopened spools of cable can be returned).