Glass Railing Safety & Maintenance
Glass railing is a strong option for modern and contemporary homes and buildings. Adding glass railing to your project can give it that extra bit of zest to set it apart. But everyone wants to know about two things with glass railing: safety and maintenance
Is Glass Railing Safe?
Glass Railing is an extremely safe option. There are no gaps in between the panels, glass does not decay or rust, & glass stabilizers create a significantly stronger barrier than traditional railings.
When using the correct type of glass, glass railing is a very safe option for both residential and commercial uses. It's good to check local requirements for each of the following aspects when considering glass railing:
Glass & thickness
Railing Heights
Handrails and Toprails
Mounting Surfaces
Glass railing has been used for decades and you will often see it used in malls, stadiums, airports and other high traffic settings. This is because it is one of the strongest, durable, and safe railing options available. There are gaps or moving parts to worry about. The tempering process that all panels are subjected to strengthens the glass. When mounted properly, these panels well exceed code requirements for railing strength.
Many people have had experiences with glass that make them nervous about the safety of glass railing. Everyone has probably broken a glass cup or maybe even a window. But the glass that's used in those types of applications are very different from what is used with glass railings. All glass railing systems are made with modified glass for improved tensile strength and shattering protection — the technical terms for them are tempered and laminated glass. There are even more types of glass, but we won't go into all that detail here.
All of Viewrail's glass railing systems have undergone extensive testing to ensure safety. With in house production, Viewrail is able to monitor panel strength and quality. You can find each systems' test results on the relevant product pages.
Glass Railing Heights & Thicknesses
Glass railing heights follow the same guidelines as other railings governed by International Building Code (IBC) and International Residential Code (IRC). For commercial applications, it is most common to use 42" high glass railings. In residential spaces, it is common to use 36" high glass on stairways and 39" or 42" on balcony or other level applications. If you are using your glass railing as a pool guard, code often requires 48" tall railings. It is always best to check with your local code officials before ordering your glass to see what the best height is for your project.
Thicknesses, however, are not governed by either IBC or IRC codes. Most tempered glass comes in ½" thicknesses while most laminate glass is 9/16" thick. See the photo below for reference of a "framed" versus "frameless" system. Tempered glass is typically used for residential applications.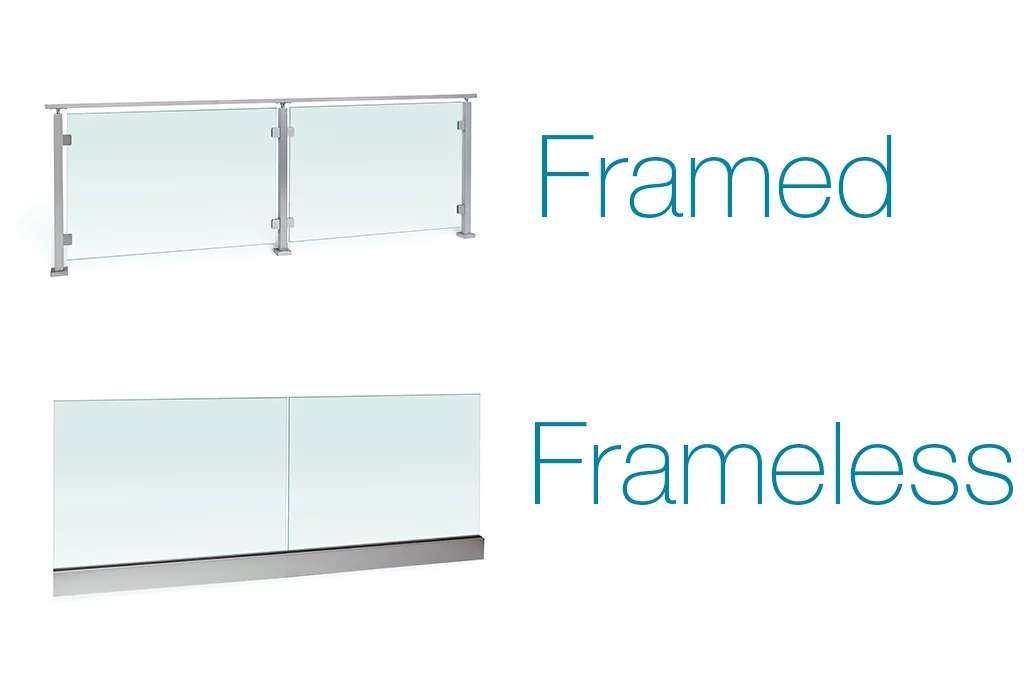 Laminated glass is typically composed of 2 panels of ¼" glass with a 1/16" interlayer keeping the two together. The final dimensions are 9/16". There are different thicknesses of laminated glass, but 9/16" is the standard for laminated glass railings. Laminated glass is typically used for commercial settings, roof tops, or hurricane force winds.
For more information on tempered or laminate glass panels
Handrails and Top Rails
Another thing to think about with glass railing safety is whether you're planning on using a handrail or top cap on the railings. A handrail is a graspable structure that usually either protrudes out from the glass or sits over the glass. In either case, a handrail has to be strong enough to offer support to someone holding onto it. Top rails, on the other hand, are designed to keep the glass panels tied together, and are usually not big enough to provide a secure handhold.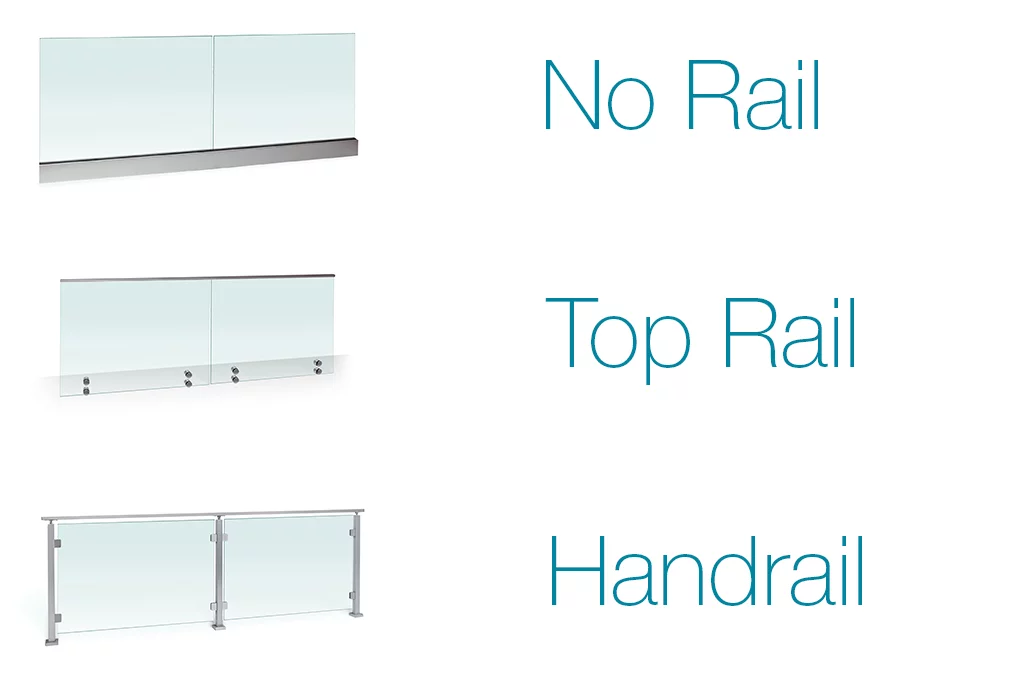 Mounting Surfaces
The single most important consideration in glass railing safety is the strength of the mounting structure. Glass railing Posts or Glass railing talon spigot brackets can be mounted to a variety of different surfaces, including concrete, hardwood, composite, and other materials. But, depending on the thicknesses of the substrate, you may need to consider using a through bolted mounting style rather than a traditional lag screw.
Each scenario is different, so it's always good to check with your glass railing manufacturer on mounting material requirements and whether you should through bolt or lag.
How do I Clean and Maintain my Glass Railing?
Because glass is transparent and offers clear views, it also can accumulate grime that clouds the glass. Typically it takes a long time for this to become a factor, obviously depending on the surrounding environment. But, with regular cleaning and care, maybe a few times a year, you can keep your glass railing looking pristine year-round.
You can use the same cleaning chemicals that you would use on glass windows or mirrors to clean your glass railings. We recommend using a microfiber cleaning cloth to keep the glass as streak-free as possible. Remember, a little bit of cleaner goes a long way. You won't need to apply very much to the microfiber cloth.
If your glass railing is exterior, you'll likely need to clean it more often than if it was interior. If your glass railing is interior, cleaning it as often as you would normally dust your house should keep the glass just as clean as the rest of your home.
If you live in a cooler climate and don't make it outside as often as you'd like to, your glass railing may need a deeper spring cleaning. You can use a pressure washer to rinse off your glass railings. As always with a pressure washer, start far away and at low pressure. Then, slowly closing the distance and/or increasing the pressure as necessary. After you get most of the grime and debris off of it, you'll still want to go back over it with a microfiber cloth and glass cleaner.
Oftentimes, one side of your glass may be hard to reach. NEVER lean over your glass railing to get those hard to reach places. Instead, invest in an extendable squeegee that allows you to reach those places without breaking a sweat.
Glass Railings: Safe & Clean
We hope you've learned a lot about how to make sure your glass railings are safe and clean. Remember, there are various types of glass and it is always best to consult with a glass manufacturing expert to decide what type, thickness, and height is best for your project.
If you'd like to talk to our team of experts, click the button below to fill out a contact form or call us at 866-261-8013.
Need Help? Request Help from our Experts.