Cable Railing Projects
Find inspiration for your stair, deck, or balcony with some of our finished cable railing system photos.
Cable Railing System Reviews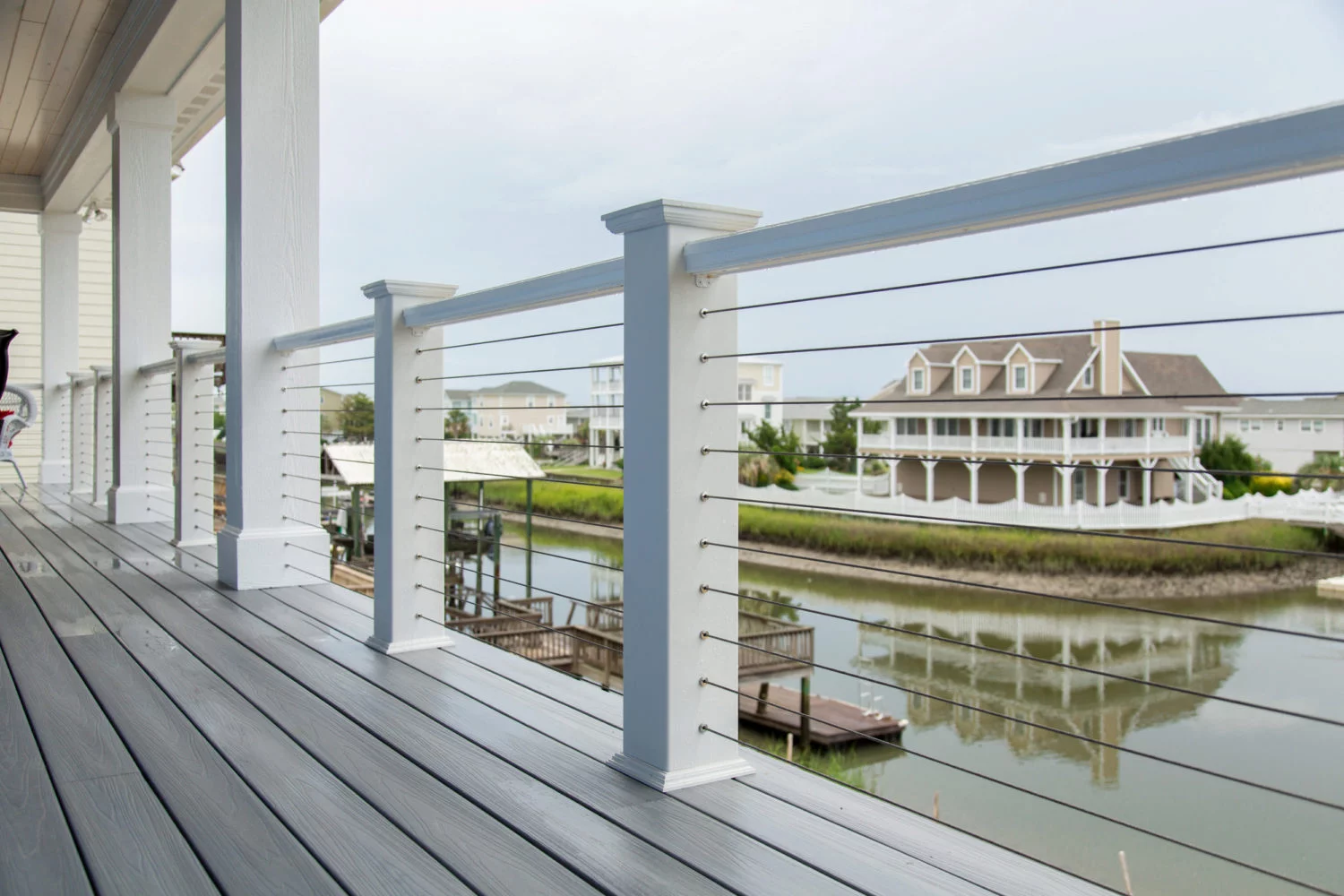 Learn About Cable Railing
Cable Railing Systems for Decks
When you're looking for deck railing, you want a system that will keep your views open. Whether you live on a lake, or in front of a beautiful mountain view — or if you simply want to be able to see your own backyard — no one wants bulky posts cluttering their view.
Cable Railing Systems For Decks
How Much Does Cable Railing Cost?
A whole cable railing system, including posts, handrail, cable, and hardware, costs about $75-$220 per linear foot. The price of cable railing will vary greatly depending on what type of material you use, whether you use wood or metal posts, and the number of corners and runs of cable you need.
How Much Does Cable Railing Cost
How Do I Install Cable Railing?
To install cable railing, secure your posts at the proper spacing and run your cable from the end posts through intermediate posts and to the terminal end post. Then, tension the cable to minimize deflection. Repeat these steps for each line of cable. For More information check our cable railing installation page.
How To Install Cable Railing
Cable Railing Parts Guide
Designed for the DIY homeowner, cable railing is a power player in the horizontal railing industry. With simple components and clearly labeled hardware, cable railing is ideal for indoor or outdoor projects. You can even order the system in stainless steel for coastal applications. Looking for more information, find answers to what is cable railing and more!
Cable Railing Parts Guide
What Can I Expect From Viewrail Cable Railing Systems?
With Viewrail, you can expect stunning design & simple installation. Choose to work with a cable rail design lead, or you can buy everything online! Then, Product is shipped directly to you. With Viewrail we give you the power to install the cable railing system yourself.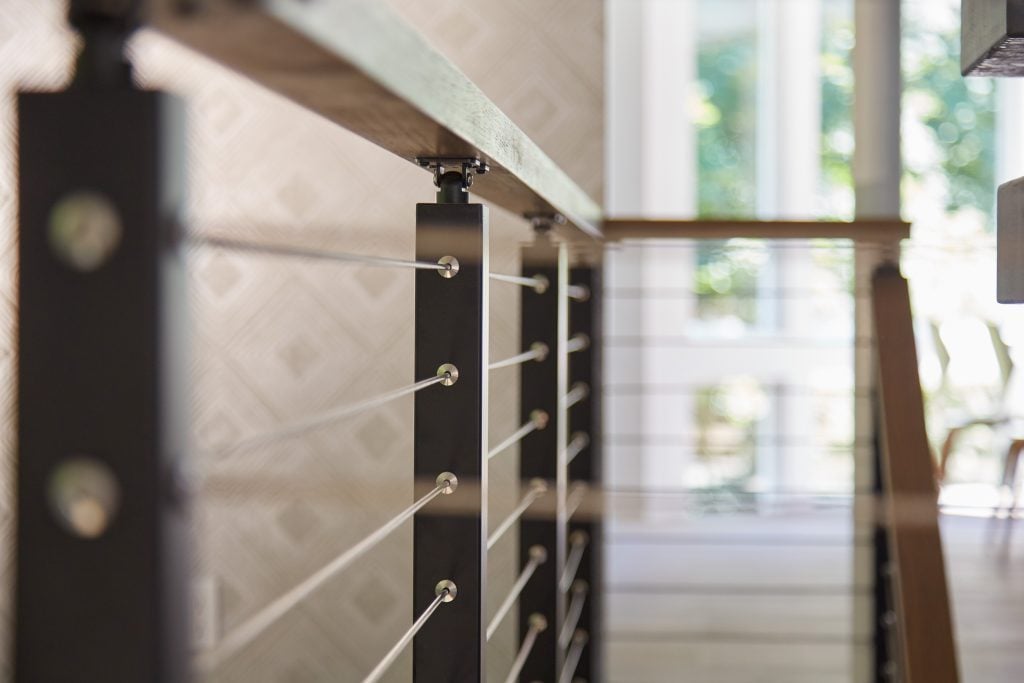 Cable Railings For Decks & Balconies
A modern guardrail system, cable railing is perfectly suited to wrap around your outdoor decking spaces — without ever blocking your view of the horizon. Sleek and horizontal, cable wires are made from stainless steel. The entire system is completely code compliant. It holds up to outdoor elements such as corrosion, rust, or harsh weather. Plus, it's an affordable option for homeowners with decks. For more information on the product check out the
cable railing parts guide
or how our
cable railing system for decks
works.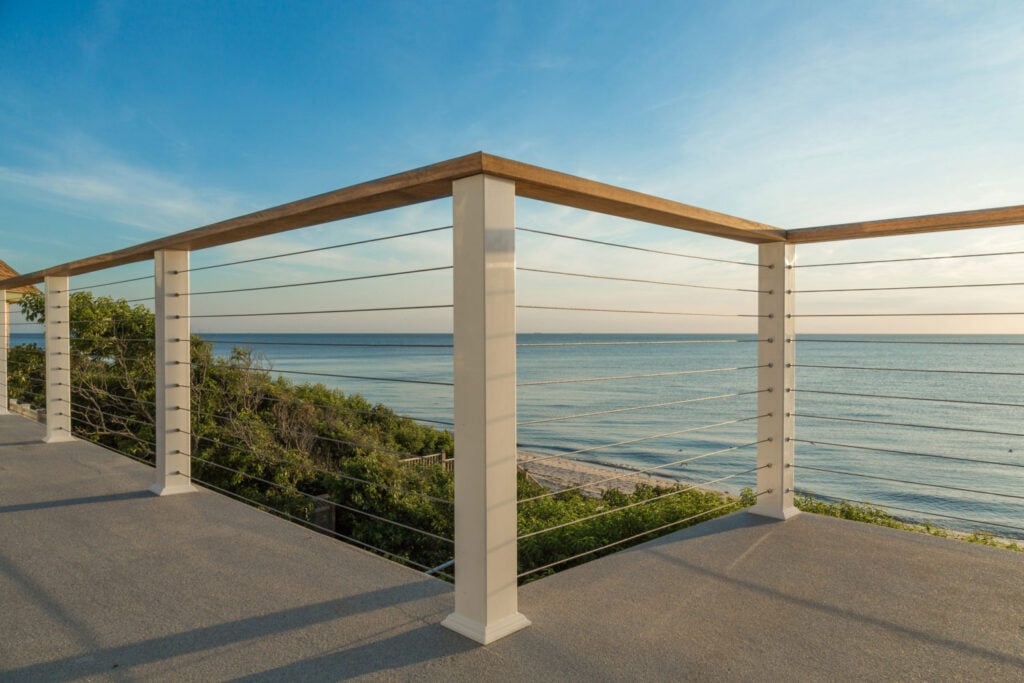 The Best Guardrail for your home
Railing for decks is built to meet and exceed code requirements — because safety is our top priority. Each sturdy post is designed with special hardware that hides inside the post, staying invisible while tensioning wires of cable. The posts can be special-ordered to mount into many different surfaces, including wood, concrete, Trex decking, and more. This stainless steel system holds up completely to all stair railing code guidelines, including the 4-inch sphere rule, handrail & guardrail height requirements, and load requirements. For more on
cable railing code.
Need Help? Request Help from our Experts.