Step 1: Dream
Explore the near-infinite stair design possibilities available for your FLIGHT system. Our project gallery showcases the options you have to customize your stringer, treads, and railing.
Step 2: Design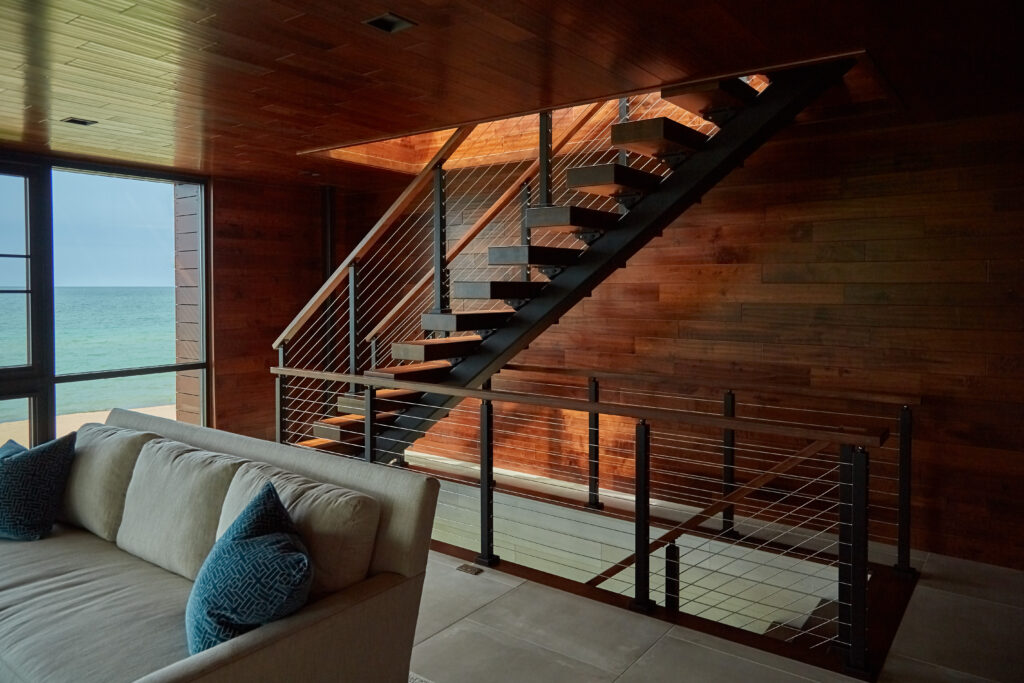 Make your dream FLIGHT system a reality. Get in touch with our Design Team to get a personalized quote and start the process of engineering your new staircase.
With just approximate floor to floor measurements, we can get you pricing on the staircase needed for your home and space! Don't worry about precision in this step right now, once the quote is complete, our team gathers the rest of the information needed.
Click here to view the different wood species and finish options available for your FLIGHT system.
Hundreds of Open Riser Tread Options!
From wood species, to stains, we have plenty of finishes and grain patterns to suit your project. Plus we have many new style options and add-ons, to make your stair treads exactly the way you want them.
Learn more about treads, design options and tread brackets.
To see a few of the species and stain options we offer, check out the new Tread Visualizer tool.
See Treads
Shop Treads

Pricing
The price of your FLIGHT system will be determined by the overall size of the staircase you need, as well as the finish options you choose.
We have created an online pricing estimator you can use to get a general idea of how much a FLIGHT system will cost for your application, and you can see how different finish options affect your price.
If you like what you see, or just have more questions, Request a Quote and we'll be able to give you a more precise estimate.
Get Price Estimate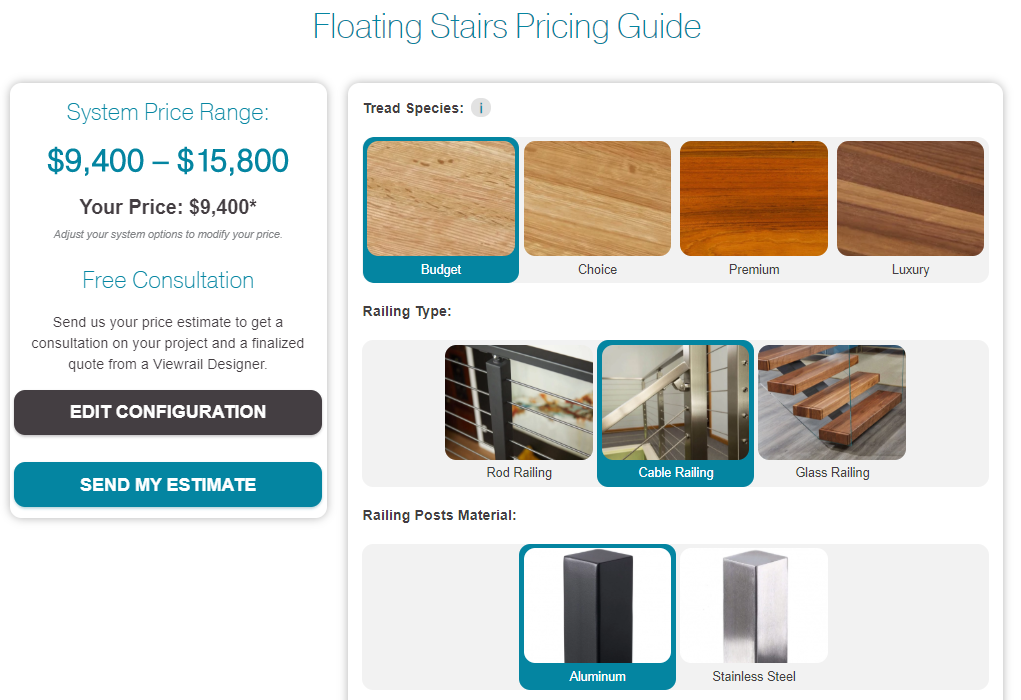 Step 3: Measurements & Engineering
Once the design options for your stairs have been finalized, you'll move into our Tech & Engineering process where we provide you with a dedicated FLIGHT Technician to ensure your project runs smoothly.
We'll send you/your contractor a measurement kit, which includes a laser distance measurer for taking precise measurements. We'll work with you to get the final measurements we need in order to manufacture your staircase.
Once we have all the needed measurements, we'll create and send you detailed shop drawings of your staircase so you know exactly what you'll be receiving.
Step 4: Stair Fabrication
After the shop drawings are approved, your FLIGHT system goes into production at our plant in Indiana. We have wood, metal, and glass fabrication facilities so we are able to manufacture every piece of your stair and railing.
The focus of our fabrication process is to make the installation process as simple as possible. The stringer is cut to the exact length you need. We route out the treads where the mounting bracket will go, and we even pre-drill holes in the treads in the exact location where the railing posts will go.
We are able to be so precise because we control the engineering process for the entire system, and it makes the installation process a simple assembly job.
Step 5: Installation
FLIGHT stairs arrive ready to be bolted together, with no welding required. With less headaches for everyone involved, many customers install their FLIGHT systems in a single day. No more need to shut down your job site for weeks on end for metal fabricators and carpenters to build a floating staircase.
Since we do all of the precision work during the fabrication phase, a general contractor or even a handy homeowner with a couple of friends will be able to install a FLIGHT system.
If you browse the projects in our gallery, nearly all of them were completed by a general contractor or builder who had never used our system before, and it comes out looking great. However, we are now also offering our own installation service for those homeowners who don't have a good alternative. We are rolling this program out nationwide, so get in touch with us today to see if we can provide installation for your floating stairs.
Learn More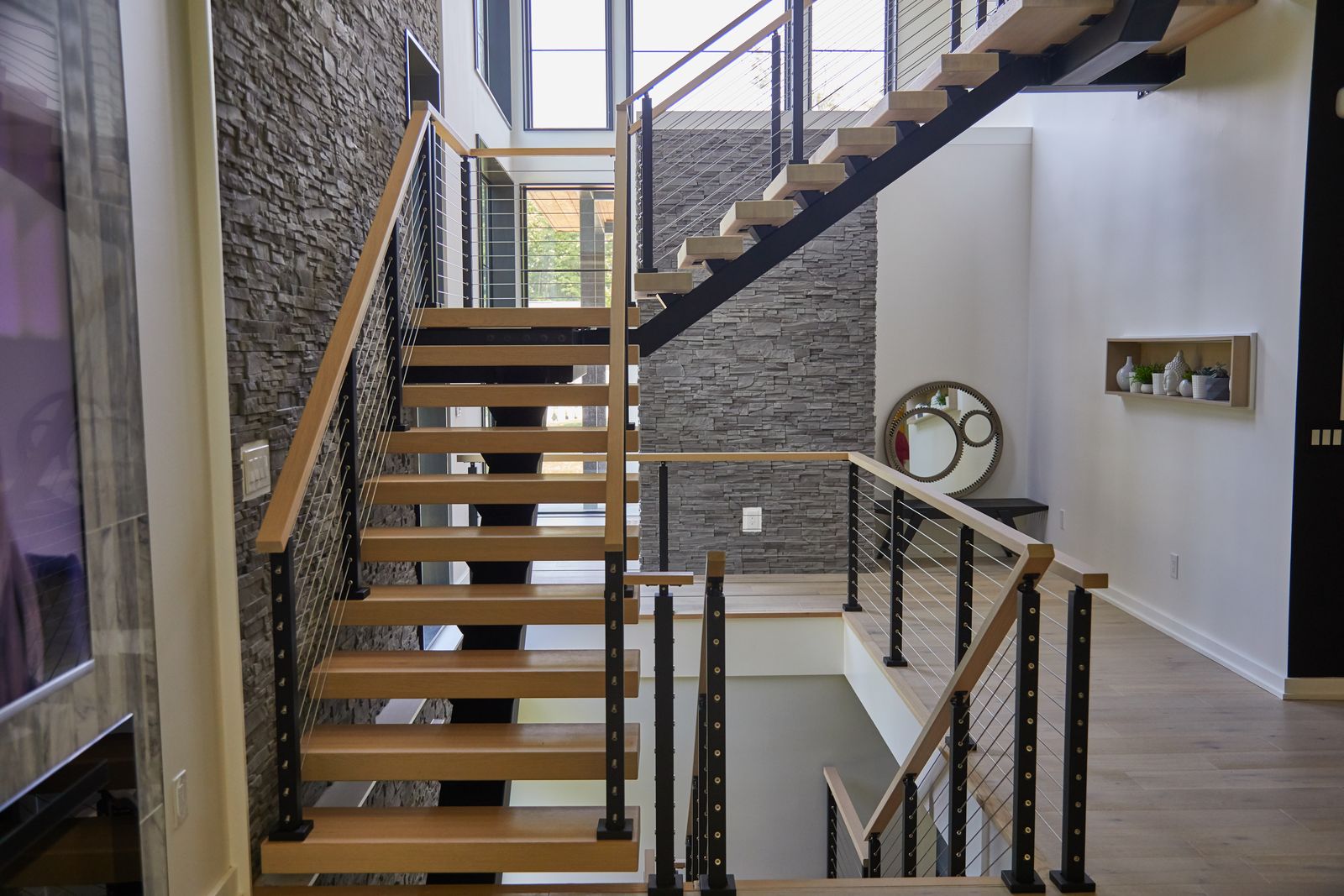 Learn About Viewrail Floating Staircases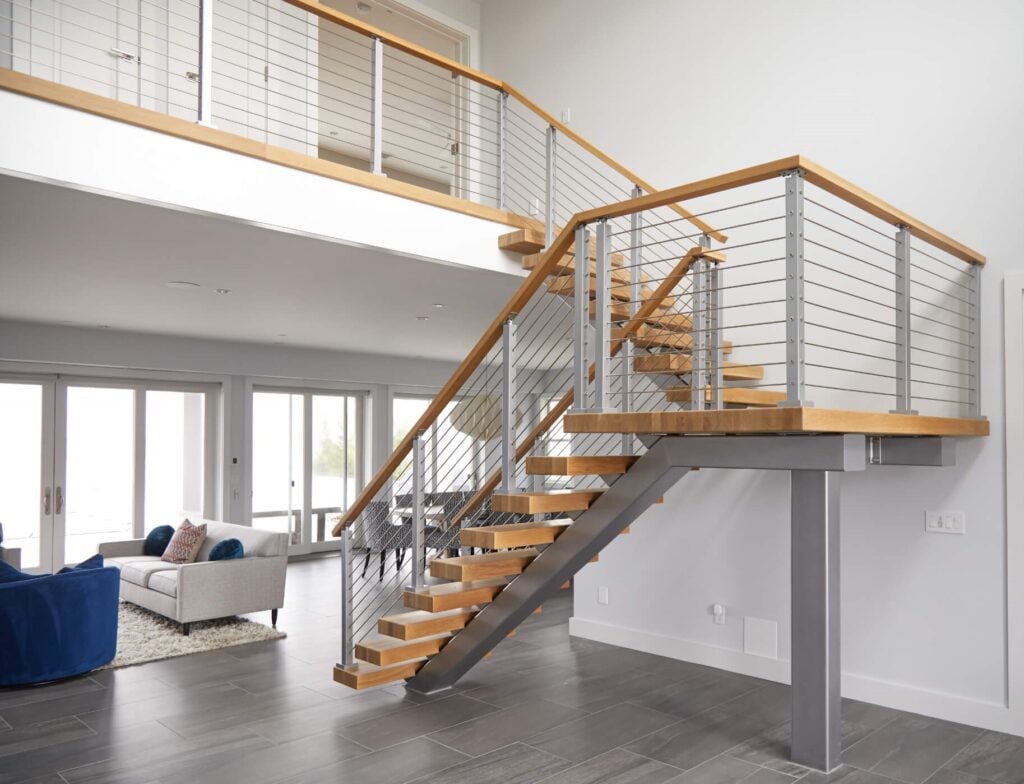 Get More out of your Room with our Floating Stairs Kit
Floating stairs make a stunning use of space. The sleek, soaring lines of the open riser are a hallmark of modern stair design, and they'll make your room feel open and light. Custom-designed and built completely up to code, these single stringer stairs will last for years to come. Better yet, Viewrail floating stairs are among the most competitively priced on the market.

Each component of your Viewrail mono stringer staircase arrives at your jobsite labeled, packaged, and ready to be bolted together — like a floating stair kit. There's no need to hire a welder on-site. The entire open riser system can be installed in a short amount of time, at a low cost, and with tons of customizable options.
Stair treads made to perfectly adorn your floating staircase
Custom built treads for stairs are the ideal way to complement your floating staircase. Each thick tread rests on a hidden tread bracket anchored to the single stair stringer — this makes each tread look like it is floating in mid-air. Choose from 15 different wood species and enjoy the clean, modern butcherblock finish that makes each tread unique.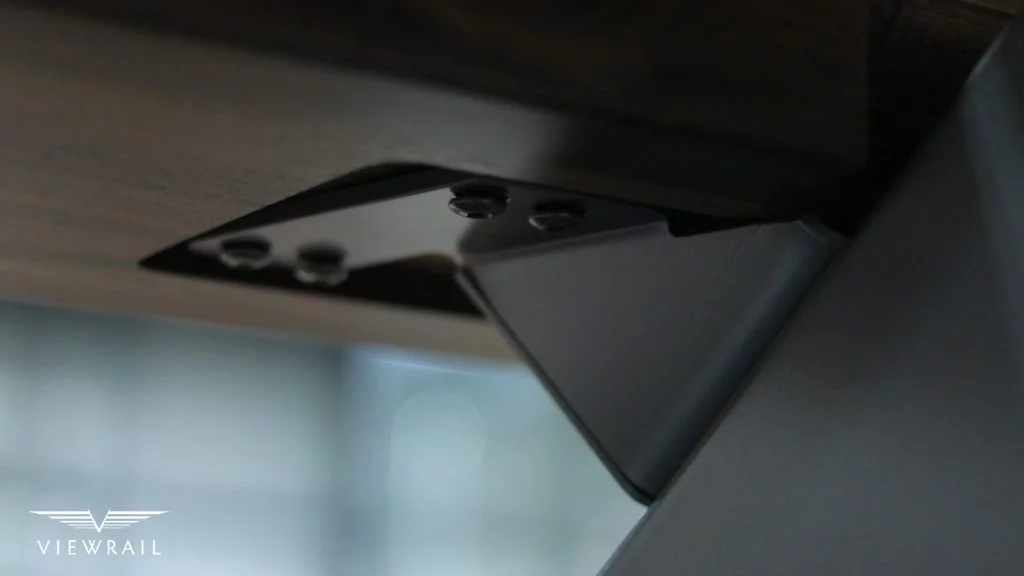 Need Help? Request Help from our Experts.