Floating Stair Installation
This page will help you understand the steps necessary to complete your Viewrail FLIGHT installation. Watch the video below and read the information to see how easy it is to make Viewrail FLIGHT part of your project.
In case you missed it, here are some of the main takeaways from the video's instructions:
Always double-check your measurements before making a permanent attachment; you want to avoid making unnecessary holes in your surfaces
Use lag bolts to temporarily hold things in place while through-bolting is performed
The bottom tread of each FLIGHT requires a unique but simple attachment method due to how close it is to the floor. Make sure you read the instructions thoroughly when you get to this step in the installation process
Prefabricated Stringers
Each Viewrail FLIGHT is custom built with ease in mind for your individual project. This means that there is no need for welding or fabrication on-site( What types of prefabricated stairs are there?) The system is delivered to your steps ready for installation with no more than minor leveling adjustments needed.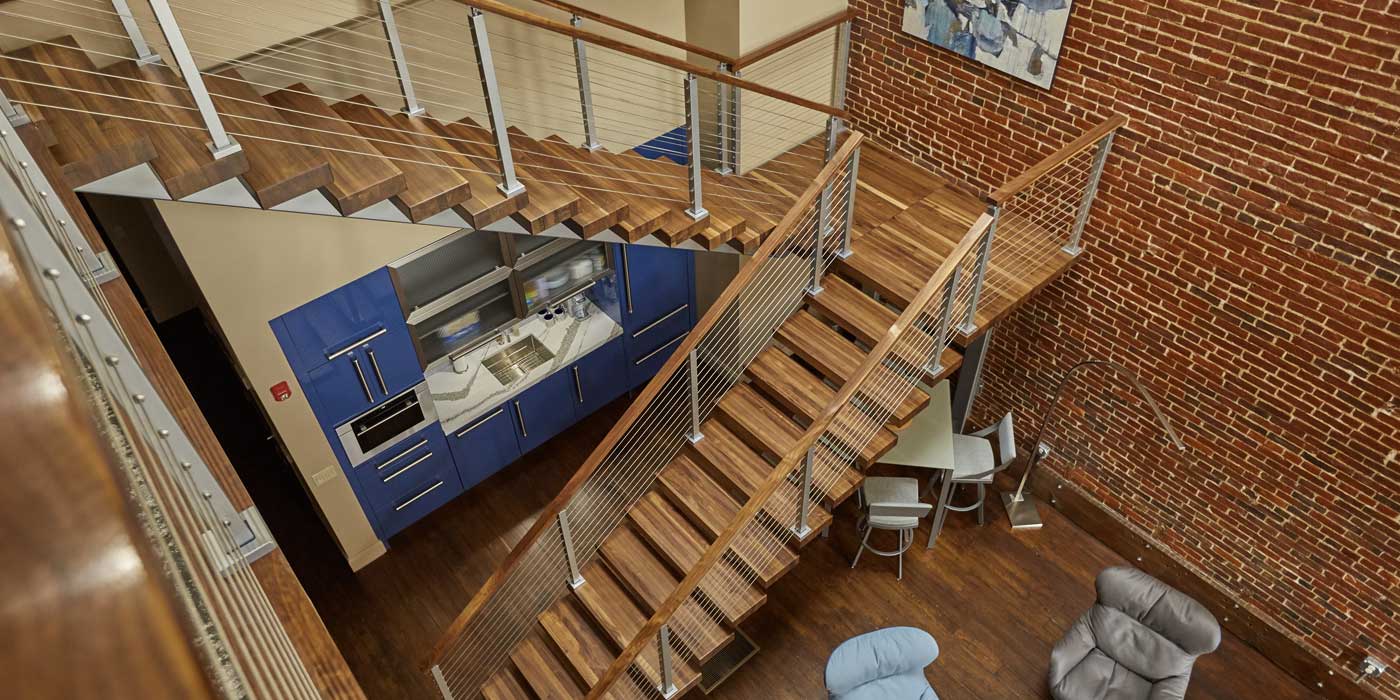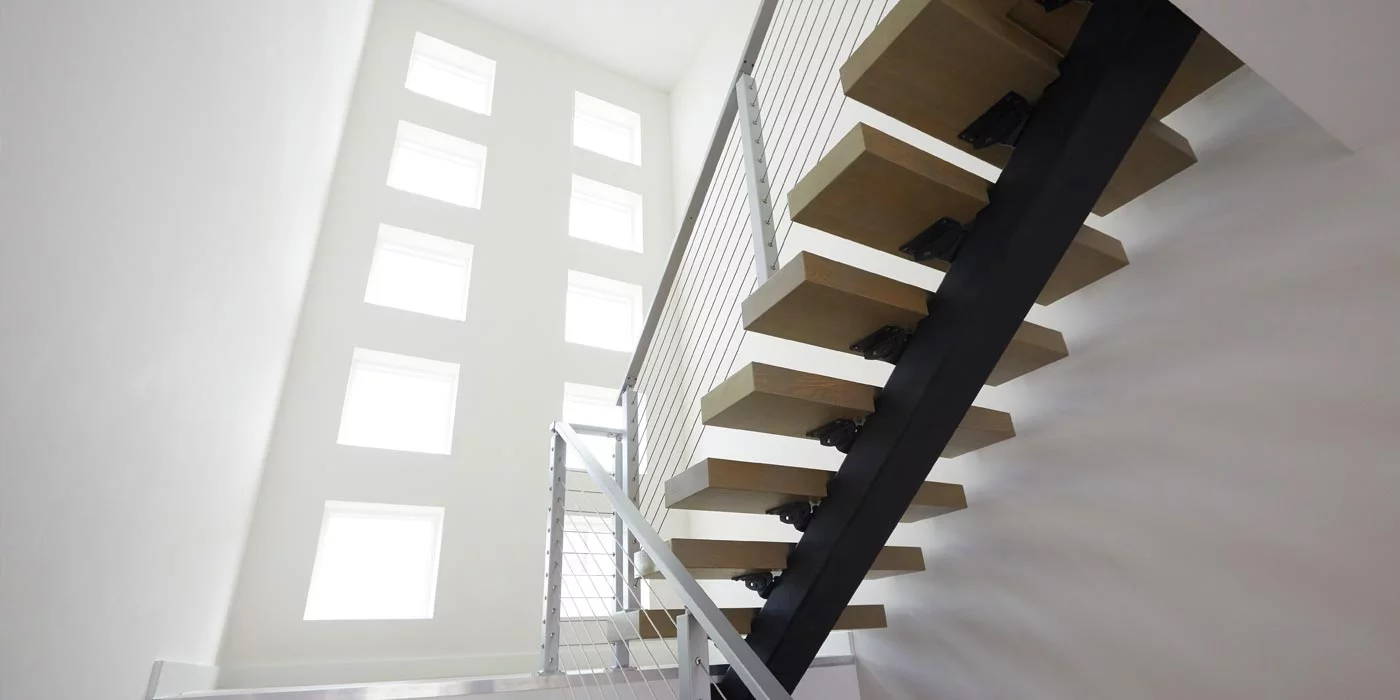 Resources
In efforts to help you achieve the perfect look and fit, we have created a few different resources that will enable you to safely and correctly install your FLIGHT system. Read below for a brief overview of the FLIGHT system installation process, as well as some pieces of information that will come in handy and make the process faster and easier.
Tips
Here are a few tips before you start your install:
We suggest that you have two or three people be a part of the installation process
The stringer itself will weigh about 125-150 pounds, so make sure that you plan accordingly
A come along winch or hoist can make it easier to get the mono stringer into place initially
We suggest that you do not screw down the FLIGHT's bottom plate in the beginning of your install. Instead:

Temporarily attach the header plate with lag bolts
Position the top & bottom treads in alignment with their pre-drilled holes
Check to ensure that the treads & stringer are parallel with the adjacent wall
If parallel, move forward; if not, shim the header plate as needed

The header plate must be bolted through a triple 2x header or double LVL header; there is a separate application process for concrete
Always make sure that the pieces you are installing are square with each other, the floor, and the stringer itself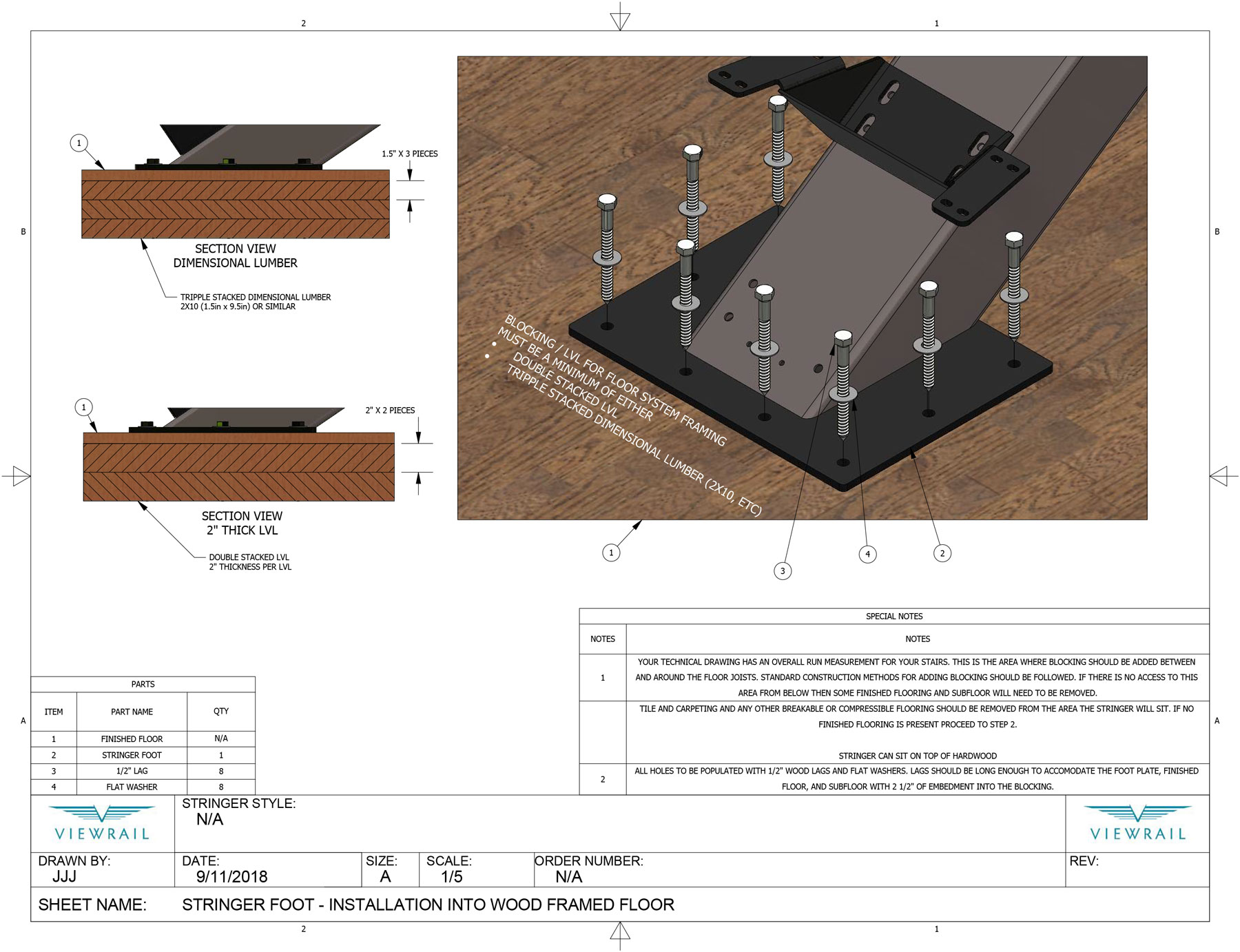 Need Installation Help?
We have built a network of contractors across the country that are experienced at installing Viewrail FLIGHT. Get in touch with us and we can refer you to one of them.
Get a Quote

Need Help? Request Help from our Experts.