What are Floating Stairs
Floating stairs are designed to look like they're floating in mid-air without any structural support. They differ from traditional staircases in that a special mounting piece is engineered to support the staircase. The mount is then either attached to the wall or hidden underneath the stair treads. The final product is a sleek, modern staircase with lots of open space. The floating staircase is often synonymous with an open riser staircase because both create the illusion of floating, but not all floating staircases feature open risers (what's the difference between open riser stairs & mono stringers?).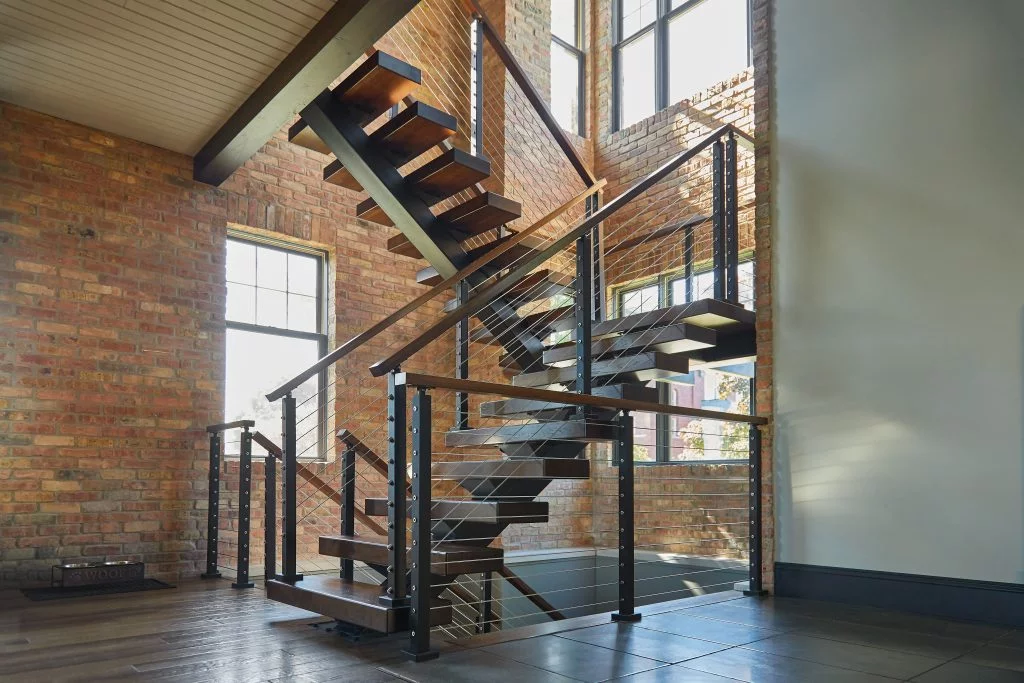 Many floating staircases are held up by a steel mono stringer, while others make use of double stringers, side stringers, metal frames, or wall-pockets. Some stringers are made of glass — and some even support from the ceiling.
Floating stairs are becoming an increasingly popular choice in today's design world. It's common to see them paired with different types of modern railing options, such as:
Floating staircases are also extremely versatile. Depending on the type of stair tread, they can be installed indoors or outdoors. Even small spaces, like studio apartments, can utilize floating stairs — their open-concept profile is a great way to make a tiny room look larger. Plus, they can be customized for every design type, from businesses to homes to remodels.
There are many different types of stairs, including:
The Metal Stair Stringer: A popular minimalistic choice for the modern homeowner
The Cantilever Staircase: A trendy option that makes use of wall-pockets or hidden metal frames
The Spiral Staircase: A compact choice for small spaces
The Curved Staircase: Similar to the spiral staircase, but slightly more space-generous
for more information on What are Floating Stairs.
How to Install Floating Stairs
When it comes to do-it-yourself projects, you'll be better off installing a floating stair with a metal stringer. It's a good idea to have at least four people be a part of the installation process — just keep in mind that the stringer itself will weigh about 300 pounds.
If you're installing a floating staircase without a stringer, the process will be a bit more complicated. Take extra care to ensure that your staircase is code-compliant. To install without a stringer, floating stair treads are generally fixed or pegged directly into the wall using a reinforcing metal frame or prefabricated anchoring pockets.
Are Floating Staircases Safe?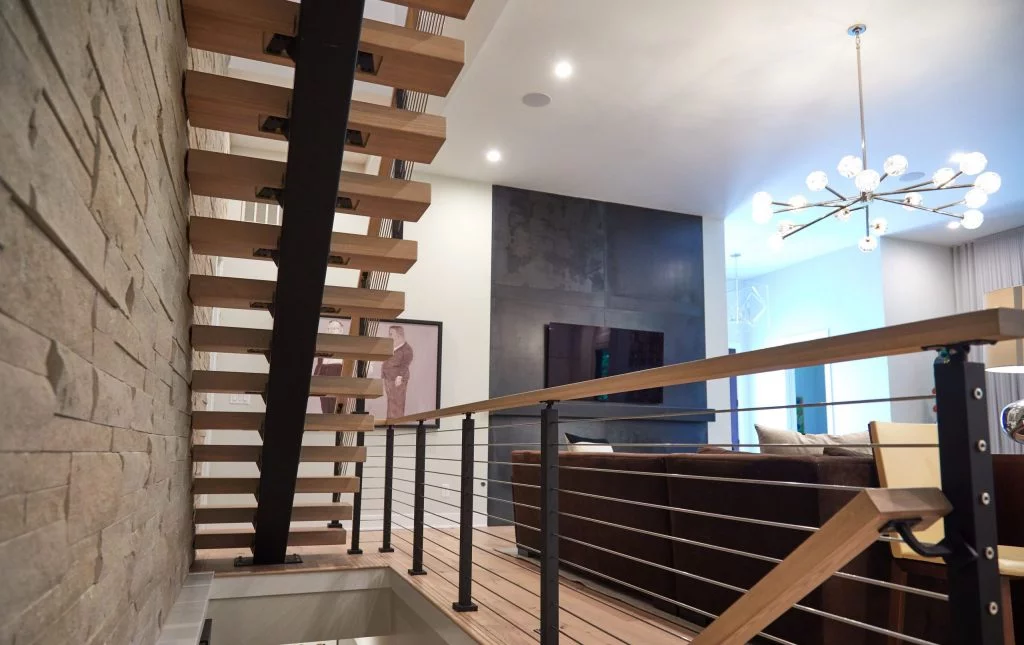 Yes, floating stairs are just as safe, if not more safe than a traditional staircase. They must adhere to certain code requirements (check with your local code official for your state's requirements) — but as long as you install according to code, your floating staircase will be safe.
Some people are concerned that they should not install floating stairs if they have children. However, there are several ways to make a floating staircase more secure and child-proof. If you have young ones, perhaps consider one of the following:
Choose a wider tread
Choose to install glass railing
Ensure that your staircase meets code
For more information on Floating stair safety for young families
Another common question is how much weight can a floating stair hold? When our treads were tested by NTA (a local testing agency), it took over 2,000 lbs to pull just one single treads off its bracket, and it took over 3,000 lbs to do any actual damage to the treads themselves. According to international building code requirements, each stair step must be able to bear at least 300 lbs of concentrated weight. Floating stairs are no exception, and thankfully, our floating stair treads soar above and beyond that amount.
How Do Floating Stairs Work?
Open Riser Staircases
The Open Riser Staircase is a variation of the floating staircase that features no riser. This staircase features some sort of stringer or beam to support it. The cantilever, mono stringer, & spiral staircases are most often classified as an open riser staircase. These systems are known for their elaborate designs and usually feature special open riser stair treads to pair with the stringer beam or support system.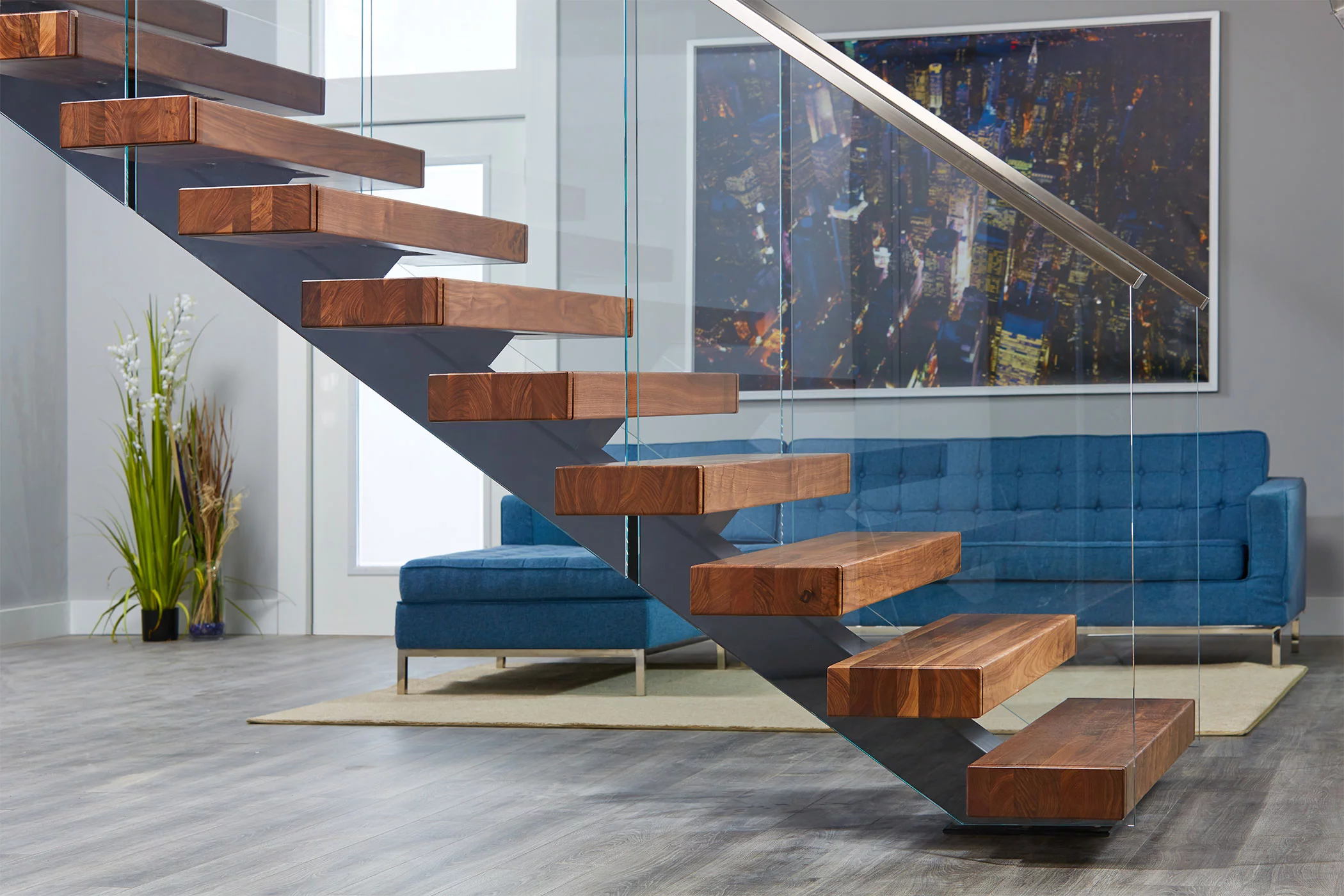 Cantilevered stairs
Cantilevered Stairs work because only one end of each stair tread is attached to the wall. The other end either floats free, or is secured to glass rail or posts to hold up the handrail. Cantilevered stair treads can be attached to the wall in a variety of ways — using a metal frame, pockets in the wall, or even, on rare occasions, a single stringer that's fixed to the wall.
Metal stringers
Metal Stringers work by providing the backbone to the entire floating stair configuration. Traditional staircases typically use two wood stringers, one on either side of the flight of steps. Floating staircases, on the other hand, utilize a metal stair stringer, which supports the staircase from the bottom. Depending on the design, a floating stair may use a double or single stringer.
Waterfall stairs
Waterfall stairs work by running carpet all the way down the staircase. It differs from the Hollywood method, because the carpet is not wrapped around the nosing of each tread. Instead, it's simply tacked into place. This method works well for staircases that require thicker carpet that would be difficult to tuck around the nosing of the treads.
The Metal Stair Stringer
works by attaching thick stair treads to a single, steel mono stringer. The treads are bolted onto the mono stringer, and can be completed with a variety of railing systems — anything from cable to rod to glass. The prefabricated straight stair is an increasingly popular configuration in modern, minimalistic homes.
Codes For Floating Stairs – In the Us & Most Extreme Codes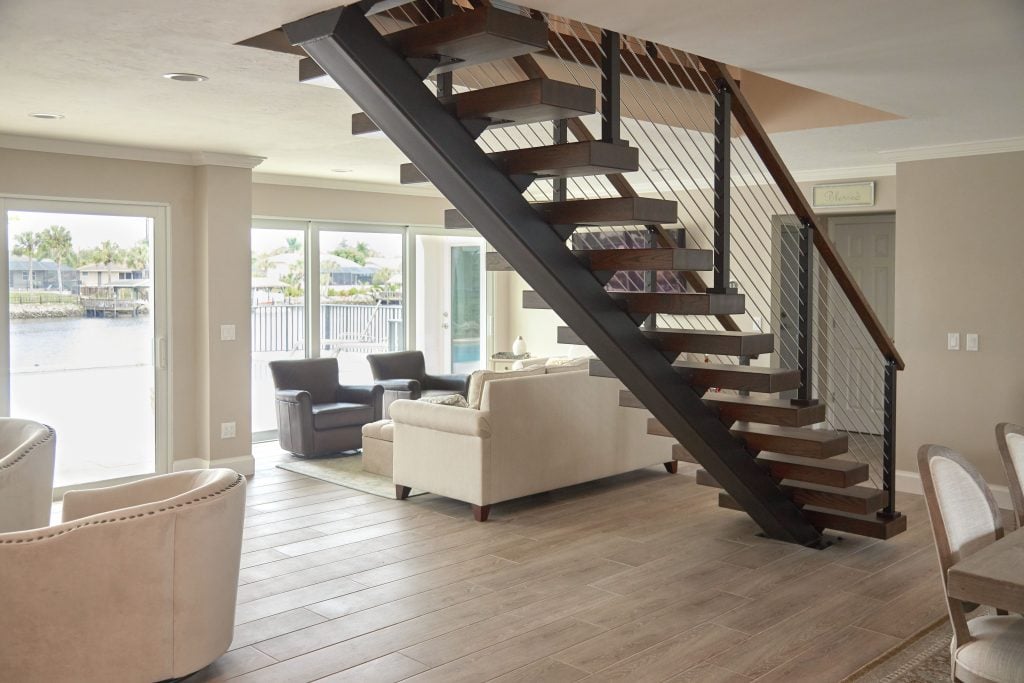 Because each state may adopt different versions of floating stair code, it is ultimately your responsibility, as a homeowner, to research and make sure that your open staircase will comply with your state's code.
However, if you're unsure about where to begin looking into code regulation, the IRC (International Residential Code) is a great place to start. This is standard builder's code across the United States. It's in use in 49 states, and it outlines the minimum regulations for one- and two-family dwellings that are less than three stories.
Here are a few commonly accepted IRC staircase regulations:
The 4" sphere rule. This rule states that the balusters on a railing have to be placed close enough so that a 4" sphere could not fit through them. Lots of carpenters think that this rule applies to every space on a balustrade, but there is actually one exception…
The 6" sphere rule. This allows for certain balusters to be spaced a little wider — specifically those at the spandrel (or triangular) space at the rear of the tread.
Rise and run dimensions. Building code states that treads have a maximum rise of 7 ¾", and a minimum run of 10".
Tread width. Most building code gives a minimum requirement of 36" between each tread.
Handrail Requirements. If your open riser floating staircase has more than 3 risers, handrail is required. The minimum height for floating stair handrail is 34", and the maximum height is 38". Standard floating stair handrail is quoted at a height of 36".
How to Measure for Floating Stairs

Whether Measuring floating stairs for a Remodel or New Construction, measuring is always a unique process. With the correct tools, it's easy to do on your own! Later in the process, you will need to get more specific design measurements, but to be ready for your floating staircase installation, you simply need these few initial dimensions.
Here are the two tools you'll need:
A Standard Tape Measure. Be sure that you're looking at the inch designations, not the metric markers.
A Laser Measurement Tool. This device can measure from the back or front. Just be sure to verify that you have the device set to measure in inches.
The first measurement is the most crucial. You'll use your laser measurement tool to measure from subfloor to subfloor. Next, use the back of the laser to measure from the header to the adjacent wall.
A subfloor is usually made out of plywood or OSB (Oriented Strand Board). It's a structural layer that is laid down over your joists as a base for your finished floor.
A header is the framing piece on the second floor where the top riser of the stair is secured. Look for the piece of wood that runs across the wall opening.
Learn More about header blockings and structural subfloors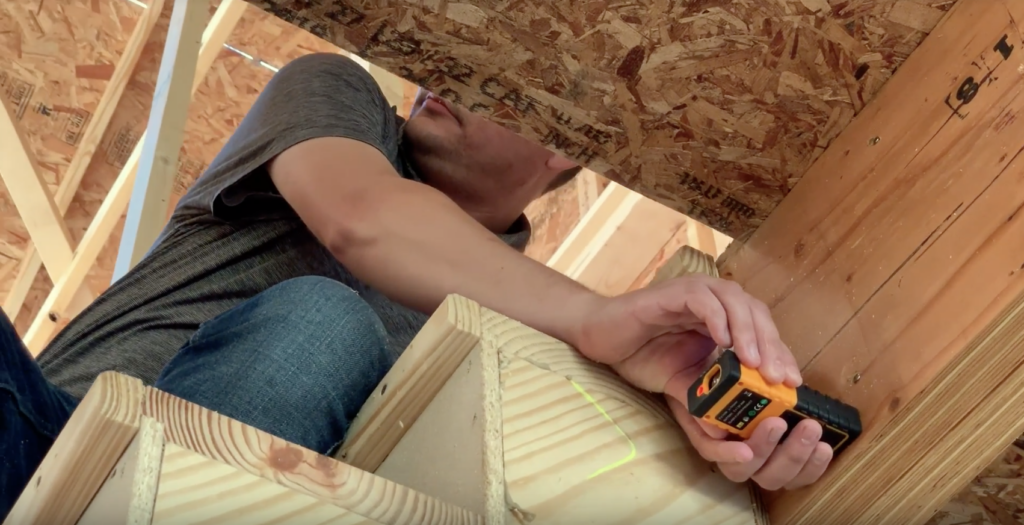 Use the the back of your laser again to measure the space constraints: such as ceiling height and the run of the stairs. To get the correct ceiling measurement, make sure your laser is hitting a joist: one of the small supporting beams in your ceiling. Use a standard tape measure to figure out the height of the header, and be sure to include the height of the subfloor.
A space constraint refers to any of the limitations or obstacles around your staircase. Examples include the ceiling, another wall, a door, windows, and any floor openings below the stairs — such as a landing or another stairway leading down.
The run of the stairs refers to how far your stairs come out into the room. This measurement will begin at the header.
A joist is generally made out of timber or steel. You'll see these supporting beams in the rough draft version of your ceiling or flooring.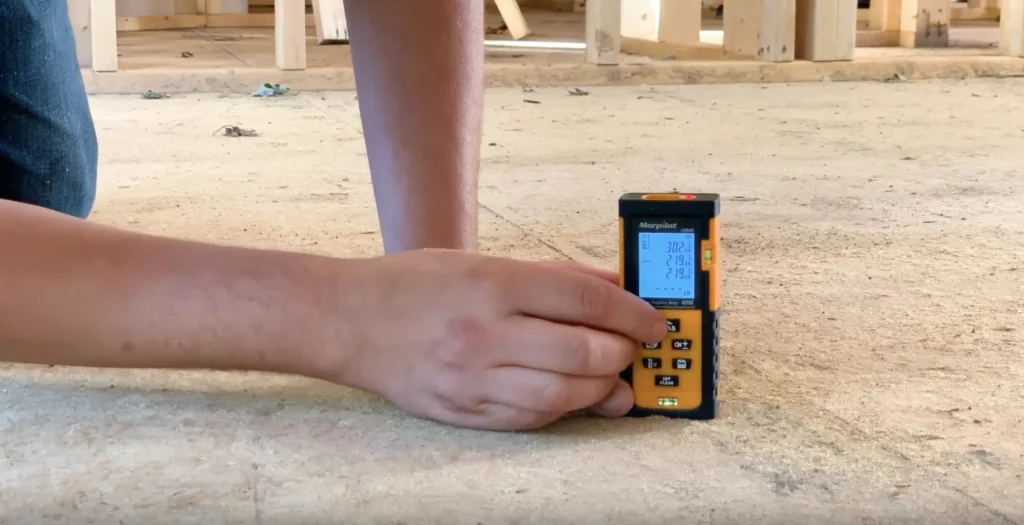 Switch back to your laser to measure the floor opening beneath the stairs — and be sure that you're measuring from the header to the next floor joist, and not just the catching the length of the opening in the subfloor. Finally, use the back of the laser to measure the length and width of the opening.
A floor opening refers to the opening in the floor underneath the staircase.
What is a Metal Stair Stringer?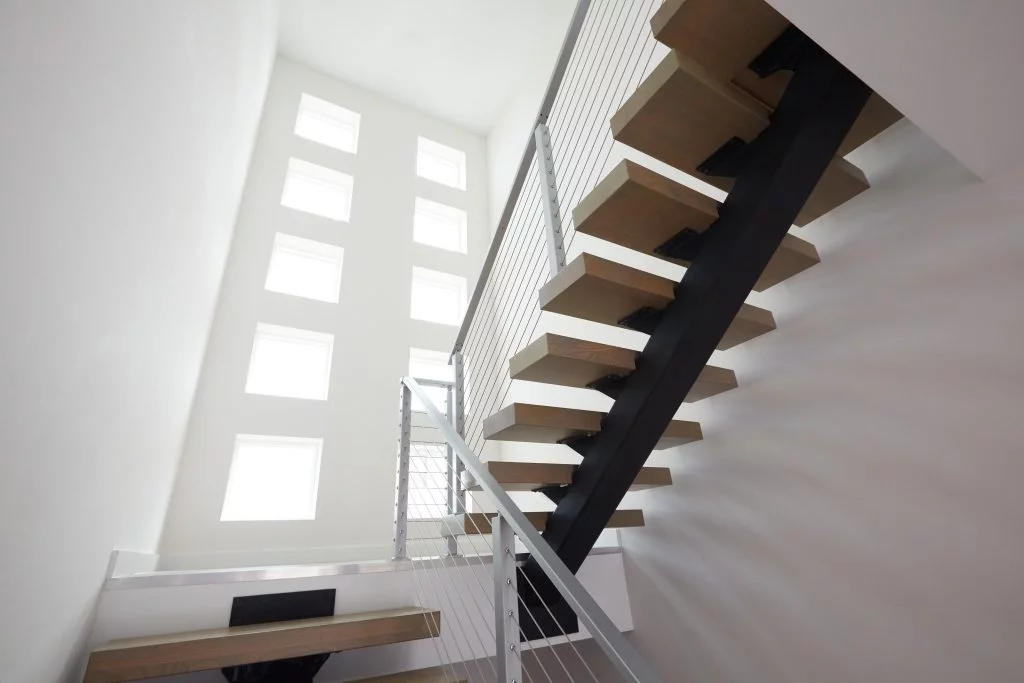 Where is the Stringer Located?
A floating stair stringer is located under the treads and railing. The stringer is attached to the floor and the header board. It acts as the backbone to the entire stair system. Each metal stringer is accompanied by special tread brackets which are attached to the stringer to support the stair tread. The wood stair treads are then bolted onto the stringer.
What is the Stair Stringer's function
The stair stringer (either a mono stringer or dual stringer) is built to support the weight of the entire floating stair system. At 300 lbs of pure metal, the stringer holds up the treads and railing, causing the illusion that the staircase is simply resting in mid-air.
Metal Stringer Testing
Building codes require that each stair tread attached to the stringer must be able to hold at least 300 lbs of concentrated weight. Our product was tested by NTA (a local testing agency). It takes over 3,000 lbs to do any significant damage to our stair treads — showing that they hold up to over 10x the required weight to be code compliant.
To Learn more about Metal Stairs, Check out our Steel Stair Stringer