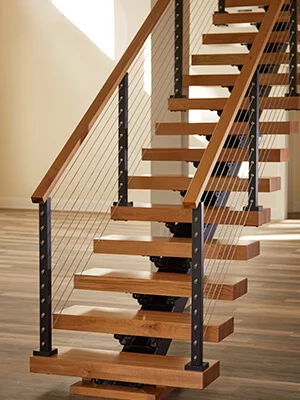 Floating Stairs For New Construction
You're building a new home. Maybe you're a builder and you've been here many times before. Or maybe you're new to this—you're building your first home and are looking for a little inspiration.No matter where you fall on this spectrum, you're about to start an important project need certain assurances that this home will be exactly what you or your client is looking for. Viewrail is here to help.
Your living space is so important, and we believe that the stairway should be a stand-out piece that adds another dimension to your home. Viewrail FLIGHT helps you do just that.
The Flexibility of Floating Stairs
We know that a major concern when starting a new construction project is timing. When can you put the staircase in without incurring damage? What construction stairs do you need to get in the interim? When should you hire an installation team?
Viewrail's FLIGHT floating stairs help alleviate these concerns. What makes this modern staircase so perfect for new construction is that you have options. As soon as your joists go up on your house, FLIGHT can be installed and used as construction stairs. Just let us know, and we'll wrap the stringer in a protecting poly sleeve. Then leave your finished treads in the box and install construction treads until the rest of the house finished. But FLIGHT can also be the very last thing you put install.
With no welding or fabrication on-site, and only needing attachment points at the header and footer for most projects, you have flexibility when you install. You just have to make to bolt through a triple 2x or a double LVL at the header and lag into the same blocking on the footer.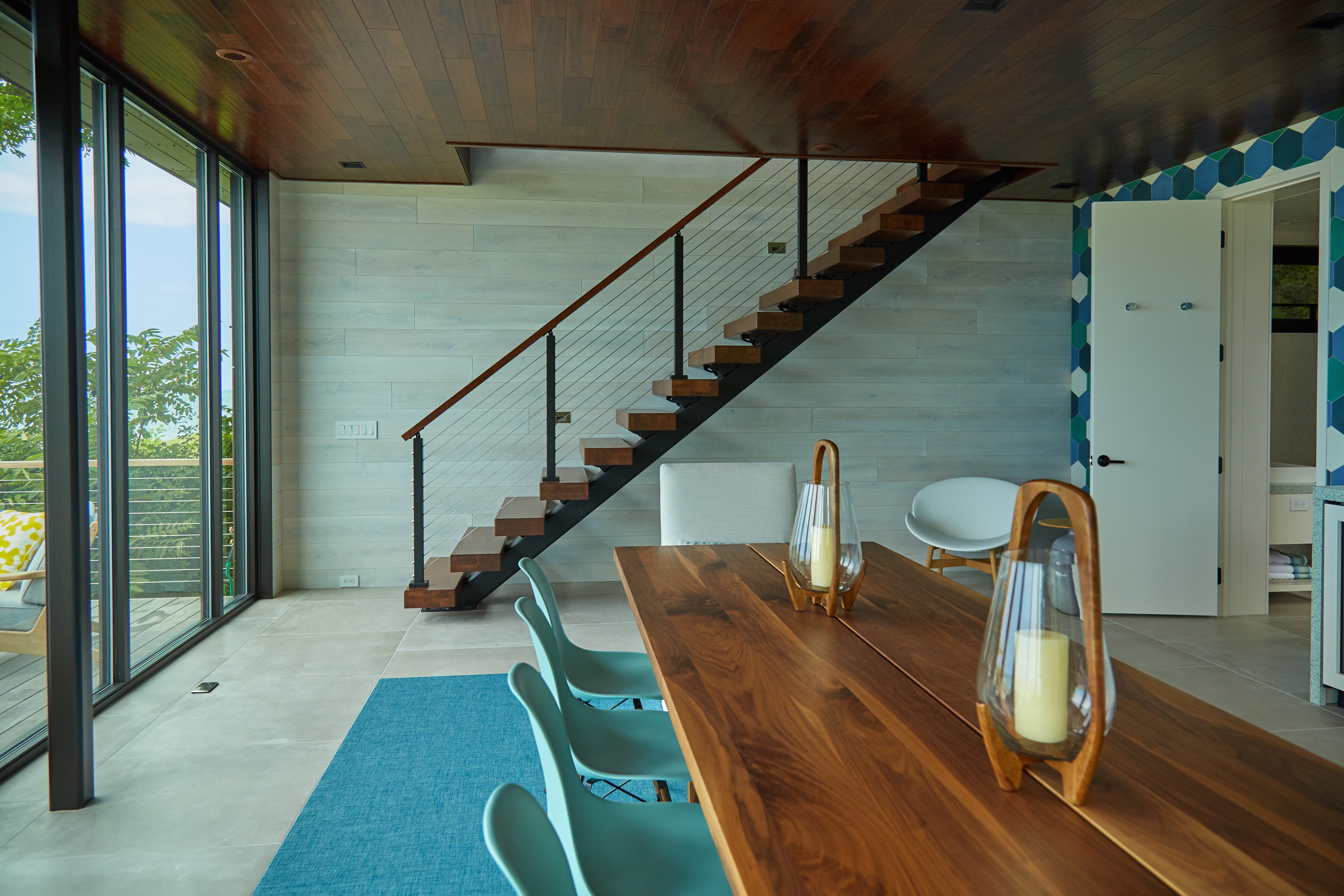 Easy Installation
We have created our floating stairs to be incredibly easy for you to install, which will save you time and money. Everything comes to you pre-engineered and ready for installation. This means all the time-consuming work has been taken out of your hands. All you and your team have to do is get it lifted into the correct spot and bolted in.
You and a team of one or two others should be able to install a mono stringer system and railing in as little as one day. This is a major advantage of using our floating stairs. Check out the Floating Stair Installation Guide and learn how easy installing floating stairs can be.
A Team of Experts at Your Back
What makes FLIGHT Floating Stairs perfect for new construction projects is that we walk you through the entire process of purchasing, measuring, and installing your floating stairs. You will have a team of experts behind you. We take you through a detailed process of how to buy floating stairs that ensures your new staircase gets done right with a lead time that works for your project.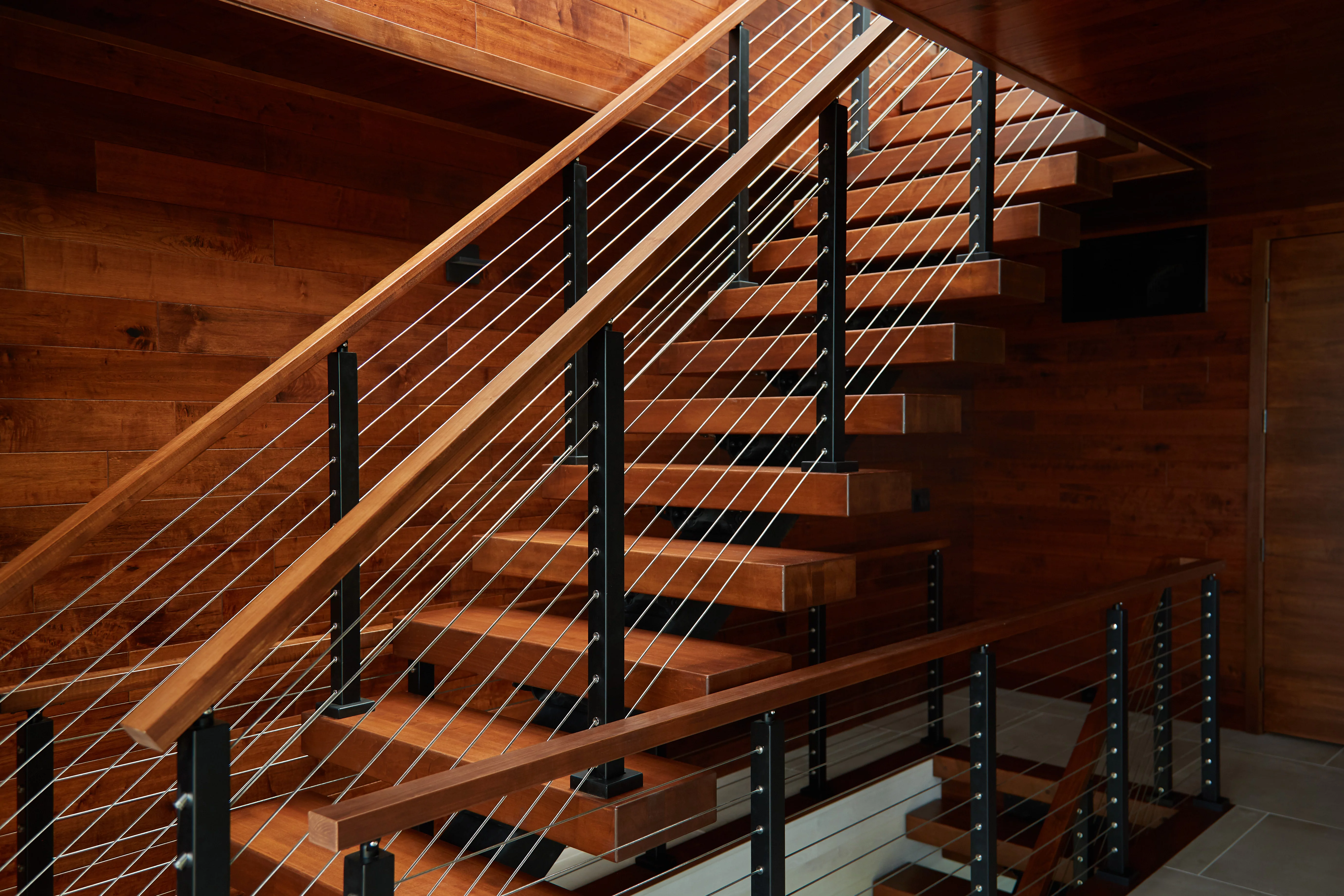 Custom-Made to Fit Your Aesthetic
Viewrail prides itself on making premium products that inspire and delight. This means that we custom-make every single one of our modern stairways to complement your project. If you're planning on having beautiful white oak hardwood floors and accents in your home, you can choose to have your treads made in white oak to match. Or choose from our other hardwood species.
No matter what design you're going after, you can choose to have your steel stair stringer powder coated in a variety of colors and add a horizontal metal railing or glass railing option to complete the look. There is a wood species for your treads, a railing option for your stairs, and a powder coat for your posts and stringer that will make this custom stair the perfect pairing for your home. The design options are endless.
How Do I Get Started with Floating Stairs?
To learn a little bit more about what measurements you'll need to submit for your floating stairway, check out our installation & measurements page. The measurements are simple and, once we have those, we can start manufacturing your own FLIGHT as soon as the next day. Then, your floating stair will ship out to your job site in as little as 3 weeks!
If you are interested in figuring out what Floating Stairs could look like in your construction project, you can get a quote here. No matter what you decide to do, we hope that your construction project goes smoothly and turns out beautifully.
Need Help? Request Help from our Experts.