Types Of Staircases
Here at Viewrail, we strive to make the extraordinary stairs accessible. We believe that you deserve to be in the pilot's seat of your project: from the wood species of your floating stair treads, to the finish on your metal components, YOU call the shots.
To help guide you on your design journey, we've put together this page of information on each of the types of staircase. Each section provides an overview of when and why that particular configuration is ideal, as well as images to help you visualize how it would look in your space.
Straight Staircases
One of the most popular staircase configurations, Straight Staircases are a functional and simple design for most spaces. Straight stairs move continuously from one floor the next, without turning, and they usually do not include landing platforms
Advantages of a Straight Staircase
Very easy to navigate
One of the easiest—if not THE easiest—types of staircase to design and install
Usually do not require additional support structures
Can be very simple in appearance, making them ideal for minimalistic designs
Handrails can often be constructed and installed in long pieces
The measurements needed to create a straight staircase are often easy to obtain
Disadvantages of a Straight Staircase
Can use a large amount of space
Often provide less privacy than other configurations
Straight staircases taller than 12-feet high require a landing
May be too simplistic in appearance for some designs
More Straight Staircase Designs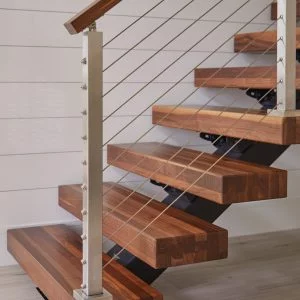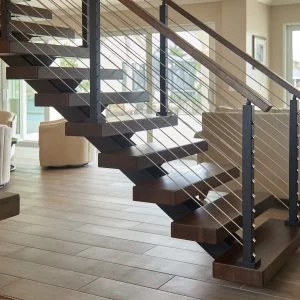 Straight Staircases are far and away our most popular configuration, and feature a wide variety of customizable options. They are easy to design and ship, and often can be installed in only one day.
Learn more about our Straight Staircase
90° Staircases (or L-Shaped)
90° Staircases—sometimes referred to as L-Shaped or Quarter Turn stairs—are a close cousin of Straight Staircases. However, where straight stairs continue uninterrupted from one floor to the next, 90° stairs transition at some point in a different direction, usually with the help of a landing platform.
These landings can come in a variety of shapes and sizes, ranging from a series of triangular panels (winder landings) to the more common square or rectangular variations (flat landings). However, as the name implies, the turn of the staircase must create a singular 90° turn.
The Advantages of a 90° Staircase
More dynamic appearance than a Straight Staircase
Can add to the privacy of a space by creating a visual barrier
Easily fits into restrictive spaces and corners
Landing platforms can make stairs easier to navigate by providing natural resting areas
The Disadvantages of a 90° Staircase
Can be difficult to carry large objects (such as furniture) up and down
Handrails must be designed and installed in segments
Can sometimes require a support for the landing
Can be harder to assemble than Straight Stairs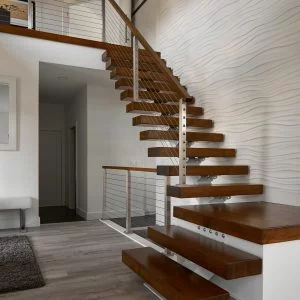 Viewrail 90° Staircases can be highly customized. Certain applications may require different support structures for the landing, depending on whether or not your staircase features a mono stringer, where the staircase sits in the room, and any size constraints you may have.
Learn more about our 90° Staircase
Switchback Staircases (or U-Shaped)
Switchback Staircases are similar to 90° Staircases in that they both feature at least one landing to create a turn. However, where 90° stairs only make one turn at a right angle, Switchback Staircases turn 180°, either via one landing or two. When a Switchback Staircase requires two landings (usually referred to as quarter landings) to complete the 180° turn, it is usually then called a U-Shaped or Half Turn Staircase.
The Advantages of a Switchback Staircase
One of the easiest staircases to incorporate into a small space
More visually interesting than a Straight or 90° Staircase
Landing platforms can make stairs easier to navigate by providing natural resting areas
The Disadvantages of a Switchback Staircase
Can be difficult to measure for and to build
Sometimes require additional support structures for the landing platforms
Switchback Staircases are one of the most striking configurations a staircase can be. Viewrail offers highly versatile and customized switchback stairs well-suited for high-traffic areas, adding unique style to any space.
Learn more about our Switchback Staircase
Curved Staircases
Curved Staircases are similar to Spiral Staircases in that they both make turns without utilizing landing platforms. However, curved staircases do not make a full circle, and instead "curve" subtly to a new direction. They are often used in foyers and entryways because of their grand and visually interesting appearance.
The Advantages of a Curved Staircase
Associated with elegance and grand designs
Easy to comfortably navigate
The Disadvantages of a Curved Staircase
The most difficult staircase configuration to build
Large size limits them to broad, open spaces
A curved staircase is ideal for any project that needs a touch of the grandiose. However, it's large size can be limiting. If you are unsure about whether or a not a curved staircase is right for you, contact our design team.
Learn more about our Switchback Staircase
Spiral Staircases
Much like Curved Staircases, Spiral Staircases make complete turns without the interruption of landing platforms. However, spiral stairs actually make a full circle.
The Advantages of a Spiral Staircase
Very compact, ideal for limited spaces
Visually dynamic
Most spiral staircases feature a central pole that provides all necessary structural support
Can be easy to install
Sometimes a more affordable option
The Disadvantages of a Spiral Staircase
The most difficult configuration to navigate
Can conflict with fire and safety codes
Difficult to carry large objects (such as furniture) up and down
Can only be traversed in one direction at a time
Spiral Staircases are great for small spaces, and can be very easy to install. However, they are not always the most practical configuration, especially in high-traffic areas.
Modern & Floating Stairs
Modern stair design is all about innovating and creating fresh ideas, without sacrificing safety or strength. There are several different floating styles of "modern" staircase to choose from, though the three most popular kinds are often the Mono Stringer, Cantilever, and Special Support.
Mono Stringer Staircases
The Mono Stringer Staircase is our most popular style of floating staircase. It features one exposed metal beam that holds the entirety of the staircase in place, creating a stunning look for even the simplest spaces. It works particularly well in minimalistic designs, and offers the highest level of customization. Mono stringer stairs are can be a type of open riser stair design so what's the difference between a mono stringer stair & open riser stairs?. These staircases can also easily be designed around most building and safety codes.
Cantilever Staircases
Instead of relying on a steel stringer, Cantilever Staircases feature treads that are only fixed at one end. The other end either secures to the railing system, or floats freely. The fixed treads can be attached to a wall in a variety of ways, such as with a metal frame, by creating divets or "pockets" in the wall, or even by attaching a small single stringer along the wall. However, Cantilever Staircases can be tricky to design around building codes.
Modern Floating Staircases are a creative way to add interest to your home design. However, certain configurations can be difficult to design around certain building codes. To make sure that a floating staircase would work in your space, we recommend checking your local code regulations.
Conclusions and Further Readings
Designing your staircase project shouldn't be complicated or frustrating. At Viewrail, we pride ourselves on being the authority on staircase and railing systems. Our goal is to provide every client with the information and support that they need to create their perfect project. If you have any questions about the configurations mentioned on this page, let us know!
You can also check-out our Floating Stair Buyer's Guide: it's full of useful information about all of our products, as well as some of our favorite projects.
If you're ready to get started on your project, fill out our FLIGHT contact form. We can't wait to get started!