Which Wood Species Works Best On Floating Stairs?
Viewrail FLIGHT has distinguished itself through its many customization options. From a variety of powder coat colors for your stringer and posts to a diverse collection of wood species for your treads, we help you achieve the look you want.
Viewrail specializes in creating custom FLIGHT projects that can complement any home or decor. We carry over 20 species of wood that you can use to perfectly match the style of your home. With so many choices available to you, we understand that it can be hard to determine which wood species you should use on your FLIGHT's floating treads and platforms.
In order to help make this decision process easier for you, we are giving you Viewrail's personal recommendations on which wood species best suit FLIGHT, as well as a breakdown of the costs and benefits of each wood species.
Our Favorite Choices
We carry many wood species that will work well as treads on our contemporary staircases. All will give you a premium product that is as beautiful as it is strong. However, we want to recommend our favorite wood species in the following order:
Quartersawn White Oak
White Oak
Red Oak
Hard Maple
Walnut
American Cherry/Brazilian Cherry
Hickory
Ash
The following chart will give you some quick facts about each of these species, as well as their rating on the Janka scale (the Janka scale assigns each wood species a rating for its hardness out of a maximum 4000).
Wood Species

JANKA Rating

Highlights

Pictures

Quartersawn White Oak
1360

Highly durable
Strong
Easy to stain
Easy to work with
Aesthetically pleasing

White Oak
1360

Durable
Easy to work with
Easy to stain

Red Oak
1290

Plentiful
Cost-effective
Durable
Easiest to stain
Middle-of-the-road
Safe bet

Hard Maple
1450

Strong
Versatile
Stable
Consistent grain pattern
Susceptible to damage

Walnut
1010

Rich
Looks amazing
In its natural state it requires no staining
Easy to fix dings, scratches, etc

American Cherry
995

Darkens with age
Easy to work with
Sands nicely
Three dimensional depth to its appearance
Easiest wood to get a high quality finish on

Brazilian Cherry
2350

Very hard
Very strong
Darker than American Cherry
Will darken over time as it's exposed to light
Less stable
Glue joints will likely show up over time

Hickory
1820

Lots of color divergence
Varied appearances
Extremely hard
Wears well
Takes lots of stain colors

Ash
1320

Cost-effective
Very durable
Very hard
Large cathedrals in the wood grain
Almost always stained
Looks like Oak, only with more grain
Why White Oak?
We have many years of experience that make us experts in this field. Because of this experience, Viewrail personally recommends to you our quartersawn white oak treads. Quarter-sawing produces the most stable wood while also creating a linear grain pattern that looks amazing on the front and back edges of our thick treads. Pairing quarter-sawing with the strong, domestic white oak produces a dimensionally stable tread that also happens to take stain extremely well.
Nature is not uniform, so your wood will not always be either. White oak contains a lot of movement in its grain pattern; there are cathedrals as well as light and dark spaces that make blending in nail marks and hiding wear easily accomplished. This level of variation makes white oak absolutely stunning on our floating staircases, and often pairs quite nicely with natural hardwood flooring and design accents. However, if you'd like to use something a bit more uniform on your FLIGHT, our second recommendation to you is Hard Maple.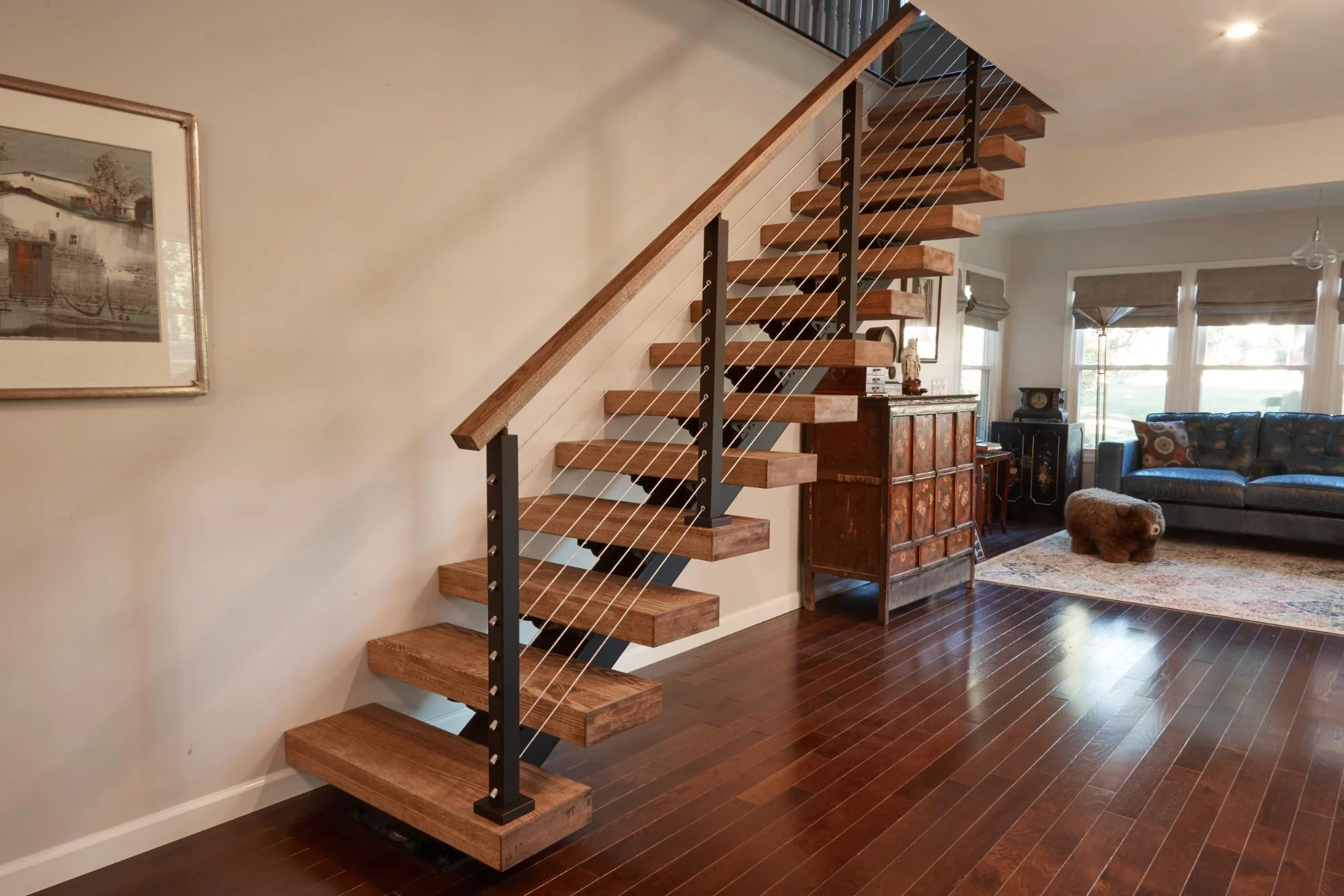 Taking the Next Step with FLIGHT
All of Viewrail's wood species will give a beautiful, premium look to your FLIGHT floating stairs. There is no need to worry about making the "wrong" choice because Viewrail only offers the highest quality of products.
If you're interested in learning more about how much floating stairs cost and what FLIGHT could look like in your space, you can get a quote for floating stairs on the top menu bar. Or, if you're feeling creative, you can use our design tool, Victor, to create a virtual staircase.
If you have any questions, feel free to email us at info@viewrail.com, or give us a call at 1 (574) 742-1030. Our experts are excited to work with you on your next project.