Why Cable Railing is a good option for decks
When you're looking for deck railing, you want a system that will keep your views open. No one wants bulky posts cluttering or closing off their view; nor should they compromise safety, durability, and the overall integrity of their deck in the process. And that's what makes our cable railing a superior solution for your deck. Our cable railing systems offer unhindered views and unrivaled craftsmanship that are unmatched in the industry.
Whether you live on a lake or the Grand Tetons are on your doorstep — or you simply want to be able to see your own yard while you're grilling out back — cable railing is one of the best railing systems on the market. Its thin lines keep your views open. Stainless steel cable railing is easy to clean and maintain over time. Plus, it's a safe option for kids and guests of all ages. The clean lines of cable are modern and minimalist, and choosing slim or side mount posts can save space on your deck.
You can also upgrade your infill to Onyx rods, which are the same thickness as cable, but can be powder coated matte black for an even more modern look. Or, if you live within 10 miles of salt water, Endurance rods can give you the same look as cable, but stand up better against corrosion.
How Viewrail is Different From Other Deck Railing Systems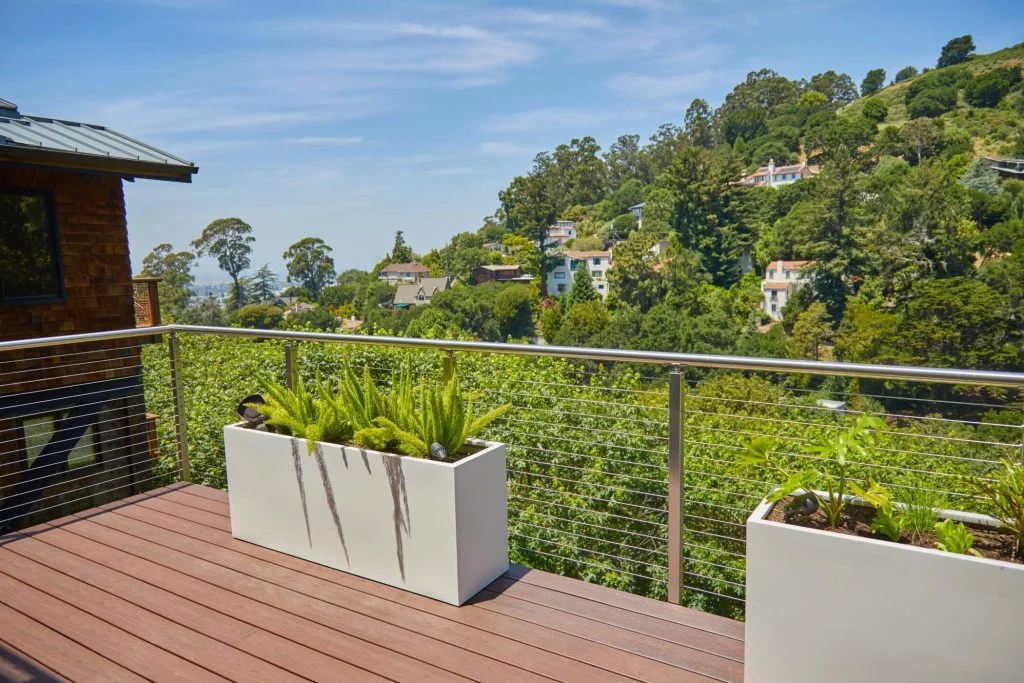 Our in-house engineering team is ready to personalize your railing exactly to your specifications. With Viewrail you will be receiving extra care and guidance through the entire purchasing process. But our commitment doesn't stop there. After your purchase, our customer service team is ready to help you with any further questions or concerns.
With Viewrail, you will get a highly customizable system. Cable railing is available in over 15 different powder coat colors, including fluoropolymers. Choose the right color for your home with one that reflects your personal style.
You can choose to work with a dedicated team of experts and engineers — or simply purchase your own system online. If you're worried about a project with unique requirements, the Viewrail system can be custom-made and manufactured for you specifically.
Benefits of Viewrail Cable Railing
Viewrail cable railing systems for decks has a long list of benefits. Unlike other cable deck railing systems in the industry, it is:
Multiple infill options
Easy to install
Supports both metal and wood systems
Has no exposed fasteners or hardware
Requires minimal maintenance
Our cable deck railing is corrosion resistant because all our cables, posts, and components are made from extreme coastal material. 2205 steel was a revolutionary discovery in the railing industry — because it's highly durable and corrosion resistant. If Aluminum is preferred, we have our highly rated Endurance Powder Coat with a 10 year color retention warranty. Most competitors build their railing systems with the less optimal 316 stainless steel. If exposed to the elements for too long, 316 stainless steel will begin to rust. Our cable deck railing will never rust. You can install by the water with peace of mind.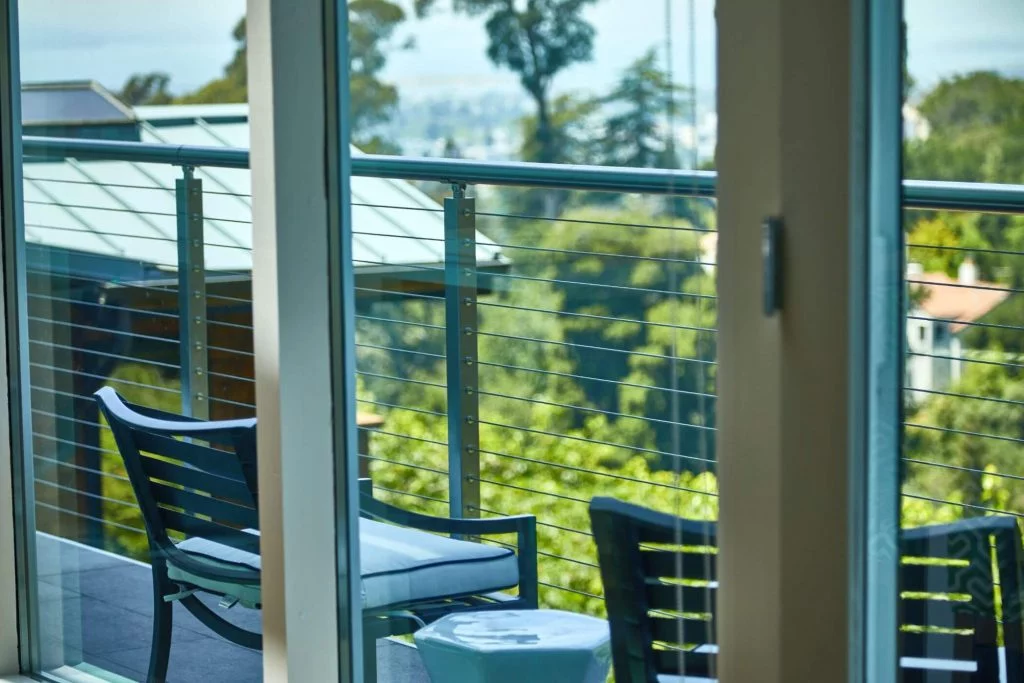 Viewrail's cable deck railing is simple to install. You will need a few basic tools, plus a few specialized tools for cutting and crimping cable. To make this easier, we offer complete installation kits, which contain all the tools you need to mount your posts, crimp and fasten cable, and install the deck railing. Even if you have no experience in building or assembling, we provide easy-to-follow instructions.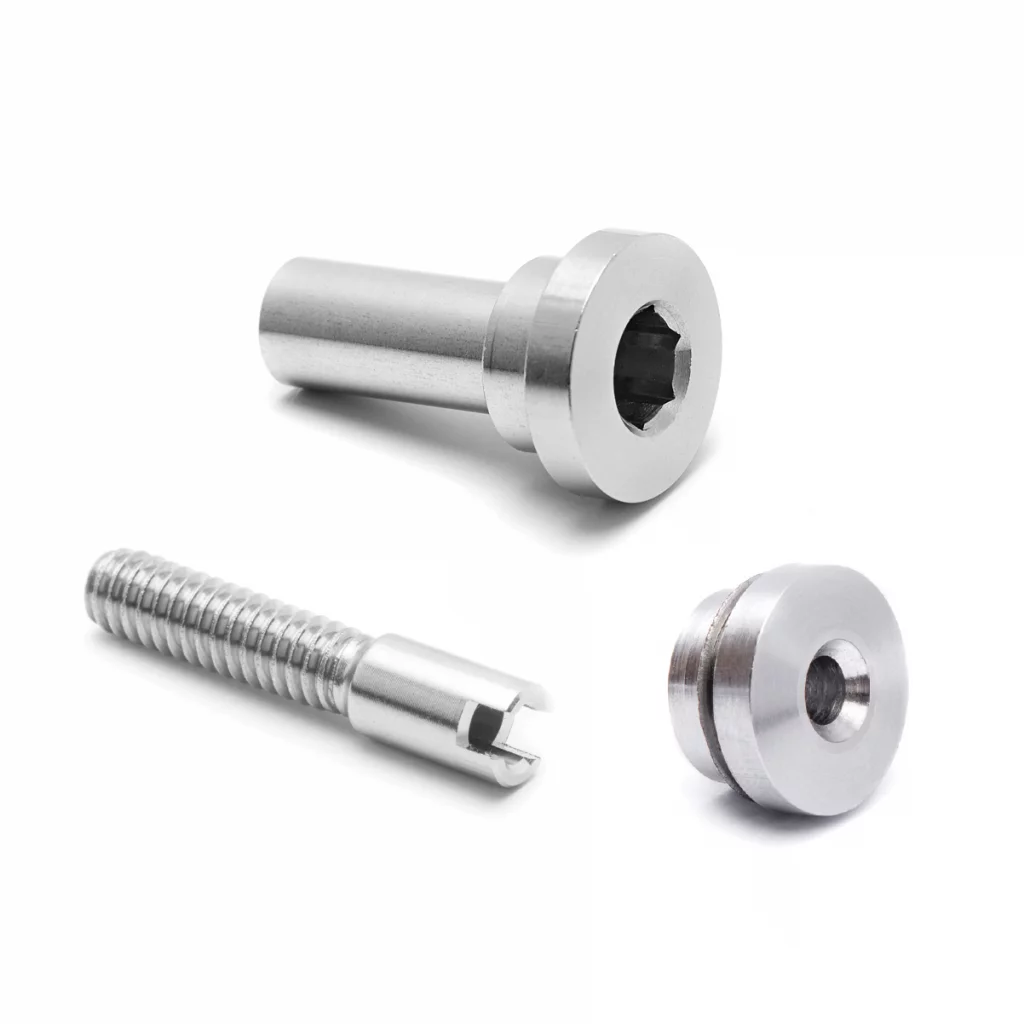 Level Tension Kit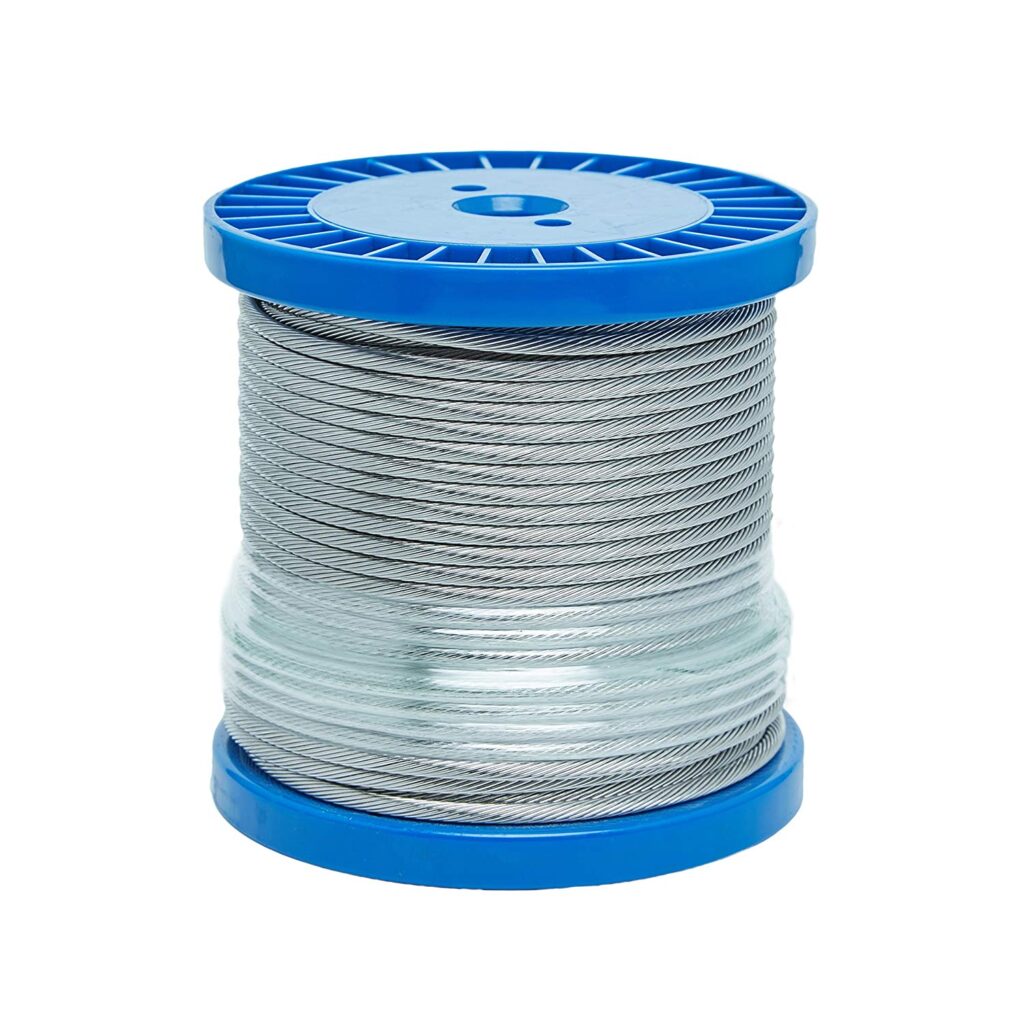 Cable Rail Wiring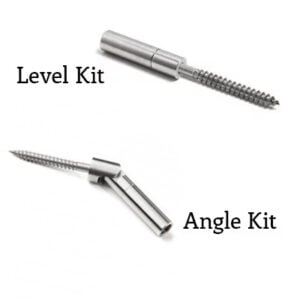 DriveTite Cable Kit
Cable railing is a great choice because of its thin, horizontal lines. But not all cable railing systems for decks are created equal. Some of them have protruding hardware. Viewrail is the superior option because we've mastered the art of hidden fasteners. Every component that is responsible for tensioning and anchoring the cables remains hidden inside the wooden or metal posts. So your view stays perfectly clear. We can also turn a corner using only one post. Most other systems require two.
Finally, our cable railing kits come with everything you need to tension lines of cable for your system. All our hardware is made out of a polished 316 stainless steel, which with a smooth mill finish will be as corrosion resistant as our 2205 steel. Follow a simple installation guide to install into either wood or metal posts.
Metal and Wood Posts for Cable Deck Railing
Our installation kits help you install cables into both metal and wood posts. You can purchase metal posts through Viewrail, or use your own wood posts to save money using our DriveTite System. Both options are simple for DIY homeowners.
Metal posts are fabricated from either aluminum or stainless steel in our shop. Every post is custom made specifically for your order. Customize them with a brushed finish or choose from our wide variety of powder coats. Wood posts give a natural and strong appearance, and they're easy to customize by choosing different wood species, stain, and finish. You can use your current wood posts with a component kit to tension cable from one post to another. As long as your existing wood posts have a depth of at least 3.5", Viewrail's DriveTite Cable Kit is a perfect update to your deck at a very economic rate.
Our DriveTite kits are DIY friendly, which is an attractive feature for many deck owners. Installing a cable railing system yourself using pre-existing wood posts is a great way to save time and money on your project while updating your deck's view. If you are looking to purchase metal posts, they are also DIY accessible.
What's the Install Process For Posts on Decks?
Perfect for a wide deck, Surface Mount posts attach to the surface of your deck. They can be specially ordered for hard surfaces such as concrete or tile, and can be used on both flat surfaces and angled runs. Paired with cable deck railing, surface mount posts create a classic minimalistic look.
To install your surface mount posts, you'll need to take each one out of the box, then carefully slide the foot cover over the top of the post before the bracket is attached. If you're working with a Universal Top Post, put the handrail bracket on top of the dome, then insert hex screws on either side of the dome. If you're working with a Flat Top Post: place the bracket on the top of the post and tighten the provided nut. Now, you're nearly ready to mount the posts. Start by laying the posts in the position where they should be mounted. Measure carefully to be sure that the posts are spaced at least 4" apart. You may be tempted to speed through this step, but resist the urge.
Carefully measuring will save you lots of time in the long run. Once they are in place, screw the posts down using mounting screws. For more detailed installation instructions, check out our installation guide.
Examples: Deck Cable Railing at Silver Beach, Cable for a Bal Harbour Deck, Tennis Court Deck Railing, Cable Deck Railing Posts For a Coastal Home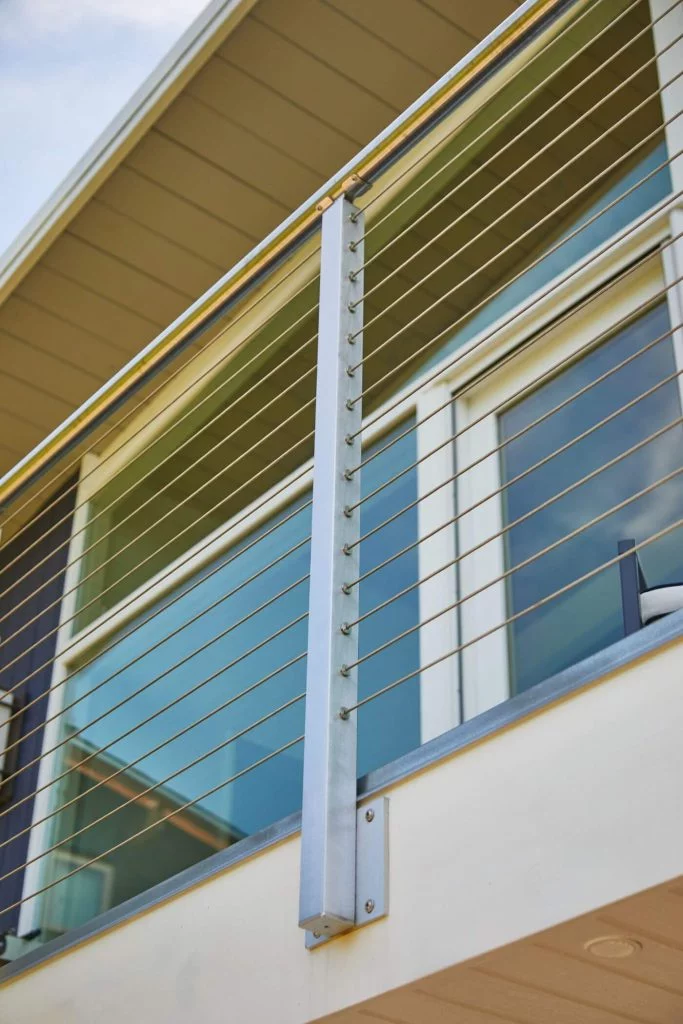 A crowded deck can feel claustrophobic. Side mount posts make room for more. They mount to the side of the deck, instead of the surface — so there's plenty of space for guests to move around. Choose between Bump Out Slim, Side Mount, and Slim Side Mount posts to make the most of every inch of space on your deck.The process of installing side mount posts is the same as Surface Mount posts (above). For more detailed installation instructions, check out our installation guide.
Examples: Waterfront Stainless Steel Cable, Cable Railing for Double Balconies, St. Kitts Cable Railing Renovation, Cable Railing for a Gorgeous Beach Deck
Code Considerations for Cable Railing on Decks
Viewrail is committed to providing stainless steel cable railing that is completely up to code. We encourage all our customers to check their local code and building requirements. Because cable railing code can differ according to where to live, it's important to read up on your local requirements.
Final Information & How to Start Your Decking Project
Use our Design Help form to plan your project. Shop cable railing systems by Viewrail when you're ready to begin your project. If you have more questions, reach out to our team of experts. They'll be happy to answer any questions you have about cable deck railing.