What types of Cable Railing Systems are there?
Viewrail offers three different types of cable railing
Signature Cable Railing
Signature cable railing is for the projects that need the full customization of our product line. It supports completely stairs, balconies, & decks and is available in over 15 different colors
DriveTite Cable Railing
DriveTite Cable Railing is made specifically for wood post cable systems. The DriveTite fittings make it easy too drill and tension for wood post & it has support for angle and straight runs of cable wire.
Express DIY Cable Railing
Express cable railing is great for the project that needs to be done in the next week. Product shipping is next day and it's the most diy friendly product we have. See if express diy cable railing is right for you!
Metal Post Systems
Viewrail currently offers our cable railing posts in three different materials: aluminum, 304 stainless steel, and 2205 duplex stainless steel.Aluminum and Stainless Steel both have benefits, but we highly recommend 2205 stainless steel for coastal environments. Learn the difference between aluminum and stainless steel cable systems
Wood Post Systems
Things to Consider When Purchasing A Cable Rail System
Other Things To About Wire Railing
Cable Fittings & Hardware
Depending on how and where your cable railing system will be installed, you will need certain fittings and screws. We design our cable railing hardware to complement the design of your system. These include all of the necessary hardware required for install, such as screws, barrel fittings, tension receivers, and any necessary threaded crimp fittings.
The fittings attach to the wiring in several ways. Some systems use a swager to attach and tighten the fittings, and the fitting may or may not be pre-swaged before shipping. However, swaging requires special tools, and can affect both the size of the post holes and the overall look of the railing system. Other systems use crimping to attach the fittings; these crimped fittings are usually smaller and easier to work with than swaged fittings. They also require a special tool––a crimper––though they can usually be rented from the railing manufacturer. Crimping tools are also easier to use.
Cable railing systems look great just about anywhere, whether it's installed in the foyer on a grand staircase, along the deck of a beach house, or on a museum's central stairway. If it's a location that requires a barrier, cable is a safe, elegant solution.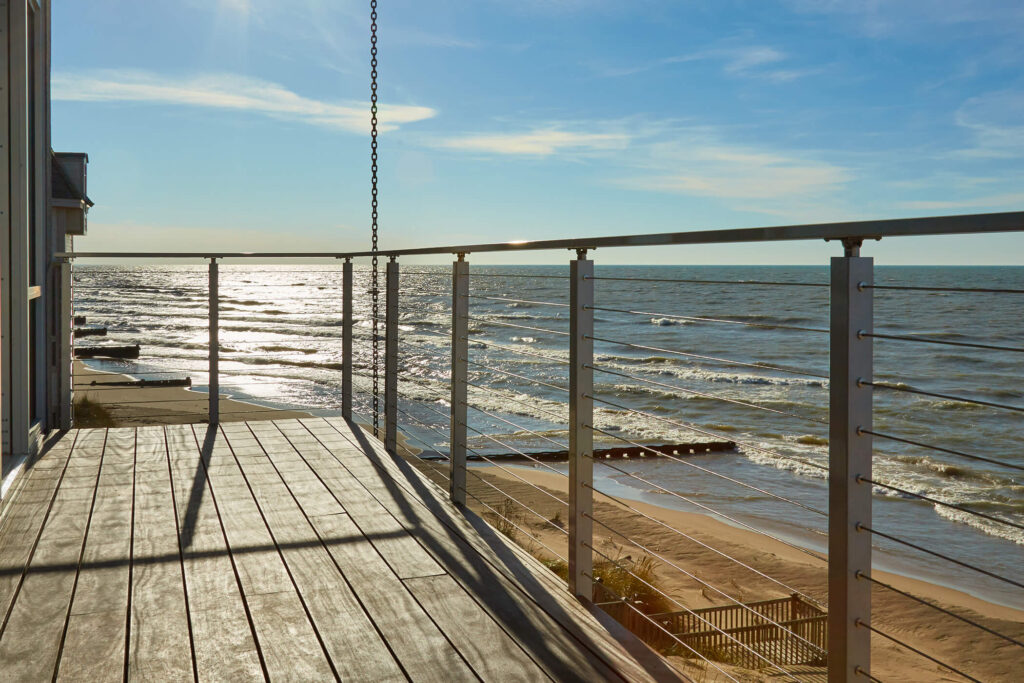 How is Viewrail Cable Railing Different from Other Stainless Steel Systems?
We believe that there's no such thing as "good enough." When other manufacturers finished designing their cable railing systems, Viewrail pushed-forward and continued to find ways to innovate and improve. That's why you never see tensioning components on our systems: we've designed our posts to hide them. We've also created a unique way to turn a corner with cable using only a single post, making our design sleeker and cleaner. Additionally, all of our posts come pre-drilled––now you can spend less time putting your system together and more time enjoying your new railing.