Cable railing is the perfect rail option for porches, decks, stairs, and patios. Often chosen for its safety and style, this barrier provides a clear view that complements various styles of homes.
Easy to install and maintain, cable railings come in a variety of finishes, colors, and coatings to ensure your design is seamless and beautiful. Plus, they last for many years, and can withstand even the harshest environments.
Here are some of the best cable porch railing ideas.
Lush Lakeside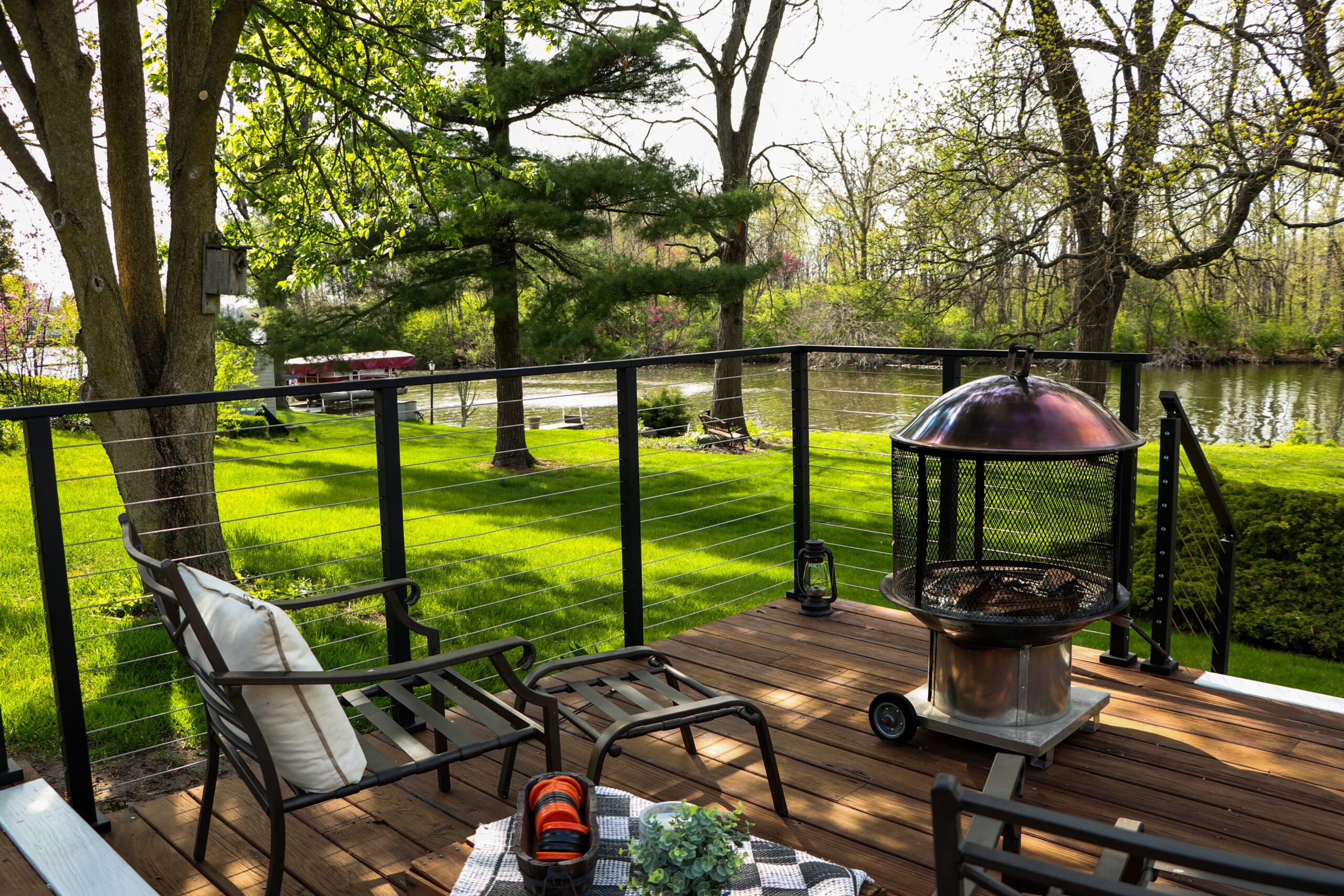 The tranquil scenery of a backyard lake should never be overwhelmed by chunky wood or intrusive metal railings. This lakeside porch with cable railing turns attention from the deck to the lake, placing this beautiful property center stage.
Previously, large wooden benches blocked the view. Once the owner replaced them with our Express Cable railing and a metal handrail, the entire landscape was transformed, so all eyes would focus on the water and landscaping. Thanks to the sturdy, sleek nature of the cable railing porch, this backyard now has the best seats in the house.
Riverfront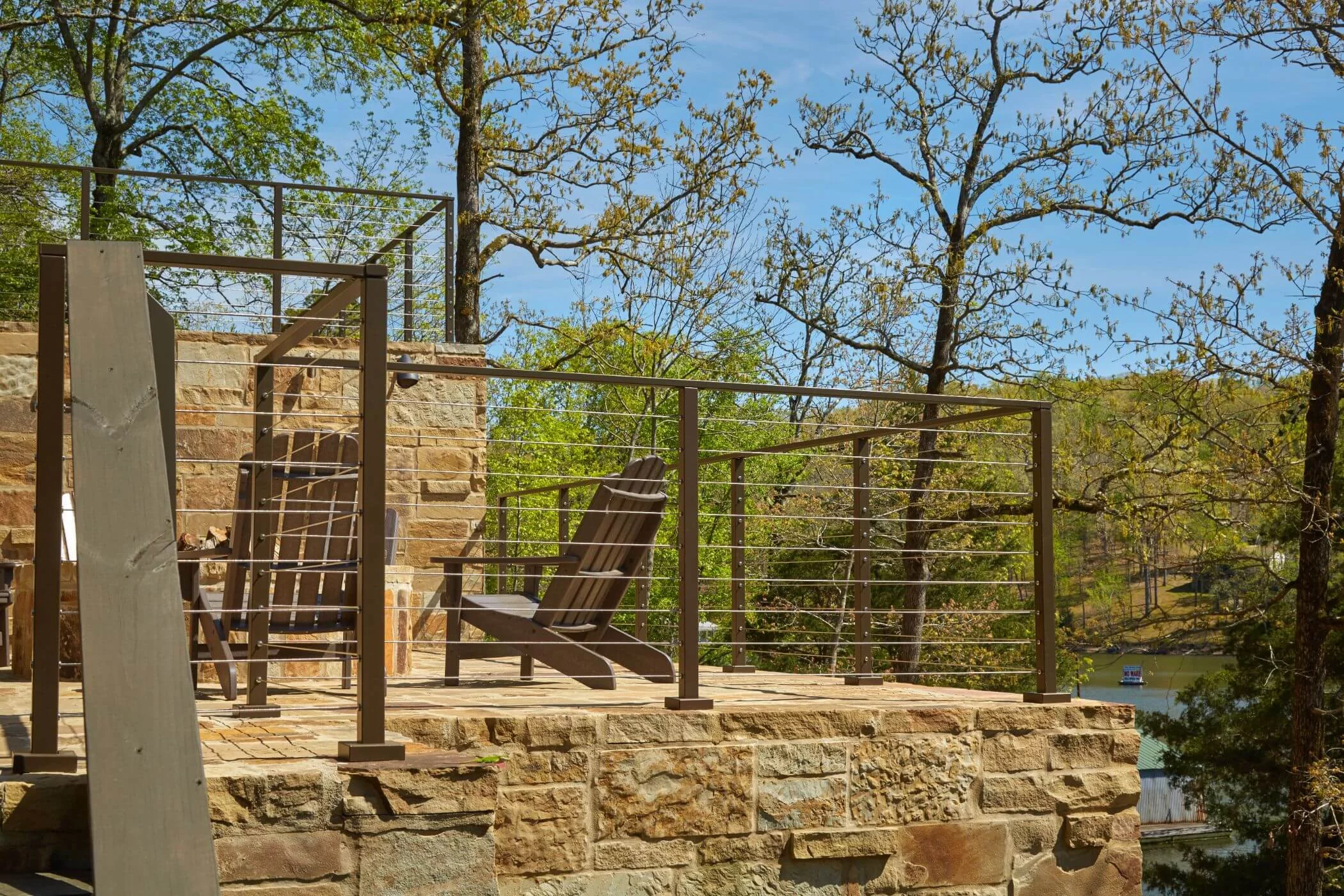 This gorgeous home features our Signature Cable railing on a riverside deck, finished in a bronze powder coat.
On this steel cable porch railing, the flat top posts are used to close the gap between the posts and the handrail. The result is a stunning, fluid railing system that doesn't interfere with the serene, riverfront views.
Mountain Overlook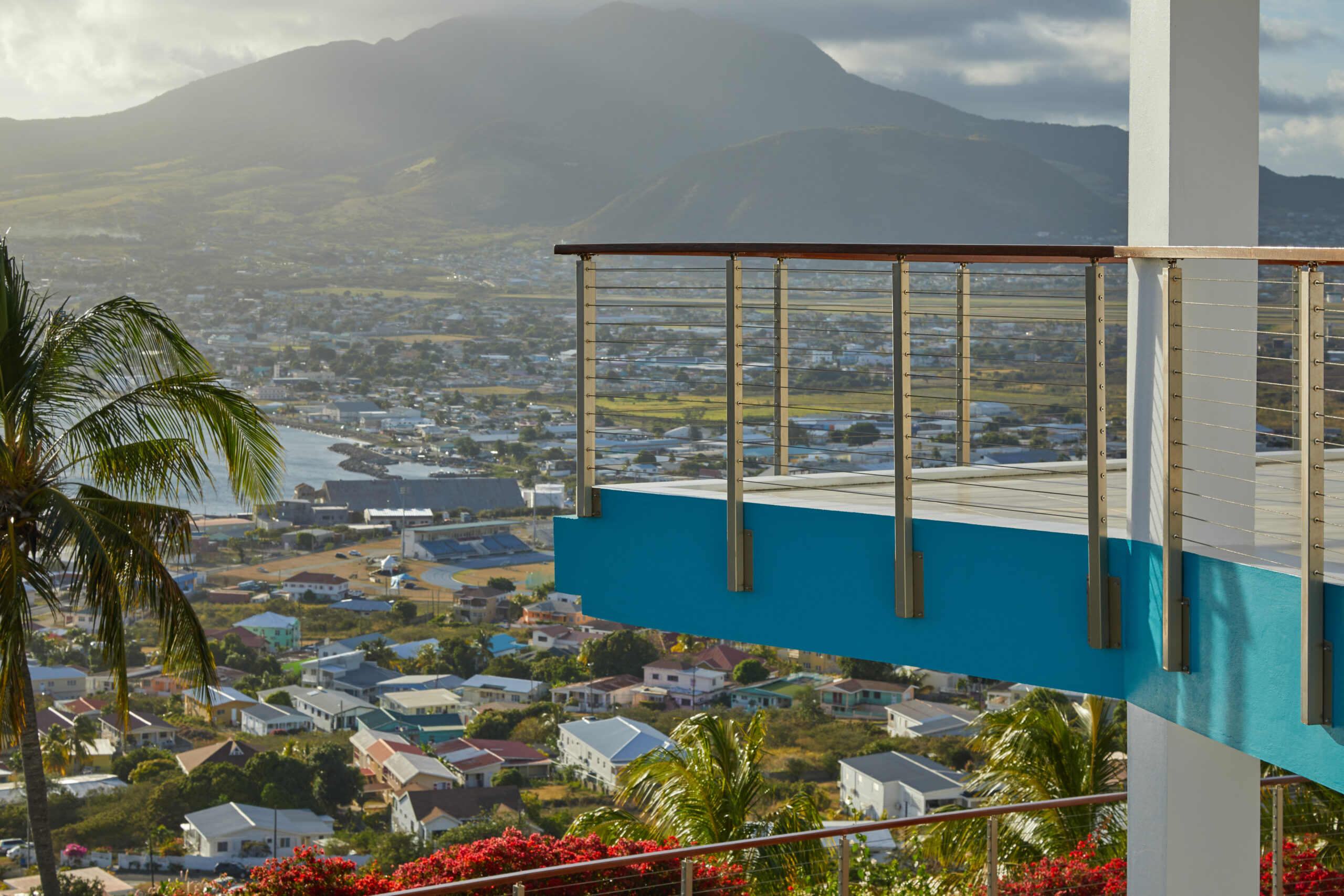 Any home surrounded by jaw-dropping mountains and horizon views deserves a subtle cable railing that showcases the scenery. This homeowner chose our Signature Cable railing for its ability to preserve the view, retain the deck's walking space, and maintain its integrity in harsh weather conditions.
Palm Tree Suburbs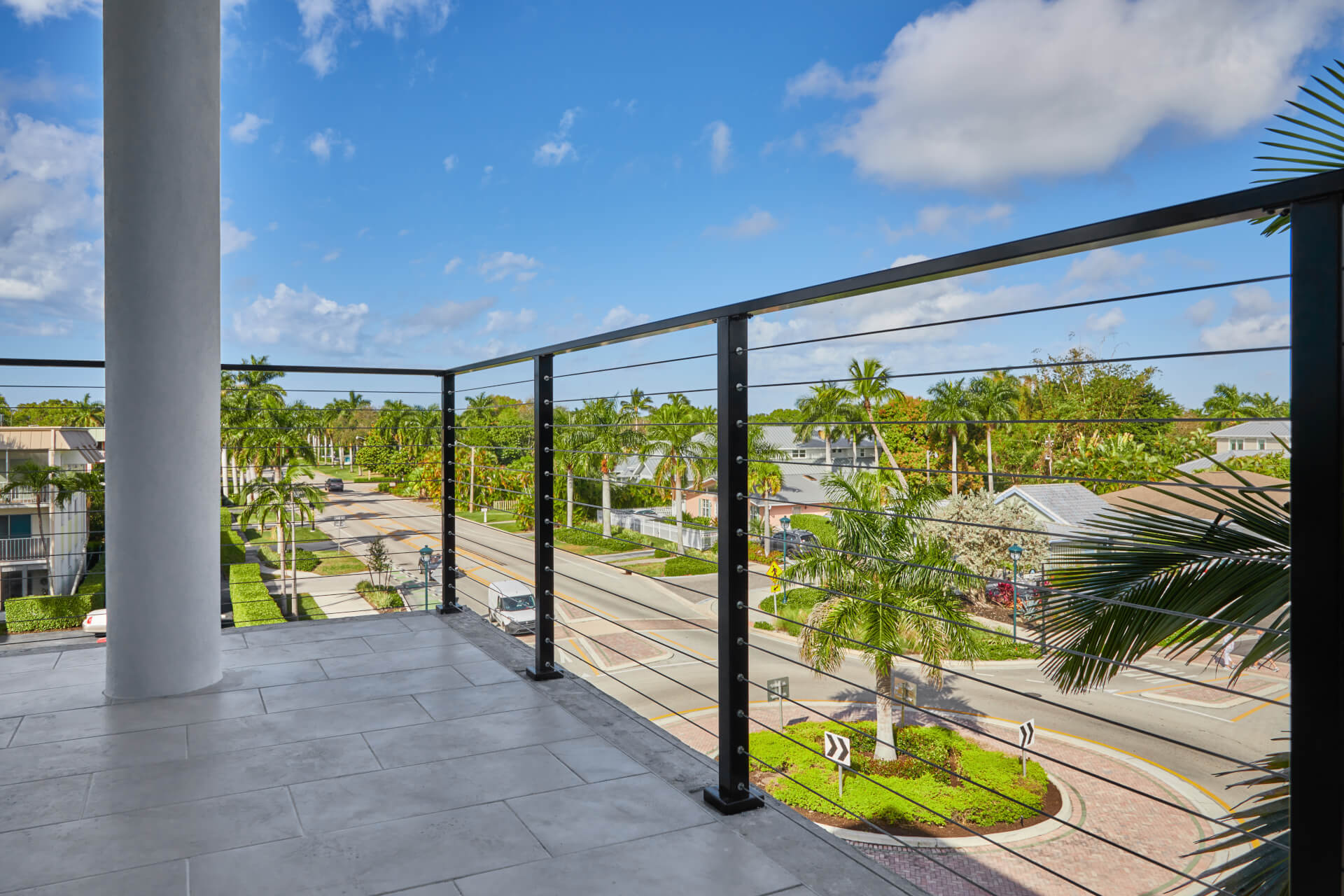 Modern coastal living never looked so good. Thanks to its black color, clean lines, and sharp angles, this porch balcony cable railing provides a stunning contrast to the soft, rounded architecture of the building. Custom-built for this particular property, our Signature Cable railing with a legacy black fluoropolymer finish effortlessly takes this balcony to the next level.
Bustling Cityscape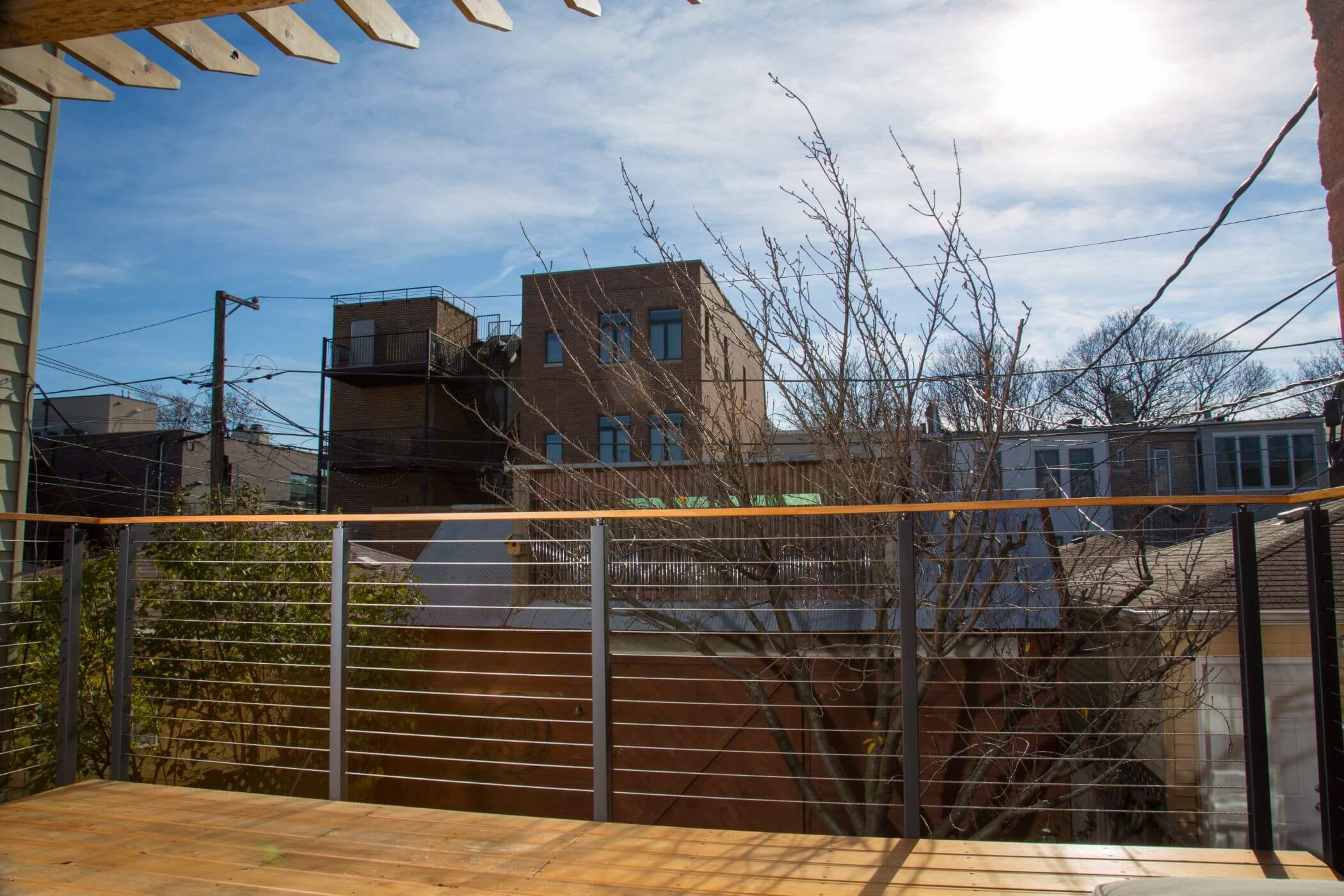 One of the best features of porch cable railing is its high-end design. That stunning look and feel comes through in glorious form at this urban dwelling where the clean, black powder coating is in harmony with the exciting city vibe.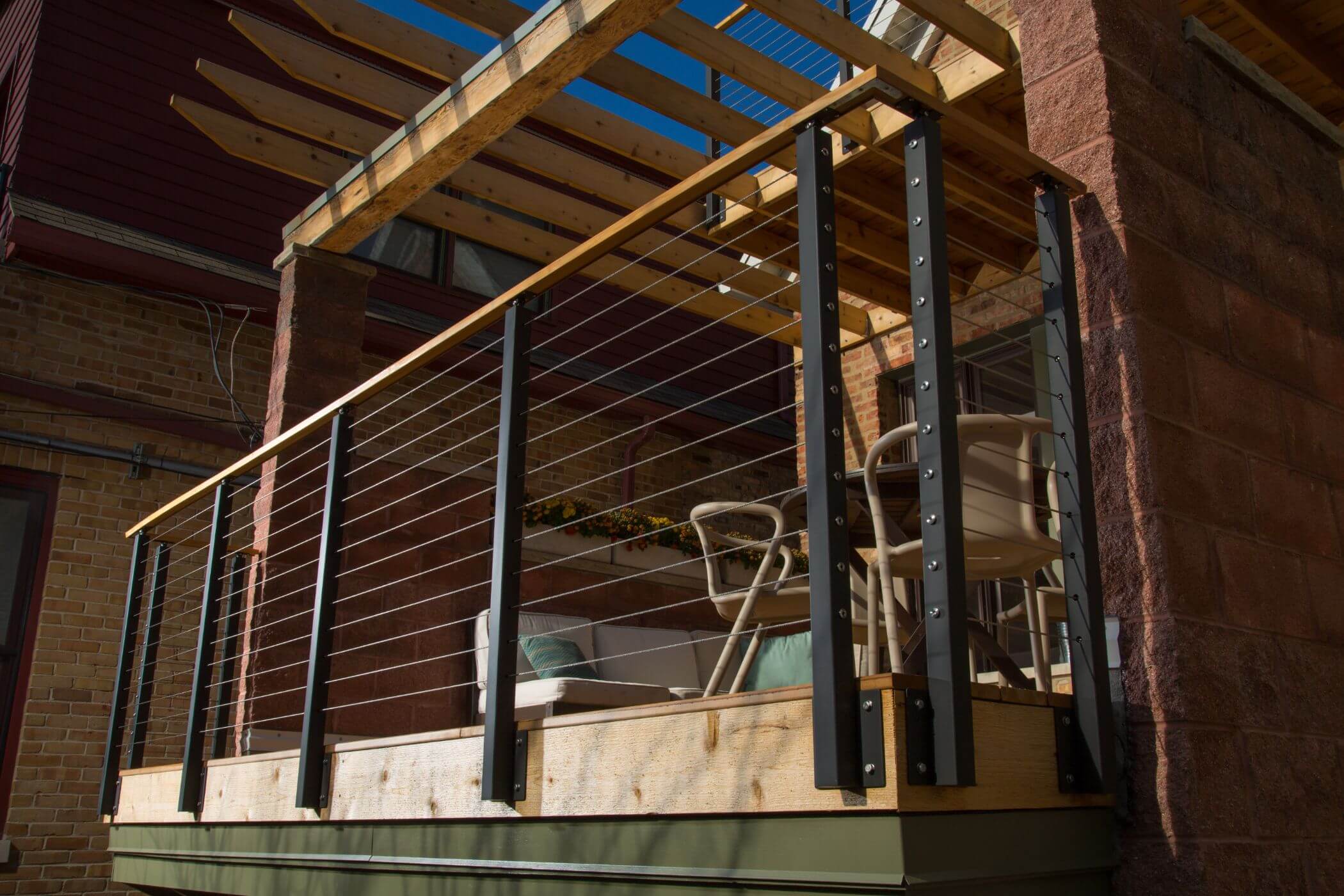 In addition to looking great, the black powder coating has another purpose: protective durability. The owner paired our Signature Cable railing with a stunning wood handrail to create a seamless design. For an added bonus, the handrail matches the flooring, tying the entire look together.
Flat-top posts don't take away from the valuable space available on the deck, plus they stay out of the way of the surrounding urban landscape.
Viewrail Cable Porch Railing for Your Home
When all is said and done, cable porch railings are an excellent investment. They last for years, don't block your views, and complement many different home styles. From balconies, verandas, and stairs, to decks and porches, cable railings offer endless benefits.
Style never has to be sacrificed for the sake of safety with cable railings, and their versatility makes them attractive across a wide variety of applications and settings.
Viewrail is the leader in high-end stair and railing systems, and we're committed to our customers. We create and ship everything from pre-drilled hardwood treads and screened porch cable railing to posts that require no drilling or assembly right to your door.
Contact Viewrail now, and let us use our state-of-the-art software to show you 3D renderings and layouts of what your project could look like with our cable railings.
Recent Posts