Express Cable Railing Pricing
| Product Type | Price per Linear Foot |
| --- | --- |
| Aluminum Systems | $150-240* |
| Stainless Steel Systems | $215-285* |
* Price ranges reflect average pricing based on intermediate customization choices and finishes, not including sales tax or shipping costs. Some projects may be subject to higher rates. It is possible to purchase railing systems for less than the lowest price in the range based on customization and finishing choices.
Cable Railing System Cost
A whole cable railing system, including posts, handrail, cable, and hardware, costs about $150-$285 per linear foot. The price of cable railing will vary greatly depending on what type of material you use, whether you use wood or metal posts, and the number of corners and runs of cable you need.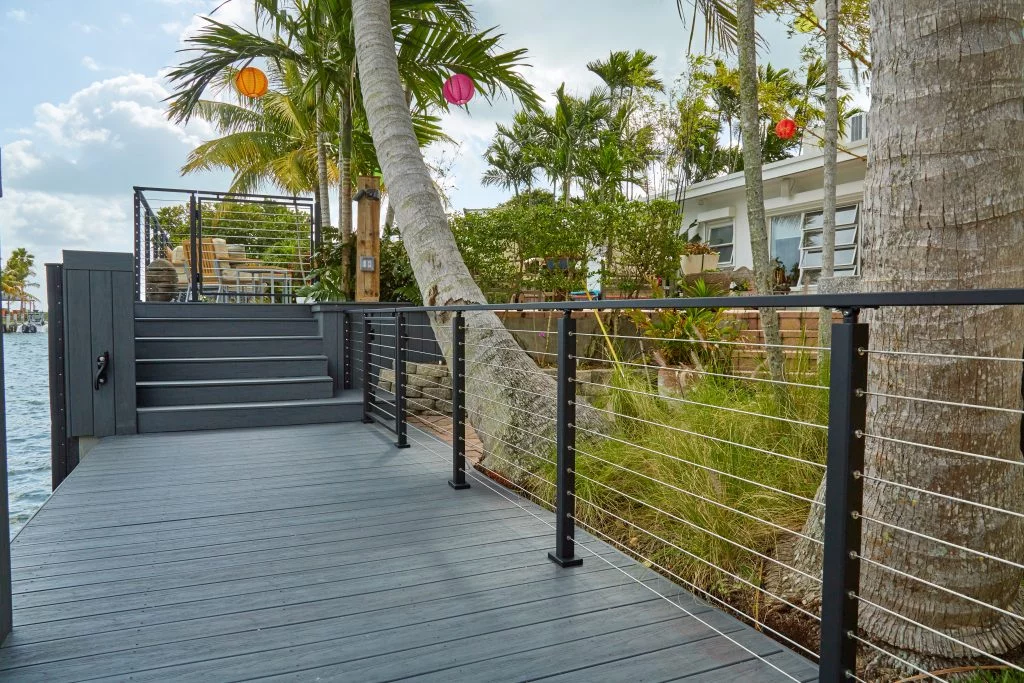 Wood Cable Railing Cost
Cable railing can use both metal and wood posts. Wood cable railing systems can use pre-existing or purchased wooden posts, which can make this a budget-friendly cable railing option. Products like our cable railing kits – Drivetite allows you to drill into your wooden posts and tension runs of cable to form the cable railing system. Using our cable railing kits for wood posts to create Wood Cable Railing (without purchasing posts) will cost about $10-12 per linear foot before kit cost.
Viewrail custom makes every post for your individual project. These posts come pre-cut, pre-drilled, and ready to install. Viewrail designs posts to be sleek. Their hardware is hidden, and the weld seams are covered. Each post can be powder coated and finished to achieve your ideal look.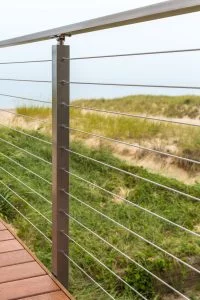 Aluminum Cable Railing Posts
Using aluminum for your cable railing system will cost about $150-240 per linear foot, which is about 30% less than using stainless steel posts. Our DIY cable railing system (Express Cable Railing) uses aluminum cable railing posts making it a great way to save money when your project doesn't require the extra strength and security that comes with stainless steel. Plus, aluminum cable railing posts are suitable for indoor and outdoor* use.
*Outdoor use only recommended in low-stress and non-corrosive environments
Stainless Steel Cable Railing Posts
Using stainless steel on your cable railing system will give your railing extra strength and durability. It will cost $215-285 per linear foot, depending on the grade of your stainless steel. Viewrail offers 304 stainless steel and 2205 duplex stainless steel posts. 304 stainless steel is a great option for outdoor projects that are not near the water. 2205 duplex stainless steel posts are ideal for the toughest environments. This is the same material that is used on deep sea oil rigs, high-traffic tourist areas, and other saltwater locations. Stainless steel cable railing posts will cost about $150 per post for 304 Stainless Steel, and $200 per post for 2205 Duplex Stainless Steel
Learn more about the differences between aluminum and stainless steel posts.
Corners Add Cost
A general rule of thumb for planning out the cost of your cable railing project is that corners add cost. If cable simply runs through a post, it will cost less than a corner post which holds the tension for each line of cable. Since corner posts tension the runs of cable, they require cable railing hardware which will increase your total railing cost. Check out the glass railing cost guide for a comparison between cable and glass railing.
Have more questions? Check out these related articles: