April Wilkerson's Curved Floating Deck
Published on: Wednesday, October 18, 2023
As a seasoned entrepreneur in various fields of carpentry and construction, April Wilkerson was ready to begin her next big project that would benefit her whole community. Her vision was a floating deck, wrapped around twin oak trees, to upgrade the beautiful space.
There was just one problem – the deck design needed to flow with the natural movement of the trees it would surround. Knowing that most deck railings wouldn't be able to achieve that look, April turned to Viewrail and found just the material she was looking for – cable railing with Endurance Rod Infill.
Not only does our slim rod infill help achieve the necessary curves, but it also offers the durability and aesthetic April needs.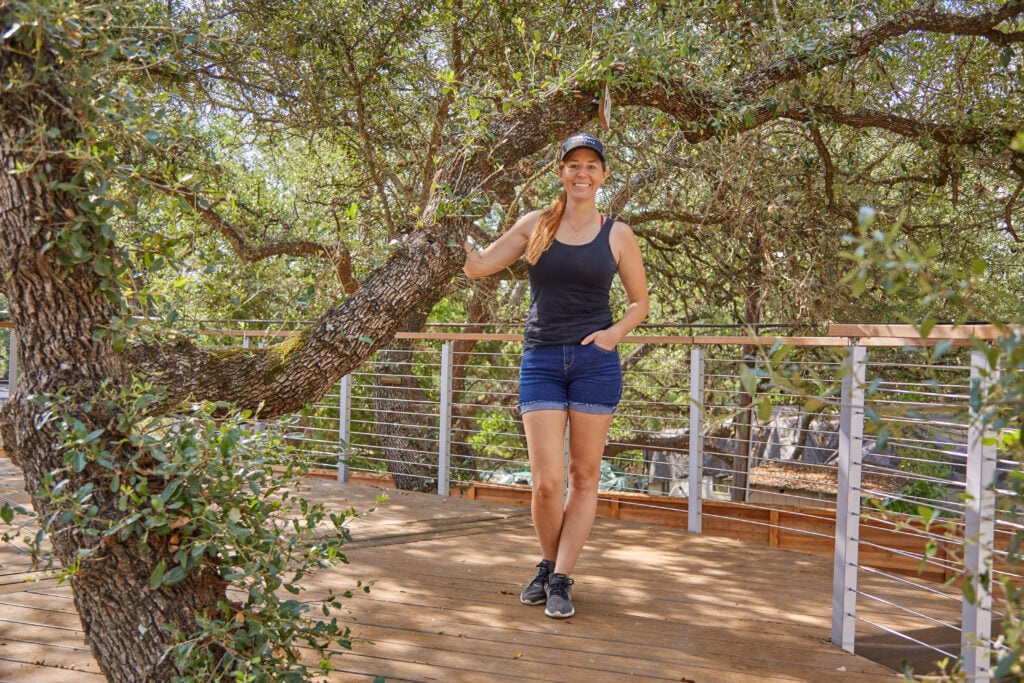 "I had this very custom vision, and no one else on the market was able to help me pull it off – except for Viewrail." – April Wilkerson, Contractor & DIY Influencer
The Solution to the Curved Railing Dilemma
Before she began this installation process, April had four must-haves the deck needed to include–
It needs to be large and durable

It should be 12 feet above ground

It should wrap around the Oak trees

It should include natural curves
The biggest hurdle for this project by far was the curving aspect of the railing. It needed to flow with the surroundings, but still maintain its shape through various weather conditions.
Thankfully, with the Endurance rod infill, there were numerous ways to approach this situation. The customizable railing, while similar to cable wire infill, is able to bend and hold various angles.
Curves were the central aspect that no one else could help bring to life. Our solution to that problem was Endurance rod infill.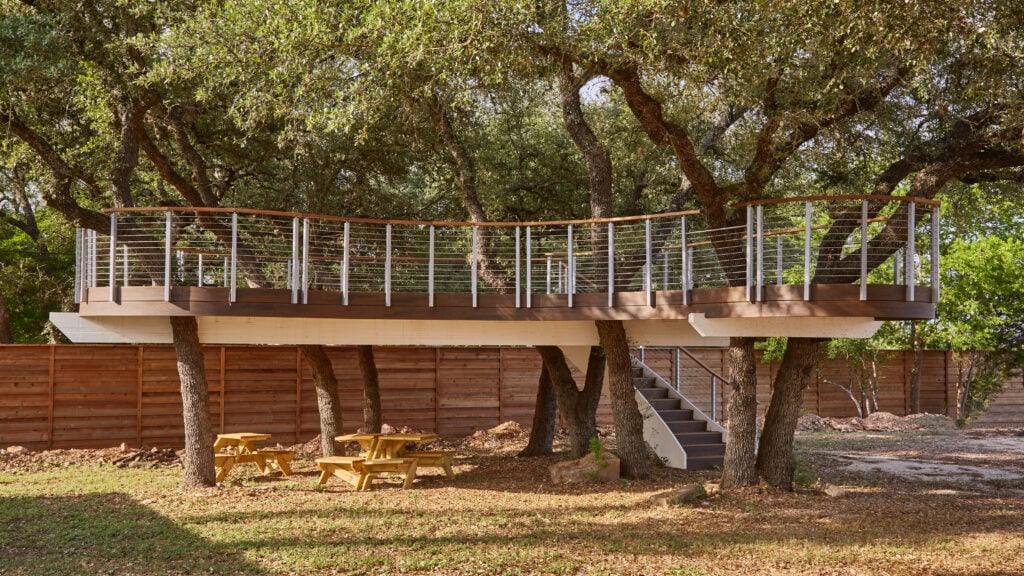 3 Keys Elements Brought to Life
There are three main aspects that we helped bring to life –
Aesthetics and Vibe
April needed her new deck to hold a whimsical nature vibe, something that would bring another layer of beauty to the already gorgeous space. She chose the perfect materials and design to make this happen.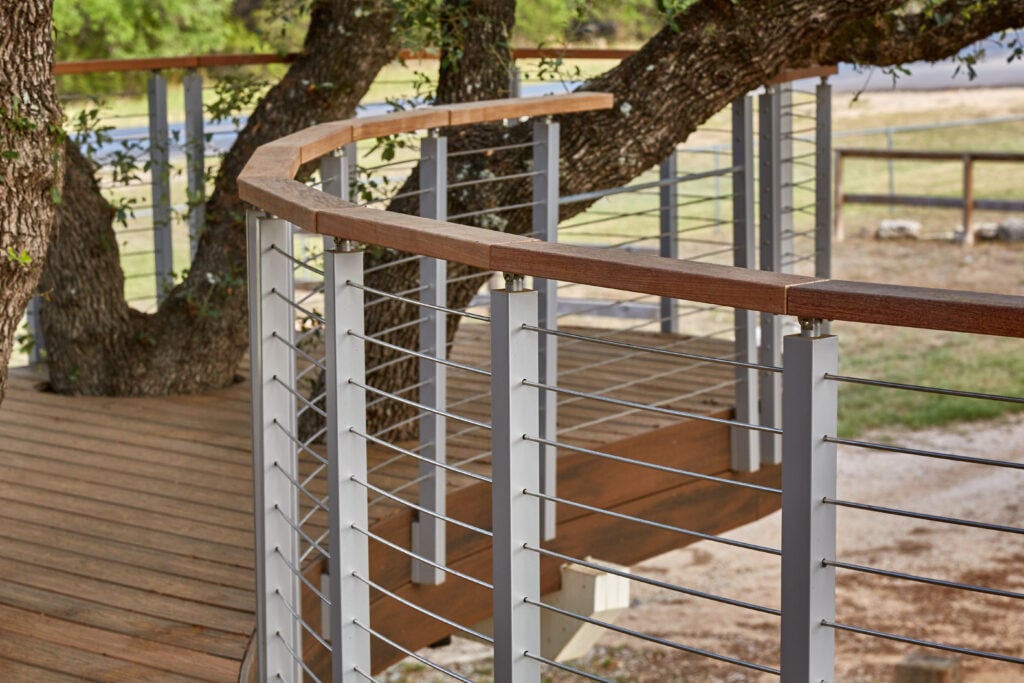 Safety and Durability
In order to create a space that everyone can enjoy, April needed her system to maintain safety standards even with its unique design. The material needed to withstand various weather conditions, as well as the environment it would be installed. Not only that, but she needed material with little to no maintenance.
"I don't want to have to go through the effort of building something like this, then have to keep up with maintenance or overhaul," April noted.
That's exactly how Endurance Rod Infill was able to help.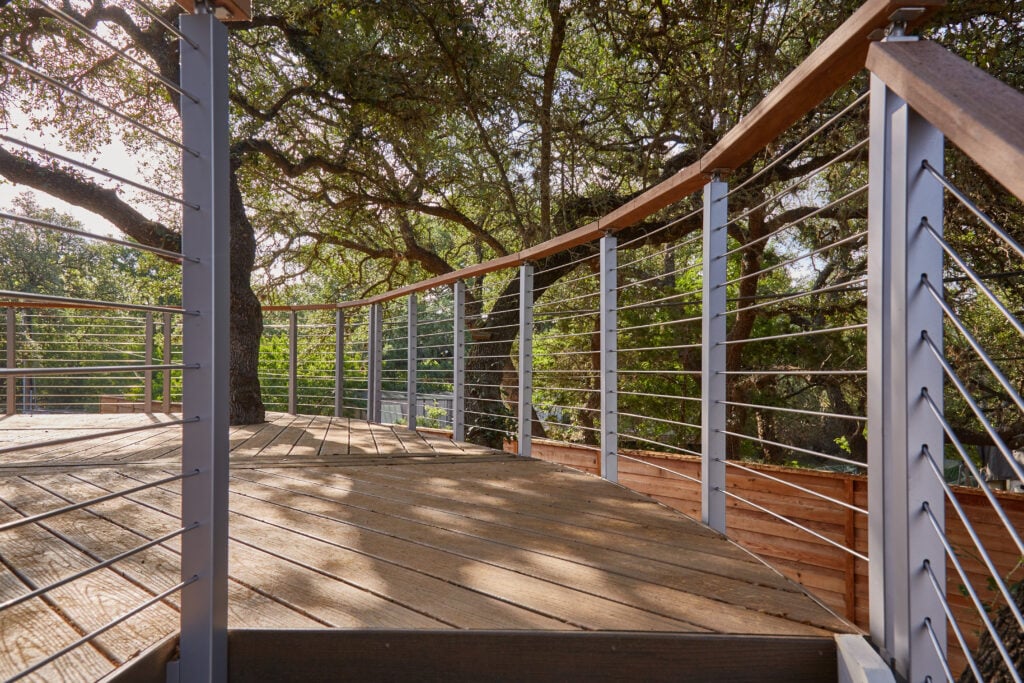 Curve Complexity
The final aspect that April required was a structure able to maintain the bends and turns. This was by far the most important for her project – the foundation of the system. To make sure her vision would come true, April personally customized the rod infill to fit perfectly around her floating deck.
To find out more about this project and others, check out April Wilkerson's YouTube Channel.
If your'e ready to get started on your next project, or have questions about our products, reach out to us directly.
Recent Posts