6 Cable Deck Railing Ideas You'll Love 
Published on: Thursday, October 26, 2023

If you want an immediate upgrade to your outdoor sitting area but need that extra nudge of inspiration, Viewrail's got you covered. Take a look at these six, stunning cable deck railing ideas you can use to fuel your imagination for your next project.
1. A Sleek Modern Look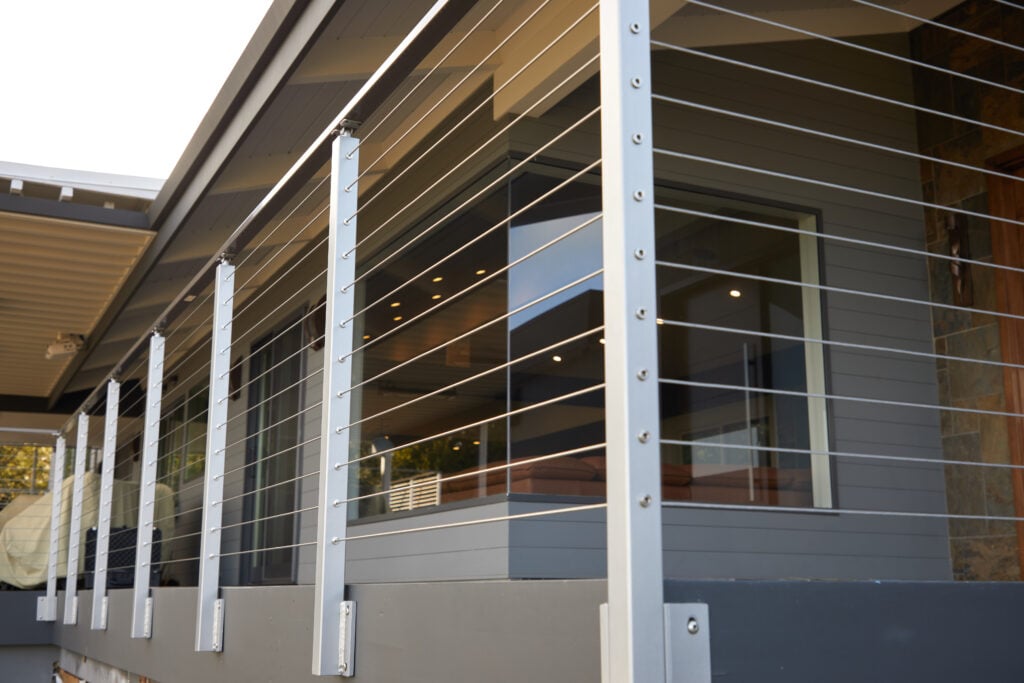 This side mounted cable railing system is the perfect addition to any home that wants an upgrade with contemporary class. The deck railing adds just the right amount of color contrast to help the system stand apart. And with the unobstructed view from both sides, both the home and the system are able to stand out perfectly.
2. Cable Deck Railing by the Sea
What can be better than the ultimate view of the sea and a system that compliments the scenery perfectly? This white powder-coated system is the perfect option for subtle class and photogenic vibes. On top of that, because of the stainless steel cable railing framing the deck, there will be limited maintenance, so you can enjoy your space without worry.
3. A Pop of Railing on the Blue Water
There are numerous ways our cable deck railing can complement your space. For example, this white powder coat system stands out against the ocean backdrop effortlessly and shows off the natural surroundings in a picture-perfect way.
4. Framed With Ease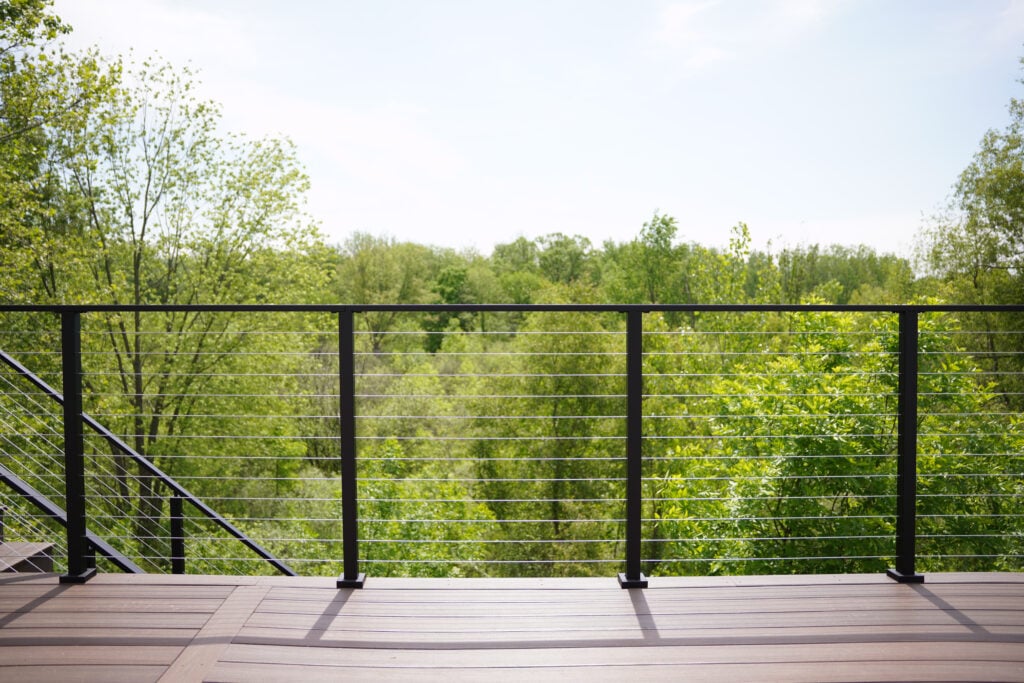 Your deck should be more than just an access point to your outdoor space – it should have a vibe that suits your needs so you can enjoy every aspect of your home. This slim, modern railing captures the beauty of its surroundings with its unobstructed view of the surrounding forest. The dark wood decking adds a layer of dimension to the whole look, so you and your guests can have the perfect outdoor spot.
5. Cable Railing in a Rustic Space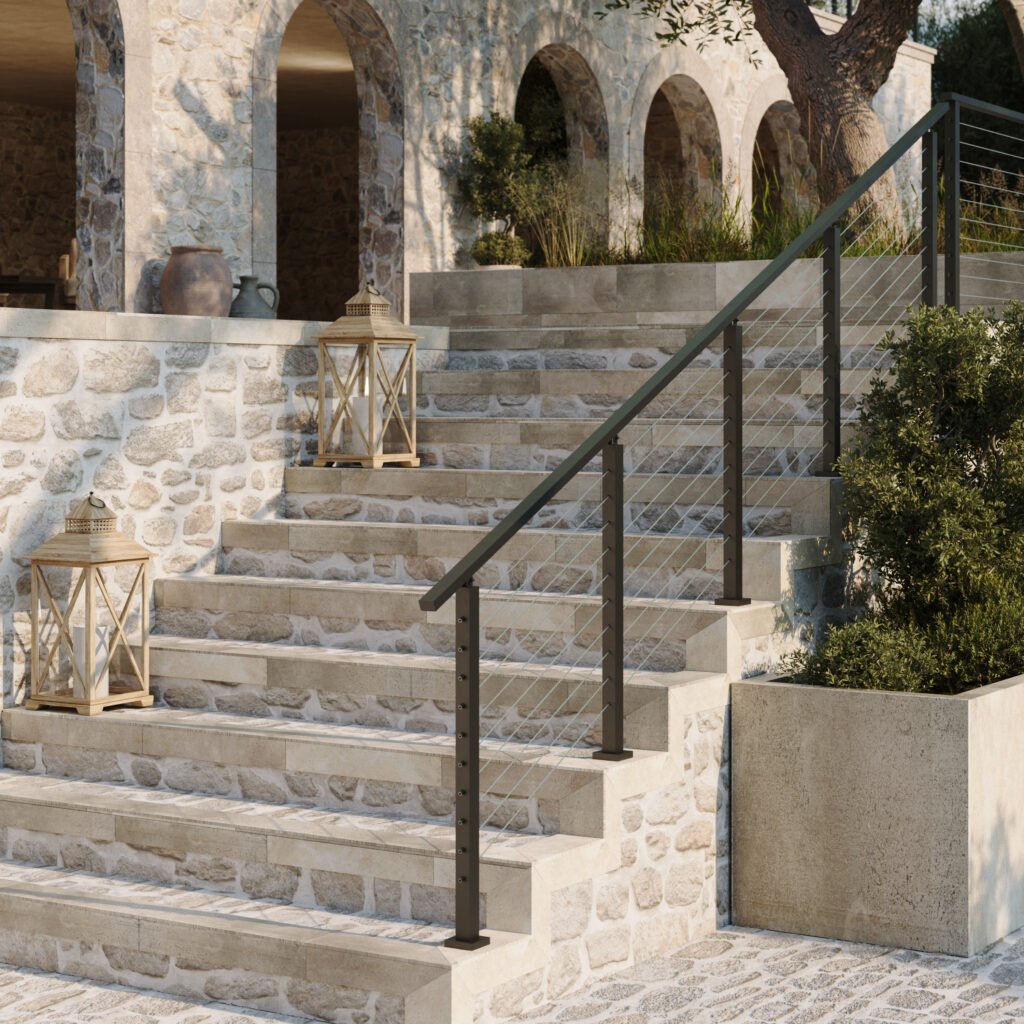 This gorgeous home brings a modern touch to its rustic aesthetic. With cobblestone walls, pillars, and pavement, the black stainless steel railing offers an additional element that will grab the attention of anyone who sees it.
6. When Steel Meets Stone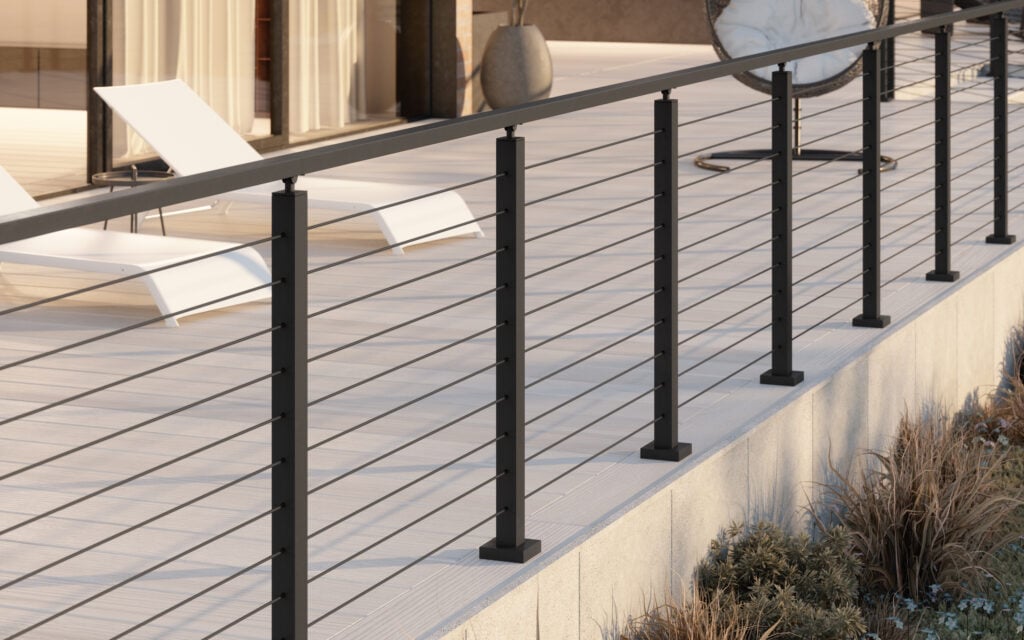 "Eye-catching" doesn't begin to describe the look of this system pair. Black powder-coated posts, railing, and handrail are the perfect choice for the light stone deck. The color contrast brings out all the best aspects of this cable railing system, and wows in any lighting.
Find Your Deck Railing Today
Everyone has their own idea when it comes to design and interpretation for spaces like these. Thankfully, Viewrail has everything you need to complete your new deck railing system so you can have the perfect fit for your space.
Contact our Viewrail experts today and we'll help you begin the deck railing planning process.
Recent Posts