Whether you're installing a deck or looking for a handrail for your balcony, it's important to make sure that the type of wood you choose will hold up over time.
Here is a list of the thirteen best types of wood for your outdoor projects, broken down by functionality, availability, and price.
Looking for a wood handrail to complete your decking system? Browse our selection at Viewrail.com.
1. Thermally Modified Lumber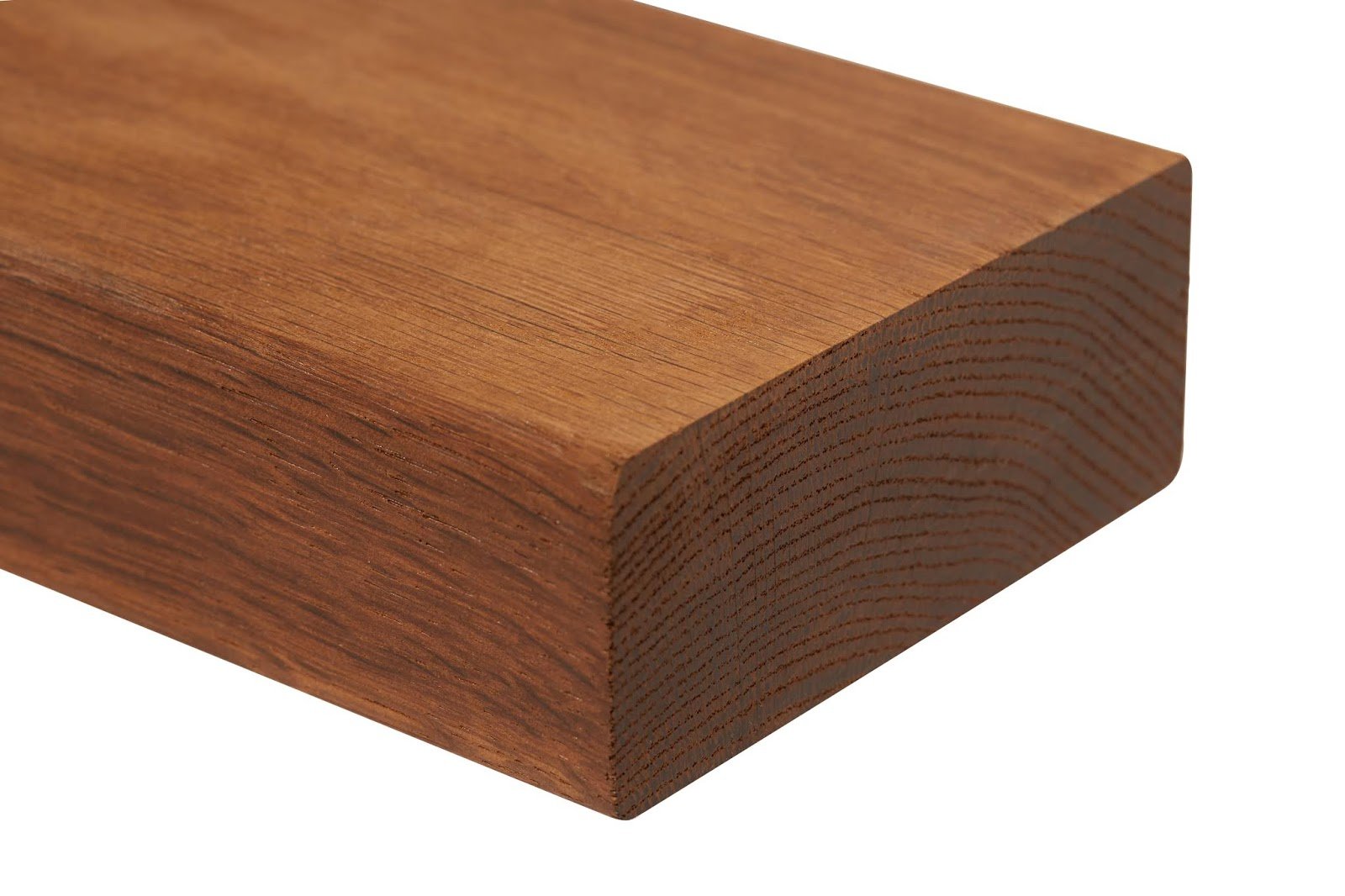 Thermally modified lumber can be made out of numerous different wood species, has the warmth of real wood, and also has top-notch weather resistance.
Why It's Great:
Thermally modified wood is made using an all-natural process with a proven history. It is more environmentally friendly than all other treated lumbers. The lumber is extremely resistant to mildew, rot, and insects. It is also cheaper than other more exotic exterior wood species.
The Downsides:
Thermally modified lumber can be more difficult to work with because it can be hard on tool edges. It will develop a patina over time, causing it to have a more greyed appearance (which can also be an upside, depending on how you look at it). This wood can be more expensive than traditional treated lumber.
Does Viewrail Recommend It?
Yes; Thermally modified wood is the best choice for exterior lumber.
Where to Find It:
Viewrail currently offers thermally modified lumber in both exterior treads and the 6002 and 6007 handrail profiles in both hard maple and white oak.
2. Acacia
Acacia is a smooth, durable wood which is frequently used in kitchen and bathroom collections. Its high oil content keeps the wood from molding or warping, and makes Acacia particularly resistant to scratches and water damage. Plus, a beautiful natural grain and a deep brown color make it an attractive choice.
Why It's Great:
The same durability and scratch-resistance that makes Acacia perfect for dishes and tables make it an excellent material for the outdoors. Acacia is known for its longevity and resistance to harsh weather, insect damage, and mold. According to Hunker, properly cared for Acacia furniture can last for years.
The Downsides:
Acacia wood has a penchant for absorbing moisture, so it's important to keep it away from wet ground or grass.
Does Viewrail Recommend It?
Yes.
Where to Find It:
According to Floor Critics, Acacia lumber is more expensive than some other hardwood options, but it is still decently affordable. Both Menards and Amazon offer affordable Acacia Hardwood Deck Tiles.
3. Black Locust
Also known as "False Acacia", Black Locust is a straight-grained wood with a medium texture. It shares the title with Hickory for being one of the strongest, stiffest forms of domestic lumber—but it's more stable and rot-resistant. You have probably encountered this durable wood in a split rail fence post, or walked across it in planks for a raised trail through the woods.
Why It's Great:
According to the Wood Database, Black Locust is an ideal choice for fence posts, thanks to its strength, durability, and resistance to decay and termites. The wood is very heavy and hard and has a high shock resistance, so it's perfect for split rail fence posts because horses won't be able to kick the posts over. Black Locust weathers well and is fairly easy to work with because of its straight grain.
The Downsides:
Though it glues and finishes well, this wood is highly dense and hard, and that can make it difficult for some machines to cut through. Be aware that it may blunt certain edges on your tools. Lathe turning and steam bending work well on this wood.
Does Viewrail Recommend It?
Yes.
Where to Find It:
Prices of Black Locust vary from state to state, but they tend to be fairly moderate. For customers in the eastern US, prices will be similar to White Oak. Some of the top Black Locust retailers include Black Locust Lumber, an industry leader in sustainable building material for over 20 years, and Robi Decking, which provides products like posts, decking, and garden boxes.
4. Cedar
Thanks to natural resins, cedar is a hardy timber, resistant to rot and decay. With a reddish-brown color, the wood makes beautiful fences, roofs, and siding. It also makes excellent outdoor furniture.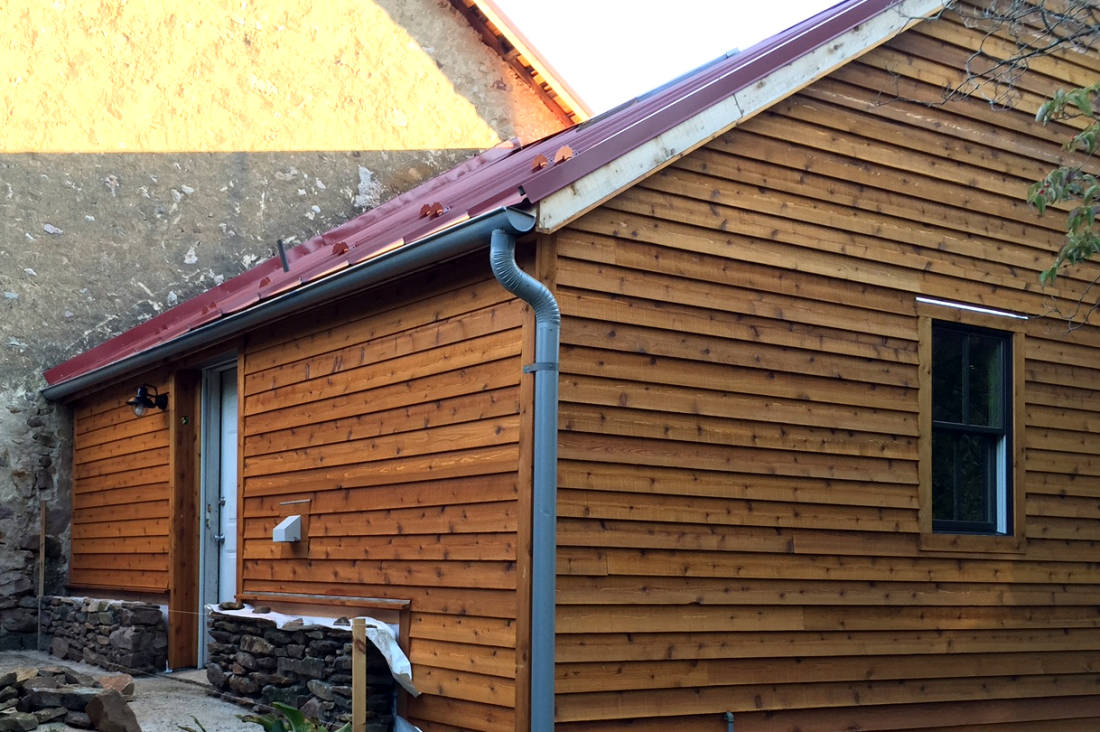 Photo Credit: Buffalo Lumber
Why it's Great:
Cedar is naturally inexpensive and hardy, and can last for years without any maintenance or treatment. The lifespan of the wood can be extended even further through painting, staining, and treating. And, because it's a softwood, it is lightweight and easy to work with.
The Downsides:
Cedar has poor screw holding capabilities, due to the softness of the wood. If left untreated, the wood will occasionally turn from its natural reddish-brown color to gray.
Does Viewrail Recommend It?
Yes.
Where to Find It:
Cedar costs about twice as much as pressure-treated lumber such as Fir and Yellow Pine. But it's still much less expensive than comparable outdoor-resistant lumber, such as Redwood. Most home improvement retailers carry a selection of cedar. Check your local Menards, Lowes, or Home Depot for pricing.
5. Cypress
The main attraction of Cypress? It's absolutely beautiful. Frequently used in exterior construction such as docks and boats, it can also be used indoors for trim and veneer. The wood's gorgeous grain pattern contrasts with its light color for a naturally attractive material.
Why It's Great:
Perhaps the only wood that is softer than Cedar, Cypress is equally brittle and tends to be a light yellowish brown. It's lightweight, fine-grained, and stronger than most softwoods. Like Acacia, Cypress has a naturally high oil content—unfinished cypress actually has a greasy feel. This high oil content makes cypress highly resistant to rot and insect damage. The wood is also rather coarse in texture and non-porous.
According to Wood Database, Cypress holds up well to staining, gluing, nailing, finishing, and painting. It doesn't normally check or warp, and it holds paint exceptionally well. It stains beautifully, and it's very moderately priced.
The Downsides:
Though its natural color ranges from light yellow-brown to reddish/dark brown, Cypress will weather over time to a silvery-gray.
Does Viewrail Recommend It?
Yes, but it depends on the circumstances.
Where to Find It:
Though Cypress is more expensive than some materials, it is much less extravagant than other exterior options such as African Mahogany.
6. Douglas-Fir
Usually a light brown color with a hint of red or yellow, this wood's grain tends to be straight and plain, though occasionally it can be a bit wavy. Texture can be anywhere from medium to coarse, and the wood itself has a moderate, natural luster.
Why It's Great:
According to the wood product manufacturer Western Forest, Douglas-Fir is one of the world's finest building materials. One of the hardest softwoods on the market, Douglas-Fir is very strong in regards to decay. It's easy to work with, and stains and finishes very well. It's often used for decorative outdoor applications, such as door frames or windows.
The Downsides:
Douglas-Fir can be vulnerable to insects.
Does Viewrail Recommend It?
Yes.
Where to Find It:
A moderately priced option, Douglas-Fir is available from many top manufacturers.
7. Ipe
An imported wood from Central/South America, Ipe (pronounced EE-pay) is frequently used in flooring, decks, tool handles, and other exterior lumber applications. And, because Ipe is a completely natural wood, it is environmentally friendly.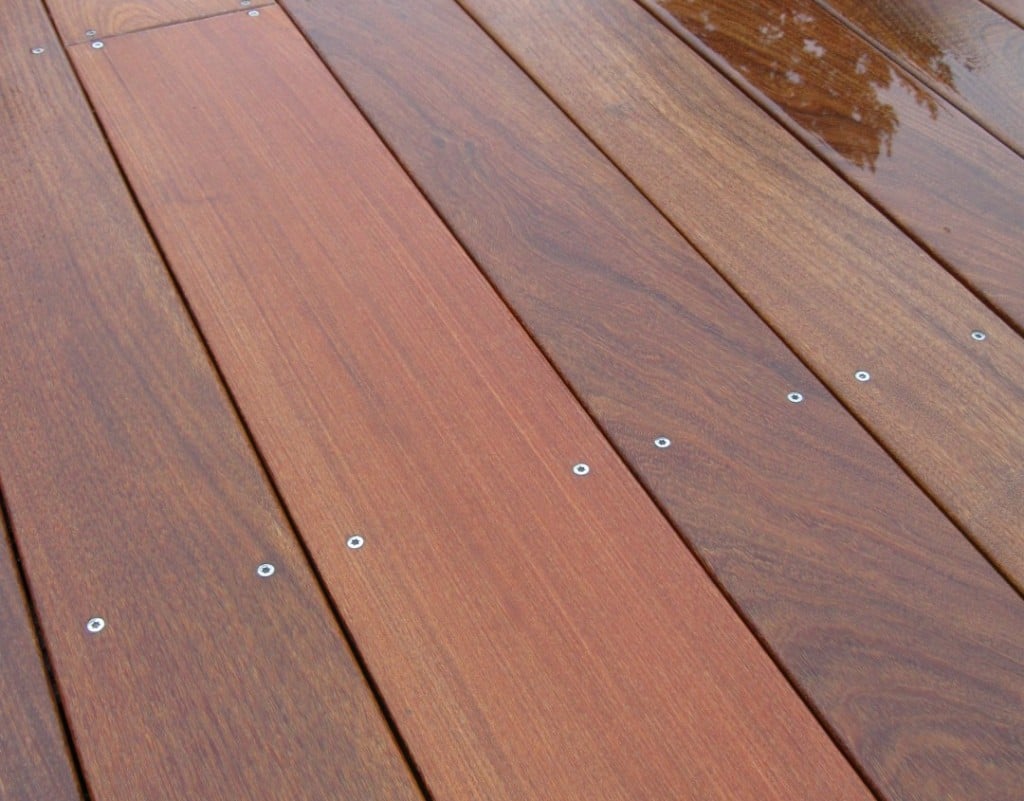 Photo Credit: Buffalo Lumber
Why It's Great:
Ipe is a hard, dense timber with an exceptional lifespan. It has been known to last as long as 40 years. According to The Spruce, it's so dense that its strength has often been compared to steel. It is scratch-resistant, and it holds up under almost any circumstance: harsh weather, insect invasion, mold, and even fire. In fact, it has the same fire-resistance rating as steel and concrete.
Photo Credit: Buffalo Lumber
Fun fact: The Riegelmann Boardwalk (also known as the Coney Island Boardwalk) in New York City was built from Ipe. The wood lasted 25 years before it had to be replaced—an incredible lifespan considering the high levels of traffic and constant stress on the boardwalk.
The Downsides:
Due to its high density, Ipe can barely float, and it can be difficult to properly cut and glue.
Does Viewrail Recommend It?
Yes; Ipe is one of Viewrail's top recommendations.
Where to Find it:
Thanks to high demand, Ipe can be expensive and difficult to find. But, it is the most effective closed grain hardwood for exterior projects. And with its durability and incredible lifespan, the investment is worth it. Viewrail offers a top-selling Ipe handrail.
8. Redwood
Redwood is a premium building material known for its longevity. It is often used for decking, furniture, trim, and beams. You may have even experienced redwood up close in your local sauna! Because redwood trees are in short supply, this wood is not particularly eco-friendly. Most varieties are straight-grained, dimensionally stable, and naturally resistant to decay and rot.
Photo Credit: Kyle Glenn, Unsplash
Why It's Great:
Redwood is naturally resistant to insect and moisture damage. It accepts finish readily, and according to an article by Wood Magazine, it splits easily.
The Downsides:
Redwood is generally easy to work with, but tearout can occur with machinery. Because it's a softwood, it dents and chips easily. However, it is visually attractive, and glues and finishes well.
Does Viewrail Recommend It?
Yes.
Where to Find It:
As a construction lumber, redwood ranges from moderate to very expensive. Much of the pricing depends on your geographical location. For customers on the west coast, redwood is plentiful and easy to find, so it will generally be less expensive than for customers on the East Coast or in the Midwest. Because redwood trees are rare and grow slowly, the product is considered a specialty wood.
Most common retailers, such as Home Depot and Menards, carry redwood lumber. The product can also be found from smaller companies such as BBB Specialty Lumber in Memphis, TN.
9. Teak
Teak is valued for its elegance and durability and first became popular in the early 7th century when it was used for shipbuilding.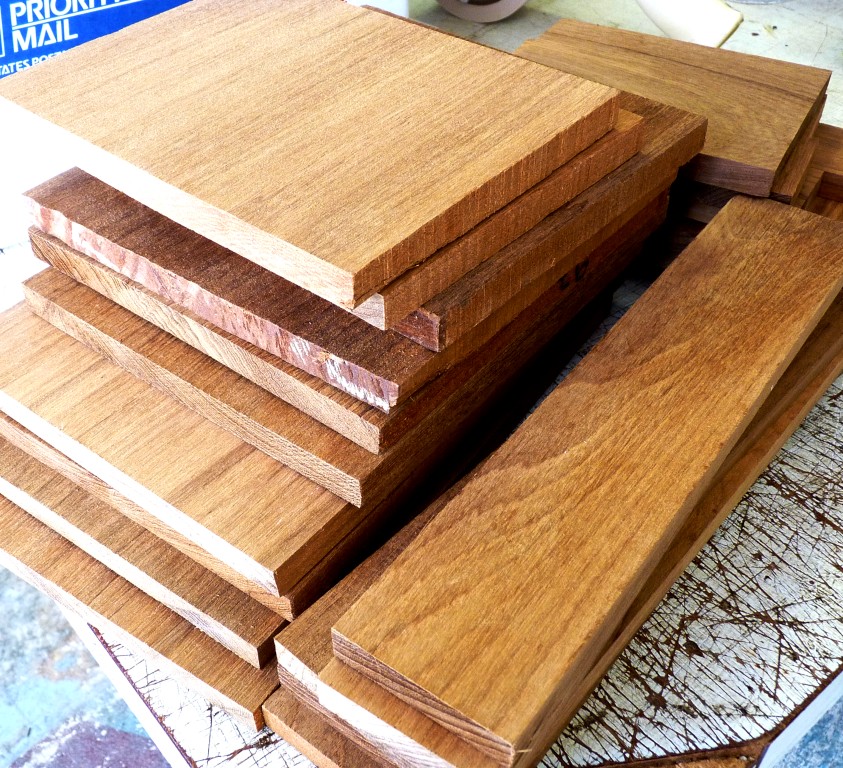 Why It's Great:
Teak contains a plentiful amount of natural oils and rubber. Even after the wood is cut down and processed, it retains these oils—giving it incredible weather-resistance. The same fortitude that made teak an excellent choice for boat-building makes it a great choice for outdoor furniture and other projects.
The Downsides:
Teak is sourced from a tropical hardwood tree species, so it can be expensive and is often only available in small quantities.
Does Viewrail Recommend It?
Yes.
Where to Find It:
West Marine offers teak lumber specifically for boat-building and maintenance, while Woodworkers Source offers the lumber in a variety of widths and lengths.
10. White Oak
White Oak is also known as "whiskey barrel" wood and is used widely in cabinet-making and furniture construction. White Oak is naturally beautiful and is typically light to medium brown with a straight grain and a coarse, uneven texture. Often, the wood has an olive shade. Though the lumber is similar in nature to Red Oak, White Oak has a finer texture than its counterpart.
Why It's Great:
This wood is strong & easy to work with. It also splits, glues, stains, and finishes well. Because it is so durable and rot-resistant, White Oak is often used for boat building, barrels, and casks.
Fun fact! White Oak is the state tree in three states: Connecticut, Illinois, and Maryland.
The Downsides:
White Oak doesn't always have the best dimensional stability. However, if White Oak is quartersawn, then it becomes more dimensionally stable. White Oak is less porous than other wood varieties, which can lead to it being recommended for outdoor use. However, it does not stand up to the elements very well.
Does Viewrail Recommend It?
No; White Oak is great for indoor use, but Viewrail can't stand behind it being used outdoors.
Where to Find It:
White Oak is plentiful and economical. Viewrail offers treads, handrails, and a selection of other wood products in Quartersawn White Oak.
11. African Mahogany
African Mahogany has long been valued for its elegant beauty and practicality. The wood polishes to a high luster and darkens with age. Its texture ranges from medium to coarse.
Why It's Great:
Easy to shape, turn, glue, sand, and finish, Mahogany is an excellent choice for outdoor projects. It's lightweight, but still exceptionally strong. Finally, it is durable and moderately resistant to insects—making it a great choice for projects of all kinds.
The Downsides:
If the grain is interlocked, tearout can occasionally be a problem. Mahogany can also be expensive. Because the wood is harvested from South America, the sourcing process has become selective and protected in recent years.
Does Viewrail Recommend It?
Yes.
Where to Find It:
StairSupplies offers legally sourced African Mahogany lumber in different sizes and selections. The wood can be ordered in broad thicknesses to complete larger projects, like decking or platforms.
Another Choice: Wood and Plastic Composites
So far, all the options you've seen are real lumber. But another option for outdoor projects is to use a wood or plastic composite. Composite decking is typically made from materials such as thermoplastic resins, wood flour, wood fiber, and recycled material.
Unlike real wood products, wood and plastic composites (WPCS) are completely rot proof and require little to no maintenance. Because they are made from recycled content, composite decking is environmentally friendly.
The only downside to composite products is that the materials tend to be very dense. This can be problematic when it comes to fastening and movement.
12. Trex Decking
Trex is a prominent composite decking manufacturer which makes products that are resistant to mold, mildew, and termites. Their decks come in a variety of color combinations. Plus, the brand offers railing, outdoor lights, and steel deck frames for an entire outdoor package.
Why It's Great:
According to Trex.com, their products won't rot, warp, crack, or splinter, and they can be cleaned with simple soap and water. Trex products are made from 95% recycled materials—for an excellent eco-friendly option.
The Downsides:
First, composite woods are not real wood. They will never have the character or beauty of a natural hard wood. Although composite decks are resistant to the elements, they can still be prone to scratch damage. Further, composite decking can be more expensive than traditional lumber options.
Where to Find It:
Shop Trex products at Trex.com.
13. PVC Decking
Photo Credit: Deck Barn
PVC is made from polyvinyl chloride and is often used for exterior projects.
Why It's Great:
A common form of exterior installation, PVC comes in lots of different textures and colors, including wood-like options. It's an excellent choice for waterside projects. And better still, PVC is completely flame-resistant.
The Downsides:
Just like Trex decking, PVC decks are resistant to the elements but can still be prone to scratch damage. It's also occasionally more expensive than traditional lumber options.
Where to Find It:
According to Fiberon, this high-quality Paramount PVC Decking never needs to be repainted, stained, or finished. Just like Trex decking, PVC contains no organic content. This keeps mold from growing, and also protects against insects and moisture damage.
In Conclusion
We've done the research, we know the market. Our #1 choice for outdoor projects is thermally modified wood because it has all the benefits of the natural hardwoods and WPCS listed above with the least amount of downsides.
But, no matter which option you choose to go with, rest assured that these are all viable choices for outdoor projects.
If you have any questions about the best kind of wood to use for your outdoor application, give our team of experts a call—we'll be happy to help you choose the perfect lumber for your project.
Recent Posts