Floating Stairs Glossary of Terms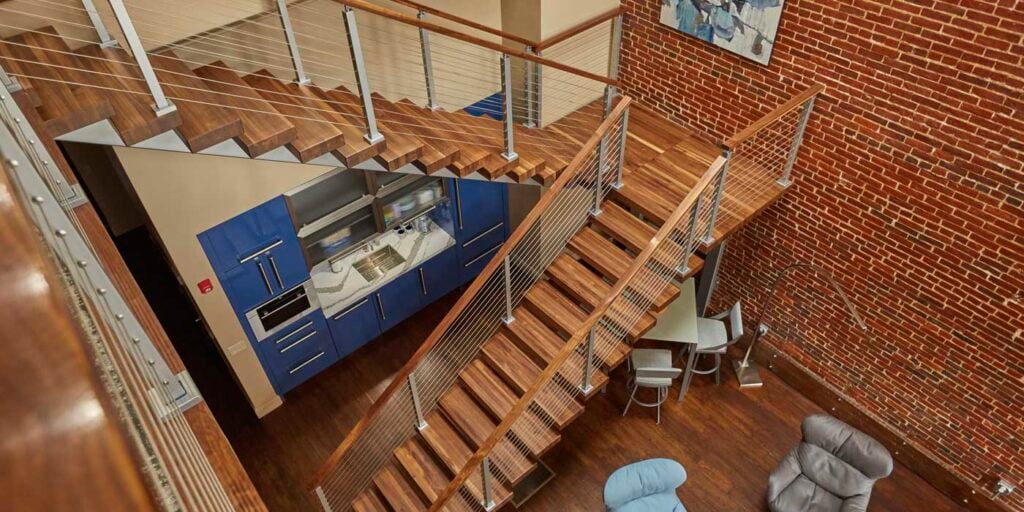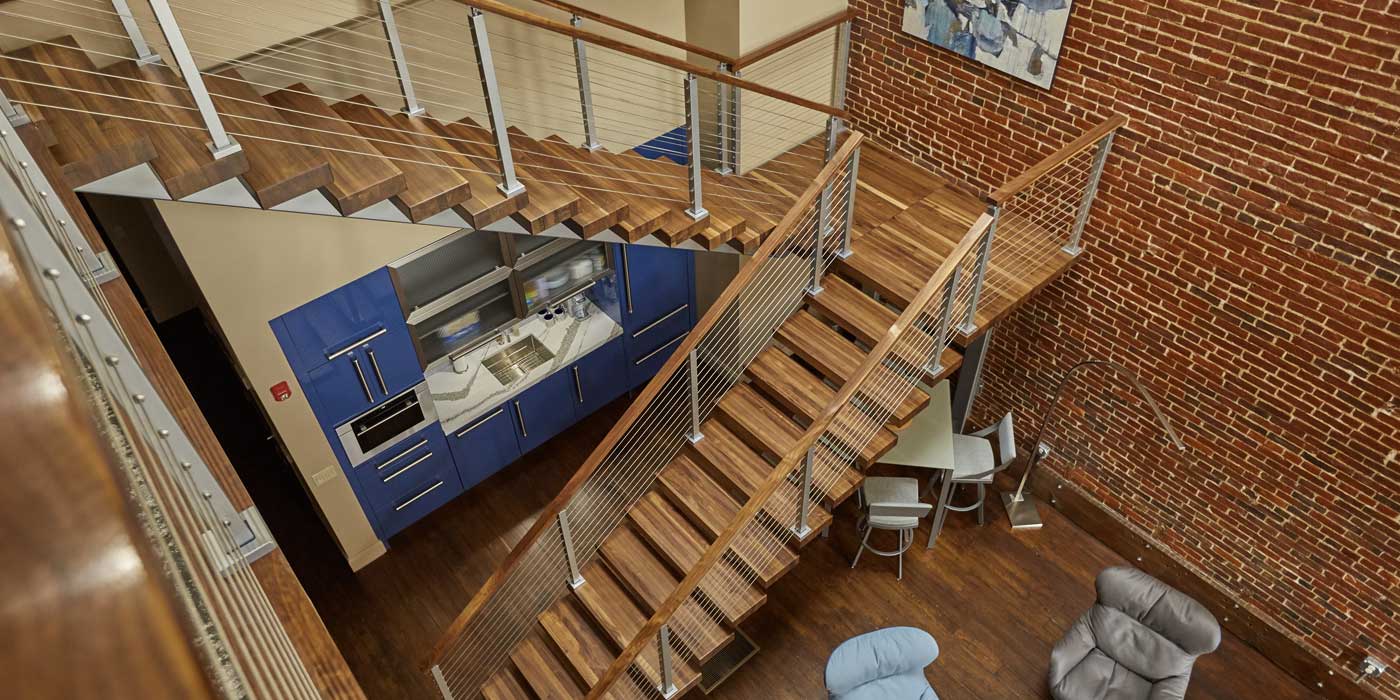 Viewrail™ FLIGHT is a floating stair system with a language all its own. All that jargon and industry terminology can be daunting, but we're here to help! Refer to this helpful guide of floating stairs shop-talk, and we'll have you speaking our language in no time.
FLIGHT – This term encompasses the complete floating stairs; this includes your stringer, mounting plates, brackets, treads, and associated hardware.
FLIGHT Tech – A critical step in the FLIGHT Plan is our FLIGHT Tech process, where our experienced team of professionals will reach out to help you measure your project and confirm your measurements for custom engineering.
Gauge – Gauge is an industry term referring to the wall-thickness of a given piece of metal tubing. Our Viewrail FLIGHT floating stair systems typically feature stringers made from 7 gauge mild or stainless steel, but the gauge may change due to specific engineering requirements.
Landing Platform – Landing platforms are the part of a staircase that you walk upon where the rise of a staircase levels off between finished floors. Similar to our thick stair treads, Viewrail specializes in butcher block style thick landing platforms.
Mounting Plate – This term specifies the plates at the top or bottom of your stringer. A header plate always refers to the plate found at the top of your floating stairs, while a footer plate refers to the mounting plate found at the bottom.
Nosing – Nosing refers to the tread-like element mounted to your header. Nosing is necessary to meet most code requirements for the length of your run, and provides a clean, finished look to your landing to match your treads and any landing platforms.
Railing – Railing refers to any element of the railing system that will complement your floating stair system. The most common railings used with our floating stairs are Rod Railing, Cable Railing, and Glass Railing
Stringer – Stringer is an industry term for the spine, or structural components, of a staircase. Our floating stair systems are supported by a steel mono stringer, or single stringer. The mono stringer system is our standard option, but we also have a dual stringer option.
Stringer Configuration – This term refers to the type of Viewrail FLIGHT system you're looking to install. Our current offering includes Straight, Switchback, and 90º Turn configurations.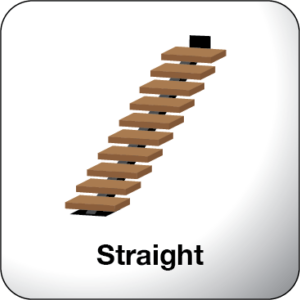 Straight
– A Straight FLIGHT system is typically mounted from floor to header, but can also be used from wall-to-wall.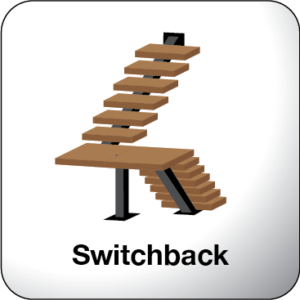 Switchback
– a Switchback FLIGHT system typically incorporates a floor-to-wall-mounted stringer, and a wall-to-wall mounted stringer to turn 180-degrees. These systems are often referred to as hockey sticks or double hockey sticks due to their shape & profile.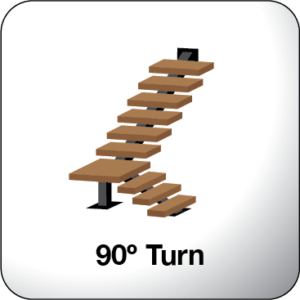 90º Turn
– A 90º Turn FLIGHT system incorporates two stringers to turn 90º corners. Typically, 90º Turn systems mount from the floor to landing platforms or existing structures, and from those structures to the next floor.
Support – A support is a section of tubing custom designed to support a landing platform in your Viewrail FLIGHT system. Support can be vertical columns or horizontal braces and are incorporated into systems requiring atypical mounting necessities or space constraints.
Tread – Stair Treads are the part of a staircase you actually walk – or tread – upon. At Viewrail we specialize in butcher block style thick wood stair treads
Tube – This is an industry term referring to hollow sections of metal materials typically used in commercial or residential construction. Our standard floating stair systems are fabricated from 6" x 8" steel tubing, but we can use an 8" x 10" tube where additional reinforcement is necessary, or a 4" x 6" tube for dual stringer applications.
Hopefully you found this glossary helpful, and maybe you even learned a few things! We are here to help you through every step of the FLIGHT process. So, let us know if you have any questions or need any additional explanations or resources. If you're interested in seeing what FLIGHT could look like in your own home, you can get a quote for FLIGHT here. Or you can talk to one of our FLIGHT experts by calling 1 (574) 742-1030. We look forward to making your new rail, Viewrail.