Floating Stairs For Remodeling
You've decided that now is the time to remodel your home. Maybe you've been thinking about doing this for a long time, or maybe you saw something that inspired you to make your home a little more you.
Either way, you're trying to give your home a little extra love and you might be nervous about doing anything to the home's existing stairway. It is called the "backbone of the home" after all.
But the reality is that a lot of homes (especially those constructed in the mid-century modern, craftsman styles) are often in need of a little sprucing up. Many of these homes were constructed with an open floor plan in mind but feature a closed stairway. When these homes were built, floating stairs weren't common and were often very costly to construct and install.
However, Viewrail understands what remodelers & DIYers want and need. We have taken a product that used to be scarcely seen, hard to install, and extremely expensive, and have made it easily available to you. If you have any questions on cost learn more on our how much do floating stairs cost page.
Opening Up Your Space
Viewrail FLIGHT gives you beautiful options when it comes to floating stairs. They instantly open up the floor plan of any home. Light can now pour into your room through the open spaces around and between FLIGHT's treads. There will now be air and light where walls and wood used to be. Pair it with sleek horizontal railing (Rod Railing for example) to gain even more open space and visual interest. It is that easy; you have the ability to turn your traditional stairway into a premium, modern staircase.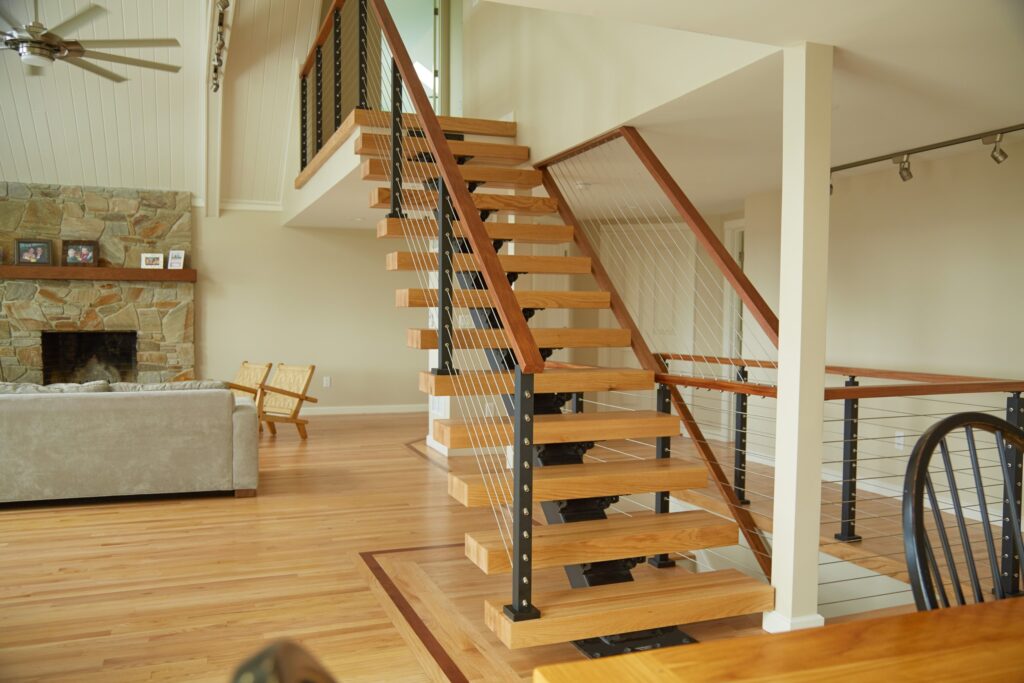 Remodel Friendly
Not only are floating staircases perfect for opening up your space, they are also remodel friendly. Our FLIGHT floating stairs are even able to be used as construction stairs. Just let us know and we'll cover the stringer in a polywrap, which will protect it from damage during construction. And, to top it off, because the FLIGHT plan is so individualized, you're able to customize your project to perfectly complement your space.
Easily Installed
The best part, and what makes FLIGHT so perfect for remodelers, is that you don't need any specialized skills to install your floating stairs. There is no welding required on-site; your modern staircase comes to you pre-fabricated and ready to install.
All that you'll need to do on install is lift the stringer into position (a come-along winch or other pulley can be helpful here) and bolt it into position. Check out the Floating Stairs Installation Guide to see how easy install can truly be. If you have at least two people, it's possible that the installation of your entire floating stairway and railing system could be completed in one day. We are in the business of supplying you with a premium product that will also save you time and money.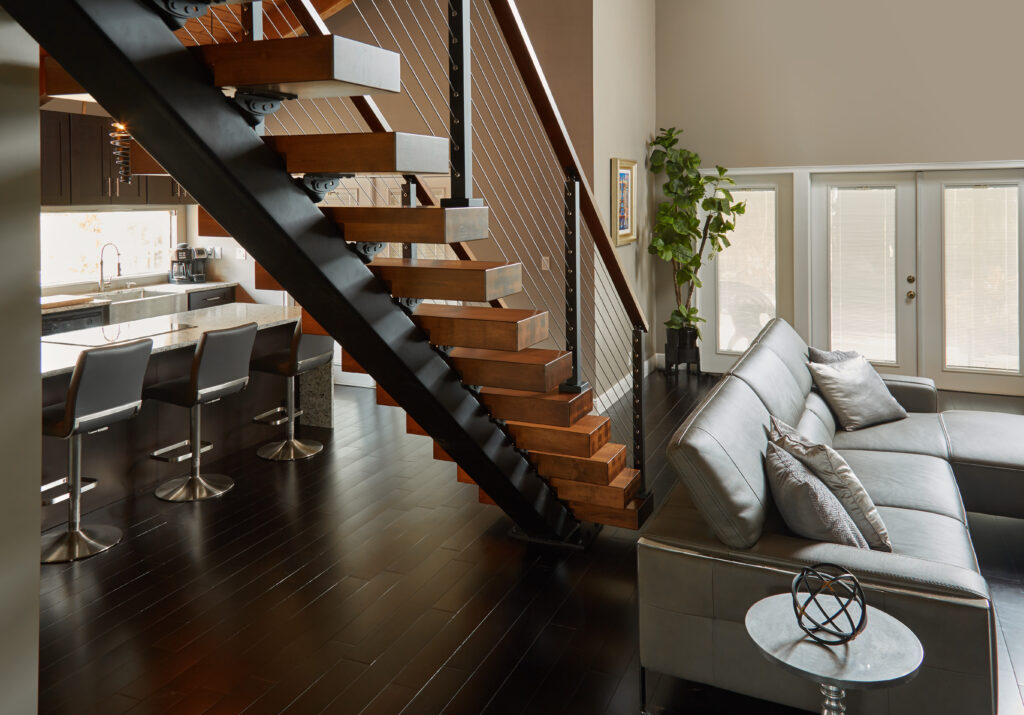 Experts At Your Back
We understand that you want your remodel project to look amazing and also be structurally sound. We understand that replacing a stairway can be daunting. But we are here to help.
Our engineers and experts will walk you through the entire process of updating your home with modern floating stairs. Measurements will be triple-checked and you'll have real people walking you through each step. Even though we won't be there with you physically, you can rest assured that your project will receive the attention it deserves.
Next Steps for Viewrail FLIGHT
We have eliminated every hindrance keeping you from being able to remodel your stairs. It's time for you to take your project to the next level with the elegance of Viewrail.
Click here to get a quote on making FLIGHT Floating Stairs a reality in your home. Or, contact a member of our team toll-free at 1 (574) 742-1030 if you have any questions. No matter what you decide to do, we hope that your remodeling project turns out beautifully.