13 Interior Design Trends We Can't Wait to See in 2019
Published on: Thursday, December 13, 2018
2019 is set to be even bigger and bolder than 2018, full of rich color schemes, mixed metals, and retro decor.
Here at Viewrail, we've been hard at work researching what's going to be hot in 2019—and what's definitely getting left behind (that's right, we're looking at you, popcorn ceiling).
Dive in with us as we explore 13 of our favorite upcoming trends for the 2019 year.
1. The Hygge Kitchen
Hygge (pronounced "hoo-ga") translates to "cozyness". This popular Danish tradition focuses on the way a room's design affects a person's emotional well-being.
We've already seen this tradition impact our design choices in 2018, and designers are predicting even more of a turn to hygge in the kitchen next year.
Wooden features are a staple of this trend—from wooden floors and cupboards to cooking utensils and cutting boards.
Soft-colored metals are another great way to bring hygge to the kitchen. Incorporate colors and textures that evoke warmth and happiness.
Design Tip! Copper details will enhance this space! You can find this particular set at West Elm.
2. Geometric Patterns
Designers have been using this hot modern trend for quite a while to add instant visual interest to rooms.
In 2019, we predict that geometric patterns will be everywhere, from wallpaper and flooring to tile and backsplashes!
If done right, this trend can be chic—but be careful not to let it spiral into a visually distracting mess. Keeping the pattern confined to a small area can sometimes make an even bigger impact. Less is more with this bright and bold trend!
Design Tip! Choose the best geometric pattern for your interior by:
Taking stock of your existing color scheme. Make sure the new pattern will stand out without clashing.

Taking stock of the size of your room. Make sure the print won't be too large or overwhelming.

Starting small with a subtle accent pillow or throw blanket.
3. Colors: The Bold and the Blush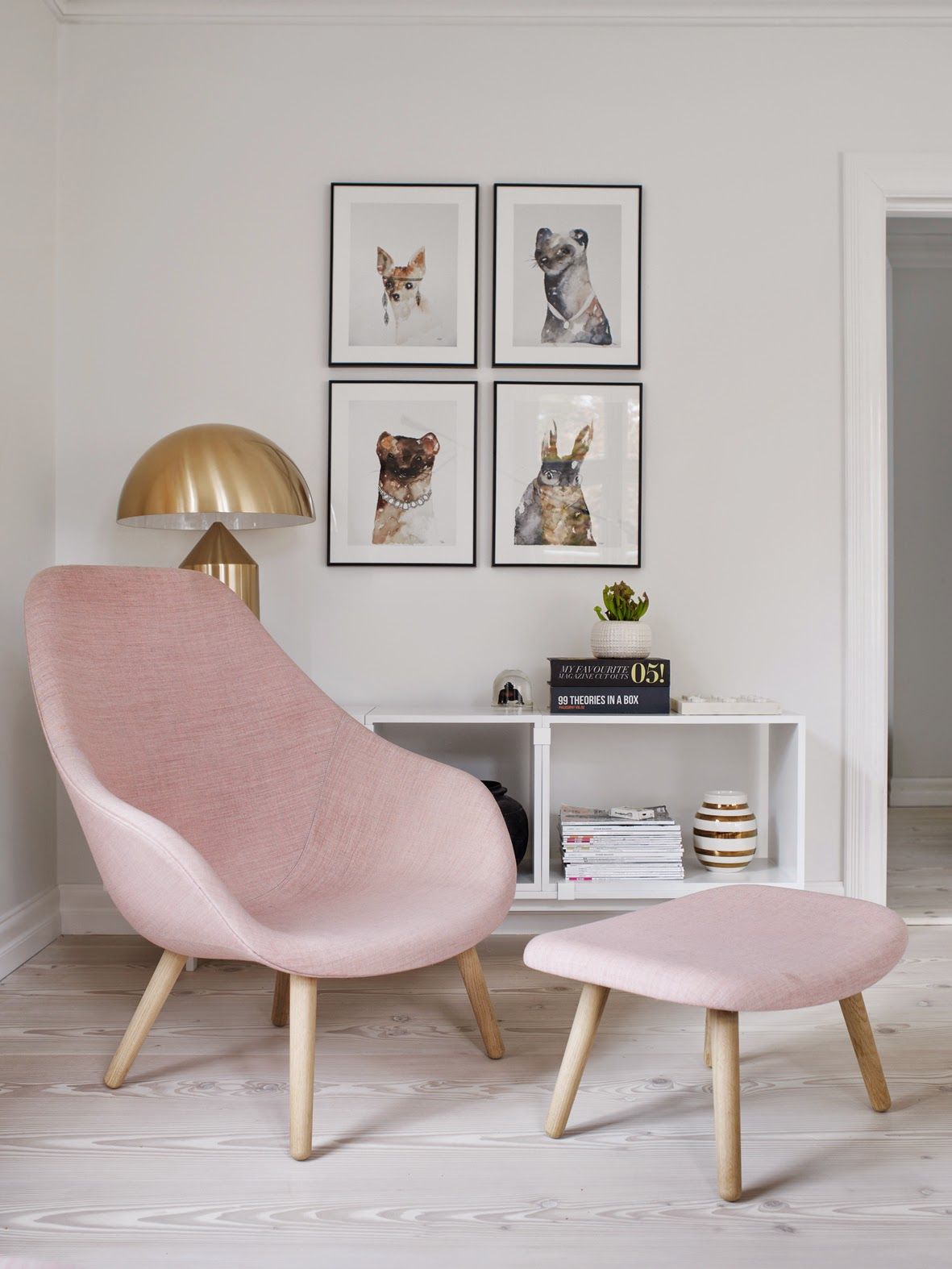 Next year, we're set to see a resurgence of rich jewel tones. Dramatic reds, bold yellows, organic greens, deep indigos, and dark teals will take center stage in 2019.
Above all, we'll see a return to warm color palettes: lots of tonal reds, oranges, purples, and warm browns.
Finally––and not unsurprisingly––that blush tone we've come to love the past few years is expected to keep turning heads. It's the new neutral, perfect for grays and natural colors, and ideal for calming color palettes.
Design Tip! Months ago, PPG announced their color of the year, and we've been in love with it ever since! Night Watch green is the perfect rich color for any room in your home: it's excellent on your walls, fabrics, and even furniture.
It's natural enough to soothe, bold enough to excite, and deep enough to set a dramatic mood.
4. Sustainable Materials: All-Natural Aesthetics
Copper, stone, concrete, clay: nothing makes a home feel natural and welcoming quite like sustainable materials. We saw this trend really take off in 2018, and we're predicting that it is here to stay!
Everything from jute (think a burlap sack) to granite will find its way into every area of our homes, from our kitchen counters, to our furniture, to our color palettes. Use these elements to ground your home and create warm, relaxing designs.
5. Mixed Metals: A Farewell to Rose Gold
Rose gold had its time in the spotlight––almost three years of it––but it is time for it to take its final bow. The new star? An ensemble of metal accents. We're talking brass, gold, nickel, bronze, aged iron, silver, pewter and other metals.
We're expecting a rise in warm-colored metals, but the big surprise trend will be mixing them together. We recommend using anywhere between 1-3 metals per space, such as oil-rubbed bronze and nickel to create elegant and layered looks.
Design Tip! Consider using multiple metals in your accent decor––picture frames, doorknobs, etc. If you're feeling particularly bold, use the metals as color inspiration for a wall or accent piece!
6. Matte Finishes: A Kitchen Innovation
Goodbye cherry wood, hello modern, matte black! Gone are the days of stainless steel appliances and red wood grains.
Black matte has arrived in style, and it's projected to be the breakout finish option for kitchens in 2019.
Matte black is the perfect way to add drama and high-contrast design to any space. We expect to see it incorporated in lighting, seating, home decor, cabinets, and appliances.
7. Curved Furniture
Rounded corners are totally in for 2019, replacing earlier trends of sharp, more geometric furniture. From curved couches to plush lounge chairs, curved furnishings are an excellent way to add elegance and revitalize the flow of a room.
Replacing a straight-backed sofa with a rounded one will make you look at the room in a new way—opening up the space to fresh possibilities.
Keep in mind that a curved sofa will take up more space than a regular, flat-backed couch. Jump on board this soft, aesthetically pleasing trend by checking out Pottery Barn's line of gorgeous curved furniture.
Design Tip! Be on the lookout for smaller, subtler curved accents, like this bentwood console.
8. Pendant Lighting
A pendant light fixture hangs from the ceiling by a single thread or cord. This versatile trend is not new—but it's making a return this year, and we expect this trend to continue to flourish in 2019!
Because of its simple, versatile nature, pendant lighting works especially well in the kitchen. A well-placed light can make a small kitchen seem more spacious, and depending on the placement of the lights, can evoke a range of moods from soft and subtle, to dramatic and energized.
This trend is perfect for vintage-inspired interiors, as well as mid-century modern and California styles.
Design Tip! Look for geometric patterns, open frame lighting, and unique blown glass fixtures like these.
9. Floral Style

Floral patterns have been around for centuries—and designers predict this timeless style will continue to take on new, trendy forms in 2019.
Be on the lookout for bigger, exaggerated patterns and contrasting colors. We're seeing this incorporated in large area rugs, lampshades, and wallpaper—some homeowners are even going all out with a floral ceiling!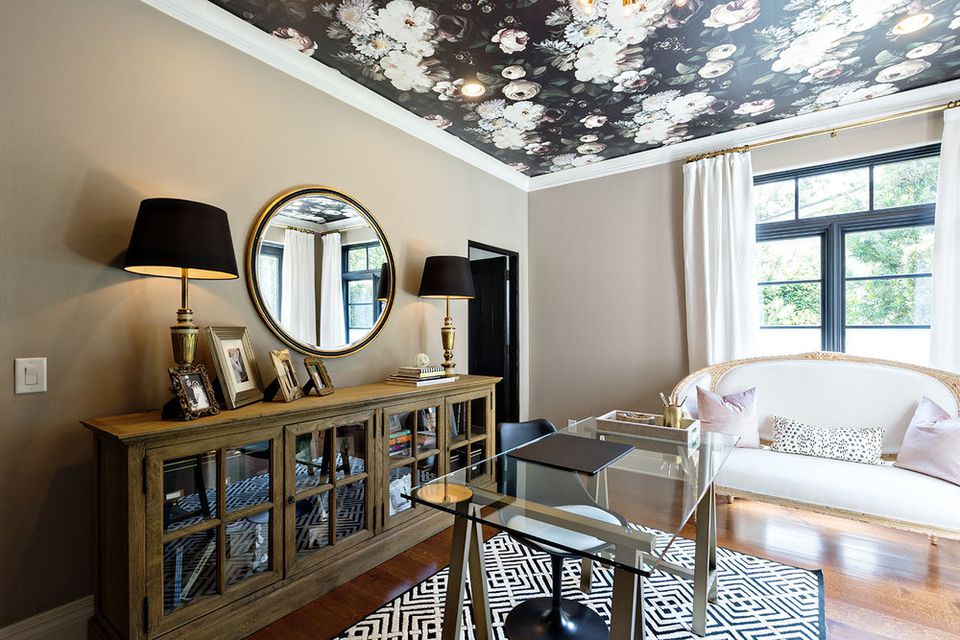 DIY-er tip: Have an ugly stain on your ceiling? Cover it up with floral wallpaper!
10. Boho Vibes
Boho is back—and this time, according to Dolores Suarez of Dekar Design, it brings a vintage modern twist. Expect to see lots of layers combined with patterned fabrics. Look for the same crazy hallmarks of boho style—bright colors, geometric patterns—but expect them to be cleaner.
Try a boho inspired interior built around a curved sectional, or a geometric end table to pull visual focus above a brightly patterned rug.
Design Tip! Pair this trend with a piece of curved furniture for a mid-century modern dream.
11. Maximalism
The #1 rule when it comes to maximalism? There are no rules! With bold colors, luxurious fabrics, and detailed patterns, this trend is a dramatic shift from the "less is more" minimalistic designs of 2017.
In 2019, we'll be seeing brightly colored accents, patterned wallpaper, lots of artwork, and larger-than-life area rugs. Maximalist designers trust their instincts—if a piece feels right, go with it!
Design Tip! Mix and match clashing colors for a daring, eclectic statement. Think hot pink and tangerine couch cushions, or a saffron couch placed against a fuschia wall.
12. 70's Chic Decor
Shag carpet, bell bottom jeans, and avocado kitchens. Okay… maybe not all aspects of the 70's style are coming back into play, but the style is certainly sneaking back in a refined, mid-century modern way!
We've already witnessed a rise in natural finishes such as brick and bamboo, and now we can add indoor plants to the list of trends on the rise.
From smaller succulents to hanging ferns to full rubber trees, people are decorating their indoors to be reminiscent of the outdoors, and we're loving the subtle nod to the age of rock n' roll.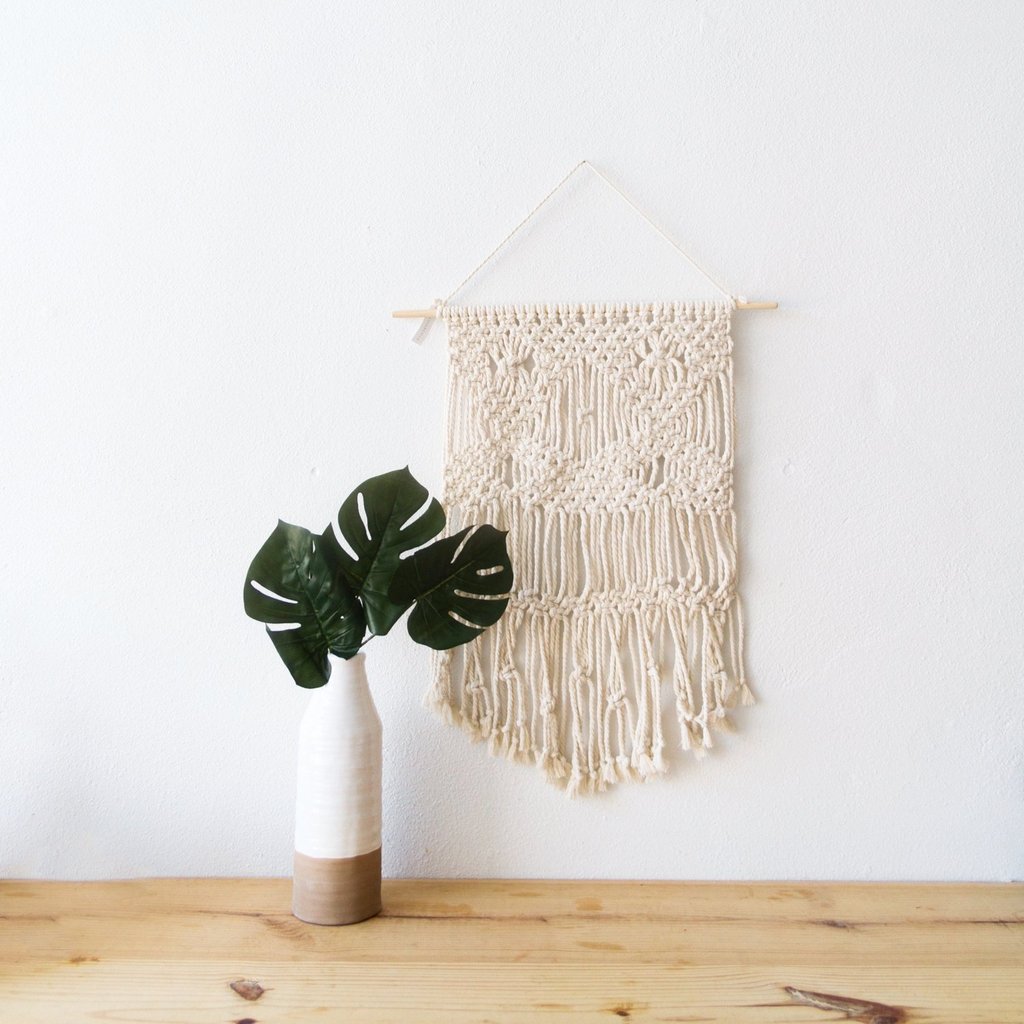 Design Tip! Macramé. This popular 70's textile is most recognizable as a wall hanging, and we're seeing it everywhere—covering the walls of living rooms, bathrooms, chairs, and furniture. DIYer? Try it for yourself!
13. Art Deco
Have we mentioned that 2019 will be the year of bold designs? Art Deco channels the luxury and glamour of the 1920's into the modern home. We expect to see lots of gold and glass accents, like chrome lamps and glass-topped coffee tables.
Dark woods like ebony will frequently be used in furniture and flooring. Colors to be on the lookout for include a classic palette of black, white, gold, and silver. Brighter and softer colors will definitely offset the look though.
Be on the lookout for: Black or white tiled floors.
A Year for Interior Design
We've barely scratched the surface—but there's so much to be excited about this upcoming year:
The Hygge Kitchen. Wooden accents and warm, comforting design patterns

Geometric Patterns. Bright, bold, and exciting—but remember, less is more

Colors: The Bold and the Blush. Keep an eye out for rich jewel tones and Night Watch Green

Sustainable Materials: All-Natural Aesthetics. Sustainable materials are here to stay

Mixed Metals: A Farewell to Rose Gold. Say hello to warm-colored mixed metals

Matte Finishes: A Kitchen Innovation. Black matte has overtaken the modern kitchen

Curved Furniture. A unique way to add elegance to a room

Pendant Lighting. Enhance your vintage-inspired interior

Floral Style. The bigger the pattern, the better

Boho Vibes. In with a vintage-modern twist

Maximalism. Mix and match to your heart's desire

70's Chic Decor. From natural finishes to macramé

Art Deco. Channel your inner 20's glamour
From a renewal of the 70's style to quieter Danish design trends, 2019 is sure to be an exciting year for interior design! We hope that you are as excited as we are to see what this year has in store.
Recent Posts